News
The Mummy Trailer, Release Date, Clips, Plot Details, Images & Everything Else
Russel Crowe is Dr. Jekyll in The Mummy, but he's also the monstrous Mr. Hyde. Get your first look at the monster here!
For a long time, Universal Pictures has been seeking a way to exhume its horror pantheon of the fabled Universal Monsters. After all, just because they are in the coffin it doesn't mean they're really dead. Indeed, long before Marvel Studios made shared universes the new shiny toy in Hollywood, Universal had invented the concept for franchised movies in the 1940s with the Wolf Man, Frankenstein's Monster, and even The Mummy getting involved in the strangest adventures. Now, we stand on the precipice of it happening again for 21st century audiences, beginning first and foremost with 2017's The Mummy.
The film, which will be directed by Alex Kurtzman and from a screenplay by Jon Spaihts has a lot riding on it. As the first official release in the new Universal Monsters shared universe, it is intended to reinvent the style with action movie overtones. And in this living, breathing, undead document, we'll keep you posted on what to expect from this attempt to walk like an Egyptian.
The Mummy Latest News
The final Mummy trailer is here — and it includes more Tom Cruise Running scenes than ever before! Check it out…
If you're wondering how Universal plans to tie its brand new monster universe together, a lot of that will have to do with Prodigium, a secret organization that tracks and catalogs the creatures that go bump in the night, such as Princess Ahmanet, the titular mummy of this film. Prodigium is led by one Dr. Jekyll – surely, you've heard of him? – played by Russell Crowe, who will play a key role in Universal's monster universe. (Think of Prodigium as SHIELD and Jekyll as the Nick Fury of this universe.) 
Dr. Jekyll is more than meets the eye, though. As most of you probably know, there's a dark side to Jekyll, the monster known as Mr. Hyde, who will also appear in the film. In fact, we get our first tease of Hyde in this new video from Syfy Wire:
And here's a closer look at Hyde:
The Mummy Trailer
The international trailer for The Mummy is the best yet! Not only does it reveal more plot details about how exactly Tom Cruise's Nick Morton ends up waking up in a morgue, but it gives us some of the creepiest examples of how the Mummy moves through the world yet. Check it out…
This next trailer features Tom Cruise discovering that not only did he "survive" (or get resurrected) from the first trailers plane crash, but he was specifically chosen for evil purposes by the Mummy. We also get a much better look at the kind of physicality and threat level Sofia Boutella brings to this modern update of the Universal Monster classic. Oh and, yes, that is "Paint it Black" without the vocals in the background of the trailer.
Ad in case you missed it, here is the first trailer.
The Mummy Release Date
The Mummy will be summoned to theaters on June 9, 2017. Originally, the film was scheduled to arrive on March 24 of next year, but after a little movie that you might have heard about called Star Wars Episode VIII was delayed from its May 26 release to December 2017, June became a lot more appealing for Universal.
The Mummy Story
At the moment, Universal is keeping pretty tight-lipped about what the story of The Mummy reboot is, however, we do have an official synopsis, which you can read below:
Thought safely entombed in a crypt deep beneath the unforgiving desert, an ancient queen (Sofia Boutella of Kingsman: The Secret Service and Star Trek Beyond) whose destiny was unjustly taken from her, is awakened in our current day, bringing with her malevolence grown over millennia and terrors that defy human comprehension.

From the sweeping sands of the Middle East through hidden labyrinths under modern-day London, The Mummy brings a surprising intensity and balance of wonder and thrills in an imaginative new take that ushers in a new world of gods and monsters.
On a personal note, this sounds quite reminiscent of Bram Stoker's The Jewel of Seven Stars. The Dracula author published that story in 1903, and while it never had the same success as his vampire opus (nor was it anywhere near as good), it was one of the earliest Western supernatural thrillers about Egyptian superstition, complete with an evil witching queen seeking her resurrection through possession. It also was an obvious influence on the original 1932 Mummy starring Boris Karloff.
Den of Geek Don Kaye spoke with Jon Spaihts. Spaihts, who was promoting his first of two major year-end releases, Doctor Strange, confirmed that the film will still have horror elements while being an action adventure.
Says Spaihts, "Yeah, there have been a lot of artists on that one, but I was the first writer on. I did a bunch of drafts. Then I co-wrote a bunch of drafts with the director, Alex Kurtzman, a lovely guy. I've had a lot to do with the shaping of it. It is both a horror movie and an action adventure movie. It's horror adventure, which is a genre I love… I think there's a real homage in it to the kind of original Boris Karloff Mummy movies, the classic Universal monster pictures, but of course, those have been updated to the modern possibilities of cinema and the modern sensibilities."
Further, the first official image released for the film, of Tom Cruise and Russell Crowe, came with this tantalizing tease from director Alex Kurtzman (via EW): "There's an origin story happening on two different fronts. I won't tell you too much more than that, other than to say: One of the things that I think has defined Tom Cruise movies, for 30 years, is that Tom Cruise always saves the day. You know whenever you're in a Tom Cruise movie that he's gonna figure out a way to save the day. And that's great, and it's why I pay my money to see his movies. However, in the context of a monster movie, it's challenging, because monster movies are about characters who are often very out of control, and don't know how to save the day. The first thing I said to Tom was, 'It'll be scarier if we can take away the fundamental knowledge that you're gonna solve the problem.'"
This helps a personal theory we have about the eponymous Mummy of the film, or at least the continuing franchise going forward, will not be Sofia Boutella's evil sorceress, but rather a frightened and confused Tom Cruise who will now technically be an undead Mummy after coming back to life in the first act following the plane crash. I wouldn't actually be half shocked if at some point in the third act, Russell Crowe himself will furrow his brow and say, "Don't you see? You are the Mummy!"
The Mummy Cast and Crew
Obviously, the most eye-catching thing about the new Mummy movie is that Tom Cruise is the lead. Cast in the role of Tyler Colt, a character who has been described as having a military or special ops background (however it is unclear whether he is still in the service during the course of the story). In this story, he join forces with Jenny Halsey (Annabelle Wallis of The Tudors, Annabelle) to combat an undead creature much unlike Boris Karloff or most film versions of "the Mummy" to date.
In fact, up and coming Sofia Boutella has been cast as the 3,000-year-old undead sorceress. Boutella already is developing quite the genre and fan following thanks to her roles in Kingsman: The Secret Service and Star Trek Beyond, and you can catch a glimpse of photos of her as the Mummy, which have leaked online, below.
The film will also feature Russell Crowe as Dr. Henry Jekyll. For fans of gothic horror, Jekyll is of course Robert Louis Stevenson's doomed good doctor who, in order to understand the depths of humanity's goodness and id, unleashes his alter-ego Edward Hyde on the world via mad science. Despite Jekyll and Hyde never starring in a major Universal classic horror movie, they are obviously setting this up as a course correction down the road. This sort of plotting also is very reminiscent of Penny Dreadful.
The film also stars Jake Johnson (New Girl, Drinking Buddies) and Courtney B. Vance (The People v. O.J. Simpson: American Crime Story).
The Mummy Images and Poster
Here is the first official image of The Mummy, which if you visit the story subsection comes with some tantalizing teases about the film being set on developing two origins.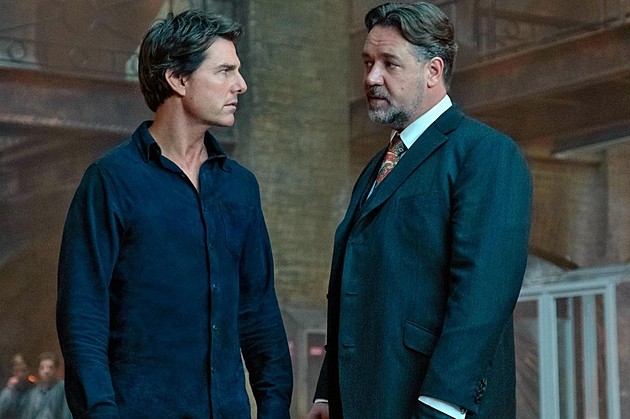 And here is the first poster for the flick, too!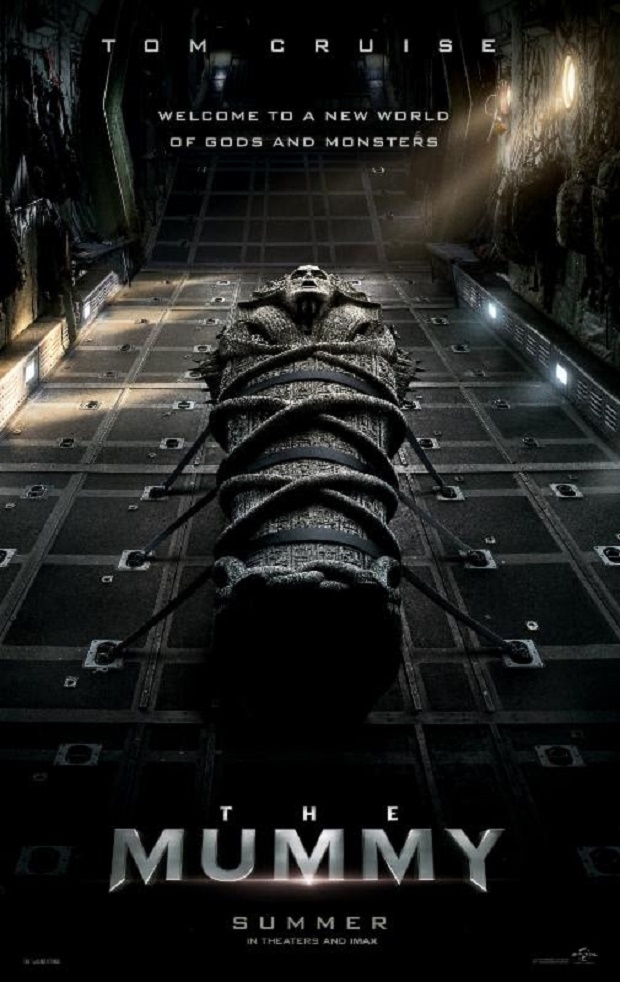 Check out this gorgeous image from The Mummy, courtesy of Entertainment Weekly. Featuring Tom Cruise's Nick Morton and Sofia Boutella's Princess Ahmanet meeting face to face. Drama no doubt ensues!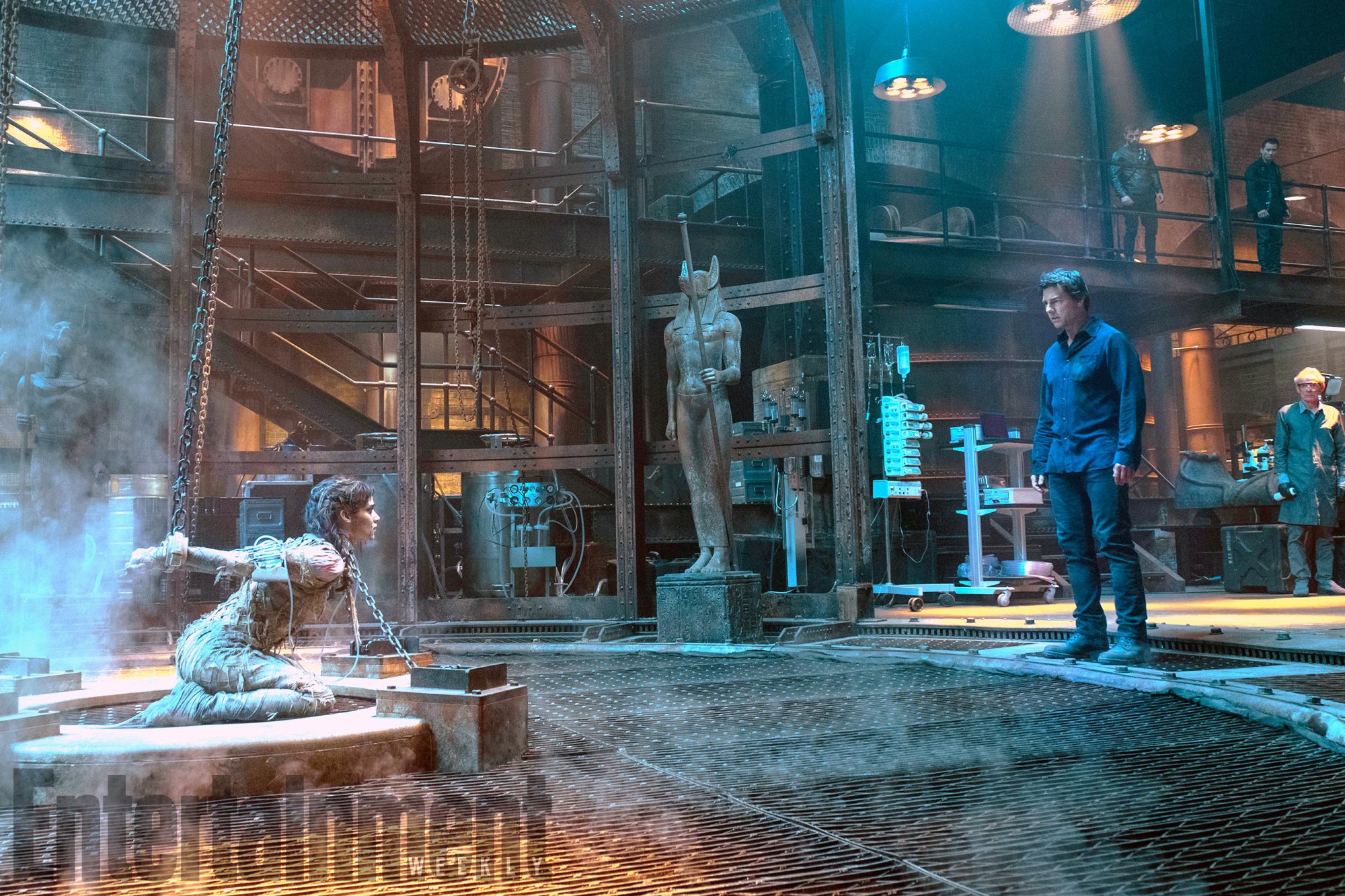 We've got a brand new poster for The Mummy. The promotional art sees Tom Cruise getting, um, swept away by sand. A geographically-compressed London is also getting pummelled in the sand attack. Cruise seems kind of concerned about it. Above it all, The Mummy herself stares out at us. Check it out…