Features
The movie poster trends of 2012
Serious faces. Blue colour palettes. Staring eyes. Here's a look at the most common design choices in this year's film posters…
Even in today's viral obsessed, always-online climate, the movie poster remains a powerful form of advertising. Their job is to distil a film's content, tone and themes down into one still image, and the best movie posters can capture our attention in a heartbeat.
As is the case in all forms of design, trends are constantly emerging and disappearing. Colours drift in and out of fashion. Layouts are repeatedly copied until they become an outmoded cliché. 
Here's a brief look at the stylistic choices which have repeatedly appeared in this year's crop of film posters… 
Blue hues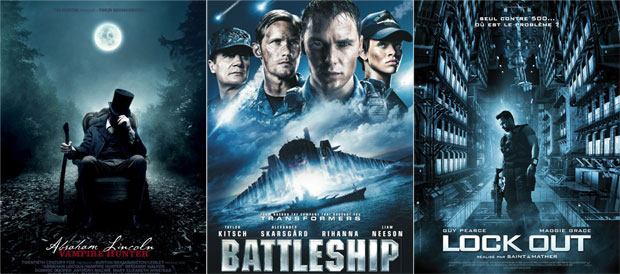 Led, perhaps, by the huge weight of expectation surrounding this month's The Dark Knight Rises, 2012 has been stuffed full of blue-hued posters. The tactic this year, it seems, is to market a film as serious and moody, even when the product itself is rather daft and jolly.
Just look at Battleship, a film in which a pop star and Tim Riggins fight an alien invasion in a floating World War II museum. Battleship's a ridiculous film, yet you wouldn't know it from its posters, which are all portentous skies and ominous glares. The same could be said of Abraham Lincoln: Vampire Hunter, which is based around a singularly daft US-president-versus-undead premise, or Lockout, a riotously fun throwback to 80s sci-fi action movies. Both have been advertised with blue-tinted posters which hint at seriousness rather than outright fun.
Grainy monochrome
With everyone hopping on the blue poster bandwagon, numerous designers have opted to limit their colour palette even further. The posters for movies as varied as Alex Cross, Frankenweenie, This Means War and Chronicle are all largely monochrome affairs with the occasional dab of colour, usually from the movie title.
Although monochromatic posters can be seen in all kinds of genres, it's action movies which are most promoted with black-and-white advertising materials. The forthcoming Bond movie Skyfall, Taken 2 and The Expendables 2 posters are all decidedly grey affairs, as were the posters for this year's Haywire and Safe House. If you want to make your film look serious and gritty, black and white imagery is definitely the fashionable way to go.
Strips
Although films are commonly marketed by concentrating on one striking image – the giant space face in the case of Prometheus, perhaps – this year has seen a surprising number of poster designers using montages in their poster designs. It's a particularly common technique in ensemble movies, such as the British comedy drama The Best Exotic Marigold Hotel, or Oliver Stone's thriller Savages, which features lots of well-known actors fighting for attention.
The most interesting use of the technique, though, can be seen in the poster for the forthcoming Bourne Legacy. A grainy image of a tense-looking Jeremy Renner, broken up with horizontal bands of black, hints at the series' themes of memory and identity in crisis.
Staring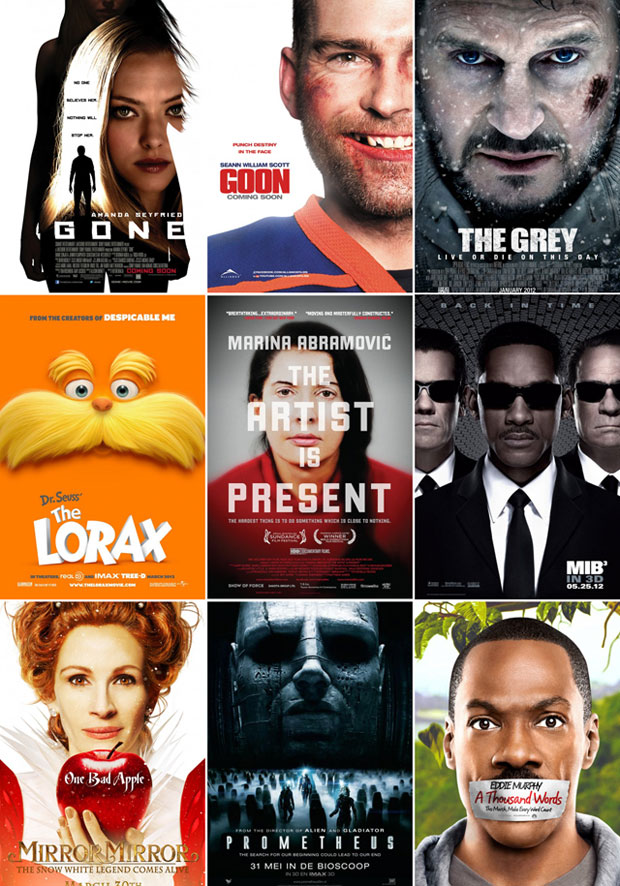 If blue tones, strips or black-and-white photographs can't lure customers to the theatre, maybe old-fashioned hypnosis can. This seems to be the common thinking in this year's clutch of posters, which has so far featured an unusual amount of staring and glowering. While it's nothing new to see an actor's face on a poster, more recent designs have often featured nothing but a gigantic face staring frankly back at us. 
Just look at the poster for The Grey, a movie sold on Liam Neeson's cold blue eyes. It's as though he's trying to coax us into buying a ticket using his old Jedi skills.
Of all the recent trends in poster design, this one is the most spookily prevalent – in fact, once you notice it, you realise that full-on staring faces are absolutely everywhere, from kid-friendly stuff like The Lorax, via schlock horror sequel Piranha 3DD to fairytale adventure Mirror, Mirror.
Introspection and gloom
As implied by all the blue and black-and-white posters we've seen so far, 2012 is a year for seriousness in movie posters. And with The Dark Knight Rises sure to clean up at the box office in a few weeks, it seems there's a real appetite for a bit of introspection and gloom in movies.
As for the posters that advertise those movies, just look at the expressions of thoughtfulness and ennui on the likes of Robert Pattinson in the Cosmopolis poster, Mark Wahlberg in Contraband (he also seems to have a bit of an itchy back), and Colin Farrell in Total Recall. Even comedians look glum on their film posters – just look at Sacha Baron Cohen's face in the poster for The Dictator (a look of disapproval shared, perhaps, by people who paid to go to see it). 
Our favourite gloomy poster, though, is the one for Tony Kaye's Detachment, in which Adrien Brody looks as though someone's just let all four of his tyres down. Cheer up, Adrien – you're a wealthy, famous actor, remember? Adrien? 
Sunsets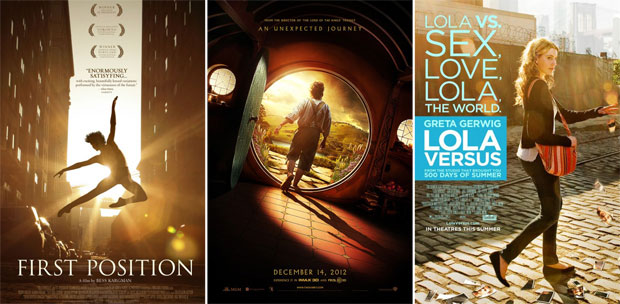 In a marked contrast to some of the other trends we've seen this year, there are many 2012 film posters which have featured comparatively cheery rays of sunshine. Admittedly, most of these posters have advertised more low-key, independent films, such as Act Of Valor, Lola Versus, The Diary Of Preston Plummer, First Position, and numerous others.
There is, however, one major, mainstream exception: Peter Jackson's The Hobbit, due out this festive season. In a refreshing change from current trends, it sees Bilbo Baggins stepping out of his Shire home and into golden sunshine.
With The Hobbit surely bound for box-office glory, it's possible that the grey and blue posters of 2012 could be swept aside by a new year of happier, sunnier posters. Might we see thousands of zombies slavering beneath in blazing sunshine in the World War Z poster campaign, perhaps?
Follow our Twitter feed for faster news and bad jokes right here. And be our Facebook chum here