News
The Mountain Between Us Trailer: Idris Elba and Kate Winslet Face a Wintry Wilderness
Idris Elba and Kate Winslet survive together in the cold after a plane crash in The Mountain Between Us trailer.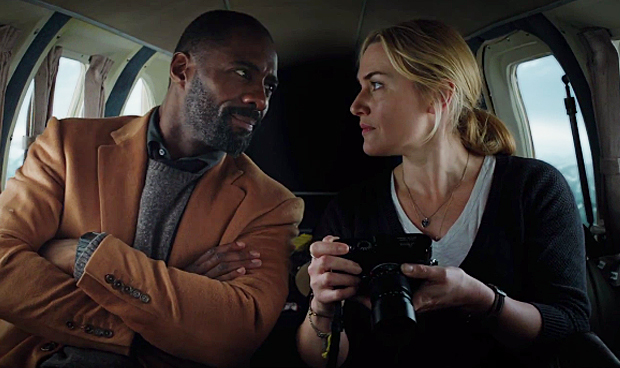 The Mountain Between Us, a romance-tinted survival epic, thrusts the always-game Idris Elba into a chilly survival situation opposite an actress who knows a thing or two about those in Titanic star Kate Winslet. However, as the newly released trailer proves, this situation is attributed to much more than an unwillingness to scoot over on a makeshift raft, since it occurs after a plane crash over snowy Northeastern Utah mountains.
The Mountain Between Us trailer shows the happenstance meeting of Dr. Ben Bass (Elba) and journalist Alex Martin (Winslet), who, after, the cancellation of their flight out of Salt Lake City, share a charter plane. Unfortunately, the plane ends up crashing into the High Uintas Wilderness, leaving Ben and an injured Alex stranded (with the late pilot's dog,) without phone service or radio reception. While an essential maxim in survival says to stay where you are and wait for rescue, the duo decide that their chances are better braving the snow-capped mountains. As the journey progresses, the wayward duo of Ben and (the very much engaged) Alex form an unlikely romance, born out of shared trauma; something that might be a relief to those thinking this film might make a twist à la Alive. – The film also co-stars Dermot Mulroney, Beau Bridges and Lucia Walters.
In the director's chair for The Mountain Between Us is Palestinian-Israeli helmer Hany Abu-Assad, whose recent work includes Palestinian dramas in 2015's The Idol, 2013's Omar and the 2012 direct-to-video actioner The Courier, which starred Jeffrey Dean Morgan and Mickey Rourke. Here, Abu-Assad works off a script by Chris Weitz and J. Mills Goodloe, adapting the 2011 novel of the same name by Charles Martin.
The film project was greenlit rather quickly after the literary source material's release and underwent quite the casting evolution over the years. Michael Fassbender was originally tapped as the lead in early 2012 before the project eventually corralled the duo of Charlie Hunnam and Margot Robbie in 2014, with the latter subsequently (and briefly) replaced by Rosamund Pike, before things were finalized with Elba and Winslet.
The Mountain Between Us will have Idris Elba tapping into his own innate badassery to survive cold, hunger and mountain lions alongside an injured Kate Winslet when the film is released on October 20.