News
The Meg: First Trailer for Statham vs. Shark Movie
Statham fights to save us all in The Meg. Here's the first trailer...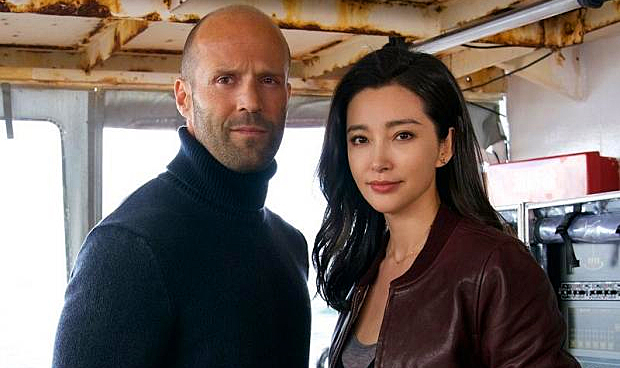 It's here at last: Warner Bros. has revealed the first trailer for the new action thriller The Meg, which stars Jason Statham as a navy captain and rescue diver hired to go into battle with a prehistoric 75-foot-long shark and save a team of scientists trapped at the bottom of the sea — in other words, Tuesday morning for a man like Statham who saves us all on a regular basis.
The Meg looks like it doesn't take itself all that seriously, which is probably the right way to go with this zany premise. National Treasure and The Sorcerer's Apprentice director Jon Turteltaub  is behind the camera for this one, which also features a giant squid in addition to a monster shark and lots and lots of Statham.
The cast also includes Bing-Bing Li (Transformers: Age of Extinction), Cliff Curtis (Fear the Walking Dead), Rainn Wilson (Star Trek: Discovery), Ruby Rose (John Wick: Chapter Two), Masi Oka (Heroes) and others.
The Meg is based on a 1997 novel by Steve Alten and it's taken a good chunk of the ensuing two decades for the story to get to the screen. Directors like Guillermo del Toro, Jan de Bont and Eli Roth hve all been attached to the project at one point or another in its long swm to the screen. 
Alten himself has written a half dozen or so sequels to his original novel, so there's no shortage of material available if The Meg is a colossal hit and the call goes out for a follow-up. In the meantime, enjoy the trailer, poster and official synopsis below. The Meg bursts out on August 10.
A deep-sea submersible—part of an international undersea observation program—has been attacked by a massive creature, previously thought to be extinct, and now lies disabled at the bottom of the deepest trench in the Pacific…with its crew trapped inside. With time running out, expert deep sea rescue diver Jonas Taylor (Jason Statham) is recruited by a visionary Chinese oceanographer (Winston Chao), against the wishes of his daughter Suyin (Li Bingbing), to save the crew—and the ocean itself—from this unstoppable threat: a pre-historic 75-foot-long shark known as the Megalodon. What no one could have imagined is that, years before, Taylor had encountered this same terrifying creature. Now, teamed with Suyin, he must confront his fears and risk his own life to save everyone trapped below…bringing him face to face once more with the greatest and largest predator of all time."