News
The Matrix 4 Casts Yahya Abdul-Mateen II in Lead Role
Yahya Abdul-Mateen II has been cast in The Matrix 4! Here's what we know...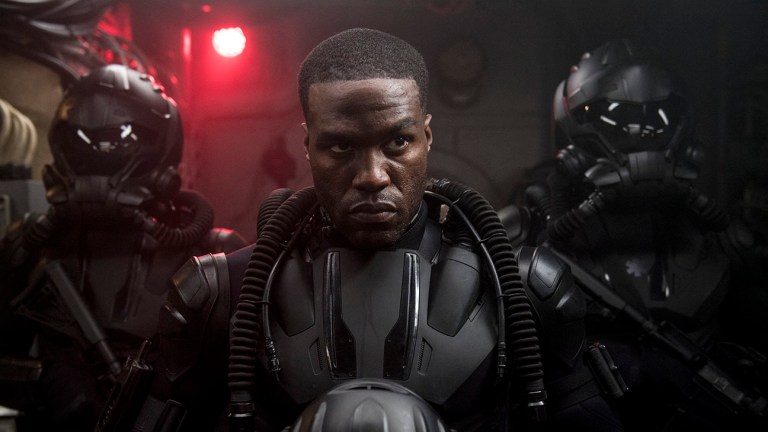 The Matrix 4 has cast one of its lead roles. According to Variety, Yahya Abdul-Mateen II (Aquaman) is set to star in the upcoming sequel alongside Keanu Reeves and Carrie-Anne Moss, who return as Neo and Trinity, respectively. The nature of Abdul-Mateen's role is being kept a secret at the moment, although rumors have been floating around that the movie will feature a younger version of Morpheus, which would explain why Laurence Fishburne has not been confirmed for the sequel. 
Abdul-Mateen has made quite the name for himself in the last few years. The former The Get Down star appeared in both Baywatch and The Greatest Showman before jumping into his first superhero movie, Aquaman, in which he played the villainous Black Manta. In 2019, he appeared in Jordan Peele's Us, an episode of Black Mirror, and will next be seen in HBO's Watchmen TV series and the Peele-produced Candyman remake. A big franchise movie like The Matrix 4 could very well solidify Abdul-Mateen's star power. 
Lana Wachowski is back to direct The Matrix 4 as well as producing with frequent production collaborator Grant Hill. The screenplay is written by Wachowski and novelists Aleksander Hemon and David Mitchell, whose novel Cloud Atlas was adapted by Lana and Lilly Wachowski in 2012. 
A new Matrix movie has been in the works for the past few years. Previously, writer Zak Penn (The Avengers) had been in talks to write a treatment for a new spinoff and WB had Michael B. Jordan (Black Panther) in mind for the starring role. That project, which could have potentially launched a Matrix Cinematic Universe, seems to be dead now.
No release date has been set for this new project as of yet, but it's encouraging that the sequel has its stars and Lana Wachowski back in the fold. Filming said to begin in early 2020, according to Variety. We'll keep you updated as we hear more!
John Saavedra is an associate editor at Den of Geek. Read more of his work here. Follow him on Twitter @johnsjr9 and make sure to check him out on Twitch.