News
The Matrix 4 Release Date, Cast, and News
The Matrix 4 is happening! Keanu Reeves and Carrie-Anne Moss will reprise their roles, with Lana Wachowski set to write and direct.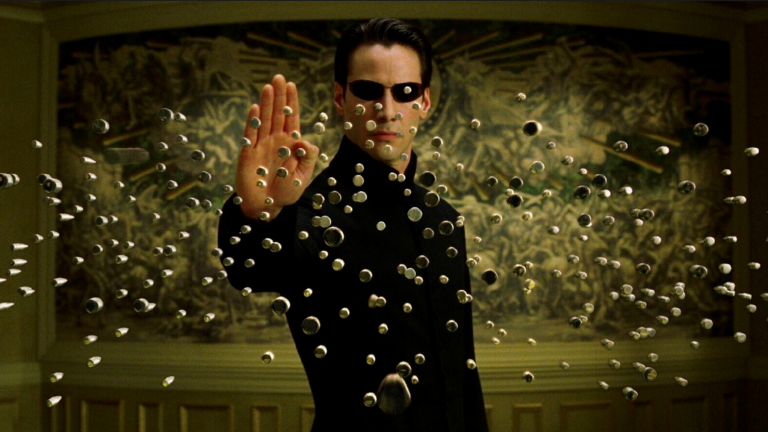 The question about whether we'd ever see Neo again after the end of The Matrix Revolutions has been answered: The Matrix 4 is officially in the works at Warner Bros. and Village Roadshow Pictures, with co-creator Lana Wachowski set to write, direct, and produce. Keanu Reeves and Carrie-Anne Moss will also reprise their roles as Neo and Trinity, respectively, according to Variety. Production could begin on the film "at the top of 2020," per the outlet.
"Many of the ideas Lilly and I explored 20 years ago about our reality are even more relevant now," Wachowski said in a statement. "I'm very happy to have these characters back in my life and grateful for another chance to work with my brilliant friends."
Wachowski is producing with frequent production collaborator Grant Hill. The screenplay is written by Wachowski and novelists Aleksander Hemon and David Mitchell, whose novel Cloud Atlas was adapted by Lana and Lilly Wachowski in 2012.
A new Matrix movie has been in the works for the past few years. Previously, writer Zak Penn (The Avengers) had been in talks to write a treatment for a new spinoff and WB had Michael B. Jordan (Black Panther) in mind for the starring role. That project, which could have potentially launched a Matrix Cinematic Universe, seems to be dead now.
The Matrix 4 Release Date
The Matrix 4 will release in theaters on May 21, 2021.
The Matrix 4 Cast
Andrew Caldwell (iZombie) has been cast in a role that's being kept under wraps.
In addition to securing Keanu Reeves and Carrie-Anne Moss, The Matrix 4 is adding more new and old faces to its cast.
Deadline first reported that Iron Fist actress Jessica Henwick has joined the cast of The Matrix 4. The name of Henwick's character is unknown but it's thought to be a lead…and possibly even the lead character. Deadline notes that some rumors indicate that The Matrix 4 intends to have a woman play a Neo-like lead role. Henwick, who played Colleen Wing on Iron Fist, The Defenders, and Luke Cage, could be the choice for this role.
The Matrix 4 will also get a new lead in Aquaman's Yahya Abdul-Mateen II. There is no word on who Abdul-Mateen would be playing yet though some rumors suggest that a young Morpheus could be a part of the film's plot. In that case, Abdul-Mateen would be a good fit.
Neil Patrick Harris will also be joining the cast, according to Variety. It's not immediately clear who he will be playing but he should be a fascinating addition to the franchise. The last time Harris turned up in a major sci-fi film in Starship Troopers, things didn't go so well for him.
Deadline reports that Jada Pinkett Smith is in negotiations to reprise her role as Niobe. Smith's Niobe is a freedom fighter from Zion who appeared in The Matrix Reloaded and The Matrix Revolutions. The character had a more prominent role, however, in the Enter the Matrix videogame.
Jonathan Groff has been cast in an undisclosed role, reports Collider. The actor may be best known as the voice of Kristoff in the recently sequel-supplemented Frozen animated film franchise, but his other claim to fame has him donning a Matrix-agent-appropriate suit and stoic demeanor as the co-star of Netflix crime drama Mindhunter, having come off TV runs on HBO's Looking, Fox's Glee and Starz's Boss.
Eréndira Ibarra (Sense8) is the latest addition to The Matrix 4 cast, set to play an unspecified character, reports Deadline. 
Toby Onwumere (Sense8) has been cast in a mystery role, according to Deadline.
Priyanka Chopra Jonas (Quantico) has been cast in an undisclosed role, according to THR.
John Saavedra is an associate editor at Den of Geek. Read more of his work here. Follow him on Twitter @johnsjr9 and make sure to check him out on Twitch.