News
The massive success of Avatar
Avatar: six months ago it was all set to fall flat on its face, wasn't it? Yet now James Cameron sits atop another huge commercial and critical hit. So just what happened?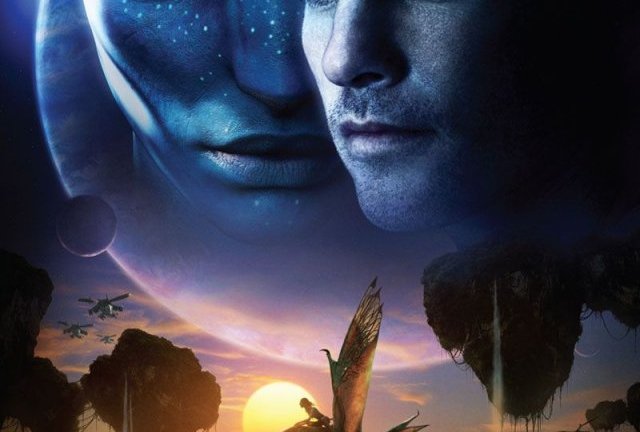 It's not, to be fair, the first time that James Cameron has triumphed against the odds. It's been an oft-told story over the past month that he stared into the eyes of disaster before, throughout the notorious production of Titanic back in the mid-to-late 90s.
Back then, everyone knew better than Cameron: the film was going to bomb, it was going to lose lots of money, and his career was going to come tumbling to an end. Terminator and True Lies sequels were to be the best he could hope for afterwards.
And Titanic, let's remember, was made before the influence of the Internet came to pass. Can you just imagine the tittle-tattle that would be around now, had Titanic been made under the scrutinising gaze of the online world?
The press the movie was receiving prior to its release was savage enough as it stood. Had online swords been allowed anywhere near it, it would have been beaten harder than a piñata at a particularly sugar-fuelled kids birthday party.
Hindsight has, I'd argue, tempered the critical reaction to Titanic somewhat (it has moments of utter brilliance, but the love story is still sappy and hardly Cameron's strength), but it's hard to contest the numbers. The film stands as the most successful (not adjusted for inflation) movie of all time, a position it's held for over a decade now. Furthermore, its $1.8bn worldwide box office takings haven't been challenged in the remotest since. The closest any other film has come has been the $1.119bn that Lord Of The Rings: Return Of The King brought in. Only Pirates Of The Caribbean: Dead Man's Chest and The Dark Knight have grossed the billion mark at all.
Then Avatar came along.
However you look at it, Fox's marketing campaign for Avatar came across as erratic. For most of 2009, nothing was seen of the film at all, unusual for what was slated as one of the biggest releases of the year. This, of course, led to the build up to what we can fairly call that trailer.
We're talking about the original, underwhelming promo for Avatar that impressed some, but left many wondering whether James Cameron was, once more, staring disaster in the face. It wasn't a bad trailer, in hindsight. But neither was it the kind that shook you by the shoulders and demanded that you go to see the film.
And given the reports of the price tag for Avatar, that's the kind of trailer that many were expecting to see. What we knew about the film, up until that point, was more about the technological side of things, with 3D taking centre stage.
What we knew about the film after that trailer wasn't a great deal more than that. And while it may seem a little unfair that so much was heaped on the shoulders of just over two minutes of footage, it did lead to suspicions that Avatar might be all style, no substance.
Fox, however, reacted, and from where we were sitting, it seemed to go overboard in the other direction. Perhaps the days are gone when a major blockbuster can hit cinema screens without at least 10-20 minutes of footage being released in advance, but there was a period of a month of two in the build up to Avatar's release when it seemed that pretty much every day there was a new clip, new featurette or piece of promotional material.
That's on top of the unprecedented screening of nearly 20 minutes of the film at the end of the summer, which drew thousands upon thousands of people around the world into cinemas just to see some material from a film still months away from release.
Even then, however, while interest in Avatar was clearly high, the consensus didn't seem to be that the film itself was looking particularly staggering. Ferngully? Dances With Wolves? The parallels were being thrown in its direction (with some grains of truth to them, as it turned out). And when the first press screenings of the film began, there was a genuine feeling that people had no idea how strong a film they were going to get. It felt like it could go either way. Just what kind of film was Avatar going to be?
It didn't take long for the answers to follow. As moviegoers around the world have found, Avatar is some achievement. It's perhaps not vintage Cameron – you'd had to dig back to the 80s for that – and it might have more Titanic parallels than some may be comfortable with, but it's the kind of huge, surprising blockbuster that they weren't supposed to be making any more.
What's even more impressive is that it's not part of a franchise, nor based on any licensed property. Instead, it's that rarest of things: a huge budget gamble (taking up to half a billion dollars to bring to the screen, depending on which report you believe), with pretty much no safety net underneath.
The critical reaction has been strong. Early reviews were utterly ecstatic, and even the more tempered reactions have been positive. The general consensus ranges from three to five stars (more weighted towards the latter), with aggregator site Rotten Tomatoes scoring the film at a very high 83% rating. Time will tell, of course, whether opinion stays so high once the hype has died down, and once the film gets contained onto DVD and Blu-ray. But we have a sneaking suspicion that it might.
For Fox, though, it's not the critical response that's giving it a sigh of relief. It's the box office numbers. James Cameron's previous film was a box office phenomenon. His latest? The numbers speak for themselves. Worldwide, in under 20 days, it's racked up $1,018bn. It's become the fourth biggest film of all time in three weeks.
Three weeks.
That's staggering, by anyone's standards. What's more, of the other nine films in the top ten of all time, eight of them are franchises. It's only Avatar and Titanic that aren't. And Avatar doesn't have DiCaprio-mania on its side either. It's an absolute one off, once more with James Cameron at the helm.
What's helping Avatar's numbers is that it's clearly got legs (and tails). It took in nearly $70m in the weekend just gone in the States, and two thirds of its business is still coming in from overseas. It's simply pouring in money from all quarters of the globe, at a pretty much unprecedented rate for a blockbuster movie, and the signs are that it could do for weeks and weeks to come (it took Titanic several months to make its money, ultimately).
A conservative estimate now would suggest its final worldwide gross will hit $1.3-1.4bn, but we'd be loathed to put a number on it. Avatar, if Oscar season doesn't hurt it (and there's not too much direct competition coming) could yet give Titanic a real box office run for its money.
The big winner in all of this, of course, is Cameron himself. Having once again proved his naysayers wrong in dramatic fashion for the second time in succession, Hollywood is not going to be shy in handing him cheques of any amount.
Right now, he's the only film maker on the planet who can deliver massive, massive blockbusters of this scale and return, and whichever of his projects he chooses to tackle next – Avatar 2, perhaps? – he's hardly going to have to go rattling the tin to get the funding. King of the world? Right now, he might just be.
So does the Avatar success leave the Internet with egg on its face? In certain quarters, you'd have to conclude that it does. We wrote ourselves how Fox's marketing campaign seemed all over the shop, but you can't argue with the end result. Whatever your thoughts on the trailers, the clips and such like, they've done their job.
And even at its lowest points, Avatar was a film that was regularly being talked about. We retain a worry that the blanket marketing approach be used as a template for every film, but there's little denying that it's been mightily effective in Avatar's case.
And ultimately, whether you like the film or not, it's giving cinema a huge shot in the arm. Not for the 3D or anything like that (the jury is still out there, arguably). No, it's shown to studios that you don't need a comic book, or a sequel, or a major movie star, to given them an event picture. You need the most crucial thing of all: a film maker behind the camera who knows what they're doing.
Mr Cameron, love him or loathe him, has once again shown that he absolutely fits the bill.