Features
The many underappreciated film roles of James Woods
A superb character actor James Woods has turned in some remarkable performances. Here are a few of his underappreciated roles...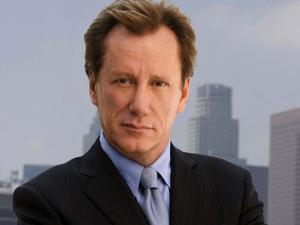 If you're looking for an actor who's far more interested in being a character than a hero, then surely James Woods is your man. He's built up a body of work over several decades that has rightly brought him a degree of acclaim – Videodrome, the brilliant Cop, Ghosts Of Mississippi, Contact, Salvador, and his growing collection of excellent TV roles – but in the 80s and 90s, he popped up in lots of films that are rarely talked about now.
There are so many seemingly lost great James Woods roles, that it seemed long overdue we try and right that particular wrong. So here's a collection of perhaps the lower profile, yet brilliant, performances from his career. And this is just a few of them…
Straight Talk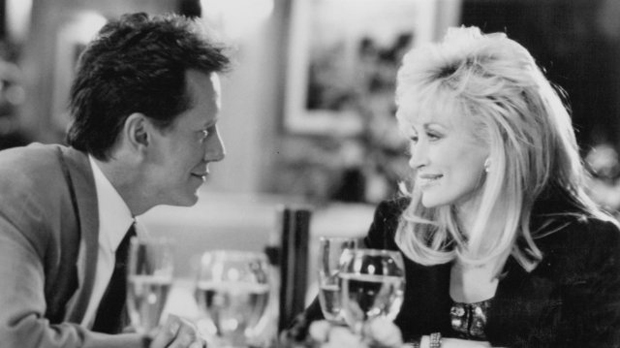 There aren't too many mentions of Dolly Parton to be found at Den Of Geek, and that 5000 word retrospective look at The Best Little Whorehouse In Texas is still a long way from happening. But Straight Talk was and still is a decent little comedy, designed as a star vehicle for Parton, as she plays the radio therapist who tells it very much as it is.
However, she's not quite who she appears to be, and that's where Woods' character comes in, as the reporter who tries to get to the bottom of just what's happened. A not always convincing romance ensues, but there's still more here than the generally downbeat reviews the movie got may lead you to believe. Woods is good value, although Straight Talk, for better or worse, is very much Parton's show. Don't write it off though…
The Specialist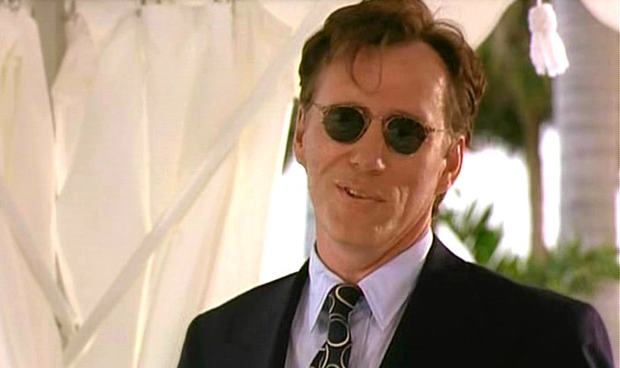 Don't worry. We're not going to make a case for The Specialist being some kind of lost action classic. It very firmly is what it is, namely a perfectly entertaining Sylvester Stallone vehicle, with an hilariously ropey special effect of the top story of a building falling to the floor.
Director Luis Llosa's biggest success at the time had been the solid Tom Berenger adventure Sniper (he'd gone on to direct Jon Voight sneer-fest, Anaconda). And while most of the attention come The Specialist's release was on Sylvester Stallone and Sharon Stone's dubious on-screen union, naturally enough it was James Woods' villain who promptly stole the show at every turn. Even when spewing out dialogue like "You're the rigger, I'm the trigger", Woods' Ned Trent is a foe worth spending time with.
Can Woods be a villain in the next Die Hard movie please?
Diggstown/Midnight Sting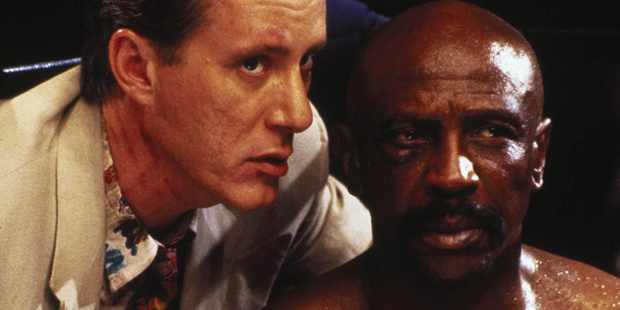 A movie that changed names on its journey across the Atlantic, not that it reversed its box office fortunes. Known as Diggstown in the US, and Midnight Sting in the UK, the movie's a boxing comedy from the late director Michael Ritchie, whose varied work covers The Candidate, The Golden Child, Fletch and the original version of The Bad News Bears.
Here, he pairs Woods with Louis Gossett Jr, with the former taking on the role of a recently-released-from-prison conman, who takes on a bet that he can find a boxer who can knock out ten contenders from the town of Diggstown in just one day. That is, as you've probably guessed, where Gossett Jr comes in.
That said, the pair of them practically have the movie stolen from underneath them by a wonderfully villainous Bruce Dern. Coupled with the wonderfully sparky dialogue, and Ritchie's ability to keep things pacey, in spite of needing to join together many of the familiar ingredients of the boxing movie, and Diggstown/Midnight Sting remains a hugely underappreciated gem.
Naturally, given that it's funny and boasts great performances, it bombed.
Animated Work
Woods is no stranger to voicing animated films. His turn as Hades in Disney's Hercules was a highlight of a fun movie, and more recently, his tones could be heard in Surf's Up. In both features, there's a real distinction and control to his voice, and he's on excellent form. He'd reprise the role of Hades several times in an assortment of Disney spin-offs from Hercules, incidentally.
Woods also was on voicing duties for Final Fantasy: The Spirits Within, the arguably ahead of its time box office disappointment based on the videogame franchise of the same name.
Nixon
Oliver Stone, to date, has made three films centred around US presidents, and two of them are utterly essential viewing. The continual headline grabber is his massively ambitious, and wonderful JFK, a dense, intelligent look at the assassination of John F Kennedy. W, meanwhile, is far less successful, a surprisingly compassionate look at George W Bush and some of his antics in the Oval Office.
The almost forgotten gem? That'd be Nixon, comfortably the least accessible of the three films, yet also one of Stone's very best. One of his many successes here is the cast that Stone gathers together, and Woods is a key part of that ensemble. He's a generous actor in his better-known ensemble work already – Casino and Once Upon A Time In America for instance – and the story goes with Nixon that he persuaded Stone to give him the role, over preferred choice Ed Harris. We're glad he did. His performance as Harry Haldeman, Nixon's chief of staff, is nuanced and complex, and deserves not to be lost in the shadow of Anthony Hopkins' superb turn in the title role.
Stone also gave Woods another cherishable supporting role, in Any Given Sunday too. His sleazy team doctor is yet another excellent piece of work.
The Hard Way
We've written about The Hard Way more extensively on Den Of Geek before, and no doubt will again. It's a harder-edged mismatched buddy comedy, released in the very early 90s but still feeling like an 80s movie in many respects.
The gold here is in the casting. Woods is the chiselled, hardened cop. Michael J Fox is the movie star looking for a grittier role, who accompanies Woods in his work as he undertakes research for his next movie. Willing to make the two ultimately interdependent on each other without anything close to them becoming good friends, The Hard Way is at its very best when Woods and Fox are sparking. And spark they do. Fox's scene where he tries to school Woods in the art of treating women properly is one of the many classic scenes packed into The Hard Way's running time.
Our full lookback can be read here. The Hard Way remains one of Woods' funniest roles, in one of his best films.
Cat's Eye
If there's one Woods movie that seems to have been particularly looked over in recent times, it's the Stephen King adaptation, Cat's Eye. It's a horror anthology piece, effectively, centred around three different stories, of which Woods' is the first.
His segment is called Quitters Inc, and it's a really sinister tale of a man – Woods – who's desperate to give up smoking. As such, he calls in Quitters Inc, and they prove to be an organisation with some effect. Basically, every time Woods lights up a cigarette from that point onwards, something bad happens, and to say much more would be to spoil things. The last moment of Quitters Inc is particularly brilliant, though.
Inevitably, it's Woods three dimensional work at the heart that turns what could have been a daft tale into a really unsettling one. Lewis Teague's direction here is good, but for the project to really click, you have to buy that the central character is covered in shades of grey. Bluntly, you do.
Incidentally, the rest of Cat's Eye is worth a spin too. The last chapter in particular, General, is a whole lot of fun, with a young Drew Barrymore being protected from a troll by the moggy that links all three stories in the movie together. Quitters Inc is the undoubted highlight, though.
Best Seller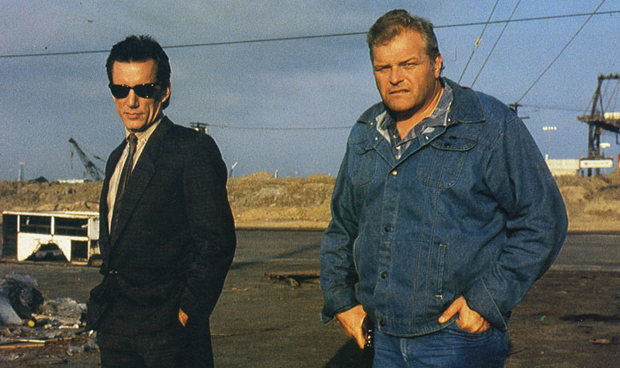 If you take one movie away with you after reading this piece, let it be this one.
It was after we posted our piece on the aforementioned The Hard Way that several readers got in touch with us and suggested we give Best Seller a try. Every single one of those readers has our thanks. It pairs Woods with the equally wonderful Brian Dennehy, with the latter being a cop who ultimately rises to prominence courtesy of the books he's written about some of his work.
This brings him to the attention of Woods' hitman, who is looking for someone to tell his story, just the way he wants it told. With Dennehy suffering from writer's block and under pressure from his publishers, an uneasy union forms. And it's the uneasiness that makes Best Seller so compelling. Neither Dennehy or Woods is a heroic figure here (and neither do they try to be, creating far more interesting characters as a consequence, as boith have built a career on doing), and they spark just as much as they get along. There's a dark core at the heart of both characters, and it's as far removed from a stereotypical buddy movie as you can realistically get.
Director John Flynn would go on to direct the Sylvester Stallone vehicle Lock Up, which could use some of the character ambiguity that Best Seller trades in. Disappointingly, Best Seller seems to have disappeared without much trace, though, and that's a massive, massive pity. An excellent piece of work, powered by two dark, excellent performances. If it had been made with movie stars rather than actors, the ambiguity and areas of grey at the heart of the movie would have been lost. As it was, Woods and Dennehy are surely the next candidates should a far more daring remake of The Fugitive ever be on the cards…
Also…
It's fascinating to see just what films James Woods came close to doing, but either turned down or the role ultimately went to someone else. Sam Hamm has revealed, for instance, that Woods was a close run for The Joker in Tim Burton's valet, while infamously, Quentin Tarantino penned a role for the actor in Reservoir Dogs. Woods' agent passed on the role without informing his client. Just imagine what could have been in both cases…