News
The Lindsay Lohan ready reckoner
We know what you're thinking: Lindsay Lohan is hardly geeky. She's the definition of mainstream right now. Well, hard cheese. Plus, who else cares about her movies any more anyway?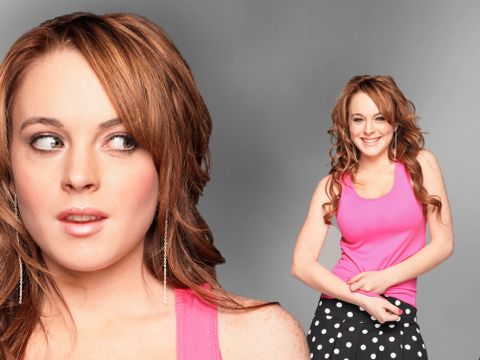 Relentless partying, drink driving, drugs, rehab, breast implant rumours, more drugs, car trashing, more drink, catfights, more parties, upskirt photos, public shouting matches, incoherent open letters to dead directors … Are we talking about a typical day at the Den of Geek offices? Or just Hollywood enfant terrible Lindsay Lohan?
Before the media circus went into overdrive about her shameless offscreen antics, Lindsay Lohan was a perfectly presentable young actress and she made some decent movies. Let's put her to the Ready Reckoner and see what it says:
Get A Clue (2002)
Lindsay plays a hip teen reporter who, with spy gadgets and brightly coloured clothes, investigates and uncovers a massive embezzlement plot. Harmless Disney Channel fluff. Her co-star's name is Bug. Her hair is nice and red.
Freaky Friday (2003)
A perky Lohan swaps bodies with onscreen mum Jamie Lee Curtis in this hilarious remake of the classic family comedy. Lohan's comic timing is spot-on, but her hair highlights are dodgy.
Confessions of a Teenage Drama Queen (2004)
Not an autobiography. Just a Disney misfire about a young gal who dreams of being a singer. Lindsay's hair is a washed-out blonde and the film simply isn't funny or interesting.
Mean Girls (2004)
Instant cult classic and one of the best teen movies of all time,
Mean Girls
is a chick flick with claws. Deeply funny. Lindsay is a redhead again and this is her finest, most iconic performance.
Herbie: Fully Loaded (2005)
Action-packed and adorable revitalisation of the much-loved sentient car franchise. Redhead Lindsay gives it some girl power as a feisty F1 racing driver. More fun than you'd like to admit.
Just My Luck (2006)
Surprisingly mean-spirited, unfunny romantic comedy about a gal with supernatural good luck. Features music and scant laughs from McFly. Lindsay is kind of annoying and squeaky in this, but redheaded.
A Prairie Home Companion (2006)
Weird Garrison Keillor vehicle that feels kind of like a party that you've wandered into where everyone knows each other and has their own in-jokes that you don't understand. Lindsay's hair is blonde and she sings a bit. John C. Reilly tells poo jokes.
Bobby (2006)
Surprisingly powerful bit of anti-violence polemic from Emilio Estevez and a cast of thousands. Lindsay's hair is black and she marries Frodo. Still, a damn fine movie.
So there you go. Where will her career take her next? With a presentable set of three star or above movies to her name, one can only hope she'll clean up her act and stick with them, rather than just spending the rest of her life and in and out of rehab …