News
The Legend Of Conan: studio passes on new sequel
Arnold Schwarzenegger now looks highly unlikely to reprise the role of Conan one last time...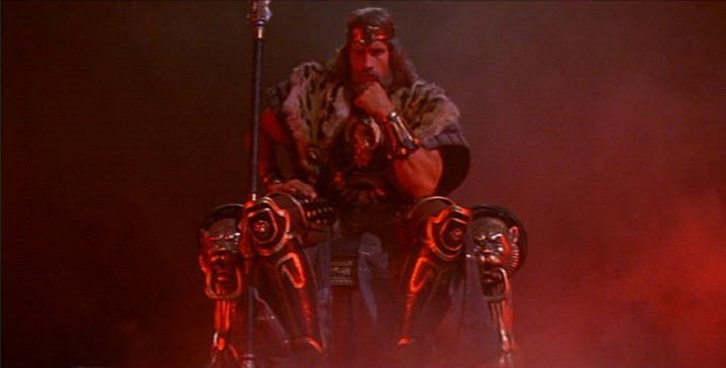 This is unfortunate. For the last few years, it looked like we might finally get Conan 3, known as The Legend of Conan or Conan the Conqueror, with Arnold Schwarzenegger returning for one last time with the sword, detailing his fate as King that was glimpsed at the end of Conan The Barbarian. As recently as last year, Arnold himself made it sound like this movie was all but a sure thing.
But now Chris Morgan, who was set to produce the film, is making it sound far less likely. "At the end of the day, the studio decided that they weren't gonna make that," he told Entertainment Weekly. "I gotta say, it's honestly a heartbreak. I love that first movie so much, so much, it's one of my favorite movies."
Apparently they got far enough in to commission a new draft. "We had Will Beall do a draft…He killed it. Our take was Conan, 30 years later, a story like the Clint Eastwood Unforgiven. It was so awesome. Ultimately, the budget was big, the studio was not really sure of the title, and the relevance in the marketplace. They ended up letting it go. I think they're gonna look to do a TV show or something with it. But just to be associated with it, pitch it to Arnold, have him get so excited, there was a moment of magic for me, personally [laughs]. You never know, down the road we may revisit!"
WhileMorgan mentions Unforgiven as a parallel, which is a wonderful way to look at it, modern audiences might look to a more recent movie, one that also had Unforgiven in its DNA for an example of how important it is to let a beloved actor get a final act with an iconic role. Imagine if The Legend Of Conan took the Logan approach to let Schwarzenegger properly say goodbye to the role that helped launch his career. While Conan The Destroyer isn't as bad as you hear, it's not really the sequel that Conan The Barbarian deserved, and it doesn't exactly give the character the kind of kingly closure that was originally hinted at.
Sadly, the likely cause of death here though was Schwarzenegger's waning box office powers. 
That crack about a potential Conan TV show is interesting, too. There was plenty of mythology outlined in the original Robert E Howard Conan stories, and the Hyborian Age could offer a rich enough landscape to support a Game Of Thrones style series. In the meantime, though, I wouldn't hold my breath to see Arnie in the crown and sword any time soon.
//