News
The Layover Trailer: Alexandra Daddario and Kate Upton Viciously Feud
Alexandra Daddario and Kate Upon are besties who put "misters before sisters" over a hunk in The Layover trailer.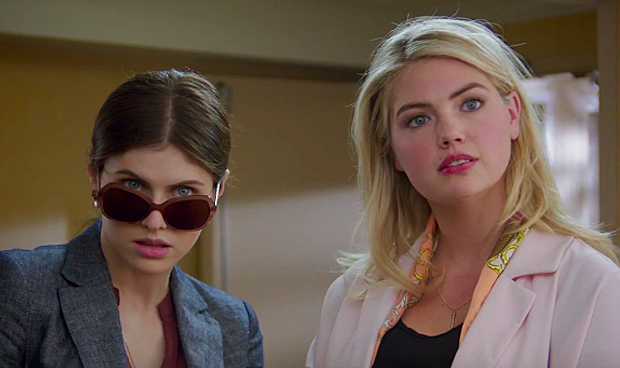 The Layover arrives as a comedy that's both a showcase for two highly-sought starlets in Alexandra Daddario and Kate Upton and the most prominent feature in the burgeoning directorial career of actor William H. Macy. The film is raucous tale of two (extremely beautiful) losers who engage in an escalating feud, competing for a man they met on a plane.
The Layover Trailer
The Layover trailer sets up the life failures of the best friends in focus, with Kate (Alexandra Daddario) losing her job as a teacher in an outrageously embarrassing way and Meg (Kate Upton), whose subversive attempt to offload a supply of (sanctioned up the wazoo) North Korean goods to a boutique company led to her unemployment. Thus, they attempt to rejuvenate themselves with a trip to Florida. However, while a hurricane-related extended layover in St. Louis derails those plans, an attractive man (Matt Barr) with iron abs comes between Kate and Meg – literally on the plane and figuratively with both women competing for his amorous attentions. Consequently, an escalating comedic feud commences, starting subtly with skimpy outfits, raising stakes to messy bathroom pranks, culminating in Krav Maga killshots!
Alexandra Daddario comes into The Layover off her co-starring role (opposite Dwayne Johnson,) in the heralded, but mixed-performing Baywatch film reboot. She also appeared opposite Johnson (as his daughter,) in the 2015 earthquake epic San Andreas, with plans to reprise the role in a sequel. Her film frenemy Kate Upton, started as a prominent swimsuit model, debuting in 2011's Tower Heist, recently appearing in 2017's The Disaster Artist. The man they covet is played by Matt Barr, who fielded television runs on shows such as Sleepy Hollow, Hellcats, and One Tree Hill. – Matt Jones (Breaking Bad), Rob Corddry (Hot Tub Time Machine), Kal Penn (Designated Survivor) and esteemed SNL alumna Molly Shannon (Divorce) also appear.
William H. Macy, actor extraordinaire, occupies the director's chair for The Layover, working off a screenplay by David Hornsby and Lance Krall. While Macy has already directed one feature film in the 2014 music-centric comedy Rudderless and a 2015 episode of his Showtime comedy Shameless, The Layover will be his most prominent directorial product, though it still won't manifest with a wide release theatrical run.
The Layover Release Date
The Layover will be released on August 3, 2017 on DirectTV Cinema and have a limited theatrical release starting September 1, 2017.