News
The Kurt Russell ready reckoner
It's Ready Reckoner Friday, and this week, Kurt Russell steps into the limelight. Martin even watched Captain Ron to bring you this...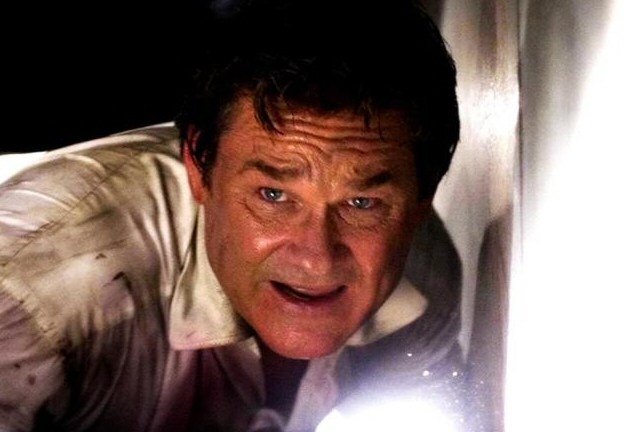 Martin's been troubling those nice women at Archway Video to plug the holes in his Kurt Russell knowledge for this ready reckoner, which picks up the ex-child star's career from 1980 onwards. He even watched Captain Ron so you don't have to.
Death Proof (2007)
Russell almost reprieves Tarantino's abysmally self-referential, extra-length
Grindhouse
ego-wank with a rich, darkly comic turn as murdering-bastard Stuntman Mike. But he would have needed more than 20 minutes of screen time to accomplish that.
Grindhouse (2007)
See
Death Proof
Poseidon (2006)
By the law of averages and random occurrences, Hollywood was bound eventually to not cock up a remake. Russell extracts a workmanlike performance out of an undemanding role in this claustrophobic action thriller, with a waterlogged death-scene that couldn't have been easy to pull off.
Dreamer: Inspired by a True Story (2005)
Affecting
Seabiscuit
clone with KR rising to Dakota Fanning's high mark in a harmless if greatly exaggerated tale of a broken horse returning to glory.
Sky High (2005)
Don't be churlish, it's not meant for us; but it's pretty amusing anyway, and our Kurt blends his action and comedy personae to good effect as a (literal)super-dad in this tale of a school for superheroes.
Miracle (2004)
Add a star or two if you like films about ice-hockey, or if you're American; in this flag-waving Disney sports epic, Russell plays the visionary coach who led the Olympic team to an apparently impossible Victory over the Soviets in the 1980 Olympics.
Dark Blue (2002)
A multi-layered performance as corrupt cop Eldon Perry garnered well-deserved plaudits for KR in this gritty and effective thriller, set during the Rodney King riots.
Interstate 60 (2002)
Robert Zemeckis's long-time cohort Bob Gale gave Russell the longest dialogue scene of his career for a cameo as an unorthodox sheriff in this bizarre and little-known treasure (maybe Simon will watch the copy I lent him one day).
Vanilla Sky (2001)
Russell in typically excellent form as murder suspect Tom Cruise's shrink in Cameron Crowe's initially baffling but rewarding P.K.D-esque sci-fi film.
3000 Miles to Graceland (2001)
Outshone by a Kevin Costner trying far too hard to break with his good-guy image, ex-con Kurt wastes some good work here.
Soldier (1998)
..but 5 stars for a rock-solid, emotionally repressed performance from Kurt as an outmoded model of space-soldier in (shock horror) a pretty good Paul W.S. Anderson sci-fi outing penned by
Blade Runner
/
Unforgiven
screenwriter David Peoples.
Breakdown (1997)
The Vanishing
meets
Deliverance
via
Duel
, though in truth it was competing with Oliver Stone's superior
U-Turn
(1997). Kurt carelessly loses wife Kathleen Quinlan in Hicksville USA and has to bargain with banjo-pluckin', gun-totin' yokels to get her back.
Escape from L.A. (1996)
Snake Plissken returns for another high-pressure mission in an oddball but very enjoyable sequel that was ten years ahead of its time (excluding the bloody awful CGI work).
Executive Decision (1996)
Passenger 57
,
Air Force One
…but this is probably the best of the late 90s 'peril in flight' frenzy (
Con Air
spent too much time on the ground to count). Kurt hits the right mark as an egghead turned action hero in this taut, crowd-pleasing actioner. An almost-juvenile Halle Berry features as a sassy stewardess.
Stargate (1994)
A military-issue Russell and the excellent James Spader utterly thrown away in an endless interplanetary yawn-fest; even the exquisite Egyptian-inspired production design can't restore the viewer's will to live.
Forrest Gump (voice of Elvis, 1994)
Kurt plays The King for the umpteenth time (all right, the fourth time) in his career in a voice-cameo, in a film you probably have to be American to even hope to appreciate.
Tombstone (1993)
Belly up to the bar for the Battle Of The Tashes in the whiskeriest western I've ever seen. Kurt mans-up with an 'Imperial' that you could lose a prairie hound in.
Captain Ron (1992)
Ninety minutes you'll want back. Ultra-safe, anaemic Martin Short family comedy enlivened (but not enough) by Russell's salty turn as the incompetent eponymous skipper that leads a templated US family into trouble in the Caribbean.
Unlawful Entry (1992)
In this apparent knock-off of Mike Figgis's equally pedestrian
Internal Affairs
(1990), Kurt has to protect his family from psychopathic cop Ray Liotta.
Backdraft (1991)
Ron Howard's aimless, testosterone-driven tale of a family of fire-fighters taxes KR's acting skills very little, but the practical fire effects are great.
Tango & Cash (1989)
Russell and Stallone play 80s machismo for laughs in this daft but enjoyable cop buddy movie.
Winter People (1989)
KR goes the extra mile for this one. Weepie of the week material, with Mr. R as an itinerant clockmaker in depression-era North Carolina, taken into the heart of a poor village –and Kelly McGillis's home; but her roving husband is wild, and he hasn't even seen our Kurt yet.
Tequila Sunrise (1988)
Mel Gibson and Kurt are old buddies on opposite sides of the law in this dismissible tale of drug deals and surveillance.
Overboard (1987)
KR's funniest film, as the slob-from-hell white-trash handyman who convinces amnesiac rich-girl Goldie Hawn that she is the mother to his flock of appalling children. Unmissable.
Big Trouble in Little China (1986)
Rated higher here than in my
John Carpenter Ready Reckoner
, since this list is about Russell, who re-invented John Wayne for the 80s as the utterly, utterly useless 'hero' Jack Burton.
The Mean Season (1985)
Russell's
Kolchak
-style reporter is embroiled in the evil intents of a Miami serial killer far nastier than Dexter. A sharp thriller that has aged well.
Swing Shift (1984)
Goldie Hawn meets real-life future hubbie Kurt in Jonathan Demme's amiable WW2 romance.
Silkwood (1983)
Kurt makes up the numbers in an issue-driven Streep vehicle about a company with butterfingers – trouble is, the company makes nuclear power.
The Thing (1982)
A now-classic horror film with endless rewatch value, and a rare 'bloke's film' that isn't set in the wild west or on a submarine. A shivering, frozen KR in the supply cupboard is one of the film's key horrific images, as a group of arctic scientists turn on eachother for fear of alien infection.
Escape from New York (1981)
Russell adds an enduring string to his bow as Eastwood-esque sci-fi antihero Snake Plissken in his second collaboration with John Carpenter after the 1978 TV biopic
Elvis: The Movie
.
Used Cars (1980)
Comedy treasure Gerritt Graham joins KR to form an excellent double-act in Bob Zemeckis's amusing tale of rivalry between neighbouring used-car dealers. Ultimately ruined by a 30-minute
Blues Brothers
-style cargasm featuring no less than 100 used cars in a long and tedious convoy scene.
Coming up in the Ready Reckoner: next Friday it's Rutger Hauer, and the following week, Harry Potter….