News
The Kitchen: Release Date and Trailer for Comic Book Movie
Melissa McCarthy, Tiffany Haddish, and Elisabeth Moss star in this adaptation of Ollie Masters and Ming Doyle's The Kitchen.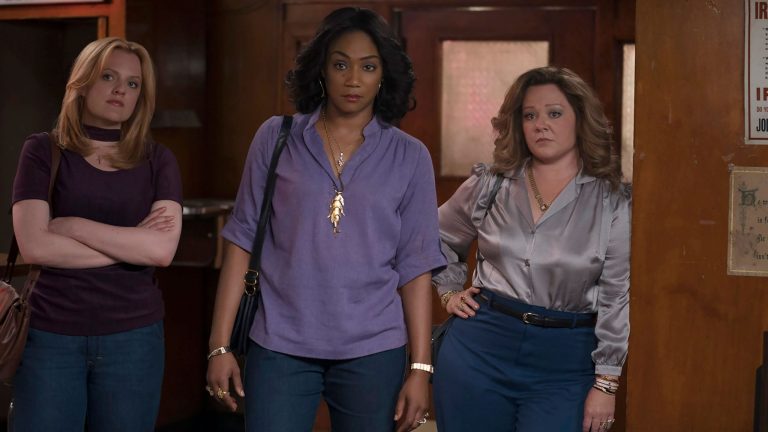 With The Kitchen, Andrea Berloff makes her directorial debut for Warner Bros. and New Line. Berloff has previously found success penning screenplays for Straight Outta Compton and World Trade Center, but this is the first time she's stepped behind the camera, and what a project she's chosen to break in (and out) with.
It's hard to imagine how anyone could go wrong with this feature film, given the source material. The Kitchen is an incredible 2015 comic book series from Vertigo by Ollie Masters and Ming Doyle, with the story revolving around three mob wives – Kath, Raven, and Angie – who take over their imprisoned husbands' organized crime business back in the scorching '70s. It turns out they're really, really good at running rackets. Maybe too good.
In the movie version of The Kitchen, this trio of female "goodfellas" are played by Melissa McCarthy (Can You Ever Forgive Me), Tiffany Haddish (Girls Trip) and Elisabeth Moss (The Handmaid's Tale), with Domhnall Gleeson (Star Wars: The Last Jedi) appearing as Gabriel O'Malley, a Vietnam vet-turned-hitman who proves to be very supportive of the ladies' new venture.
The Kitchen Trailer
Check out the final trailer for The Kitchen.
Watch the first trailer below:
The Kitchen Release Date
The Kitchen will be released on August 9.
Here's the official synopsis for the film:
New York City, 1978. The 20 blocks of pawnshops, porn palaces and dive bars between 8th Avenue and the Hudson River owned by the Irish mafia and known as Hell's Kitchen was never the easiest place to live. Or the safest. But for mob wives Kathy, Ruby and Claire–played by Melissa McCarthy, Tiffany Haddish, and Elisabeth Moss–things are about to take a radical, dramatic turn. When their husbands are sent to prison by the FBI the women take business into their own hands, running the rackets and taking out the competition…literally. Now they own the neighborhood.