News
The King's Man Footage Reveals Classic Adventure
The King's Man NYCC footage promises a different kind of spy movie that could be as anachronistic as X-Men: First Class.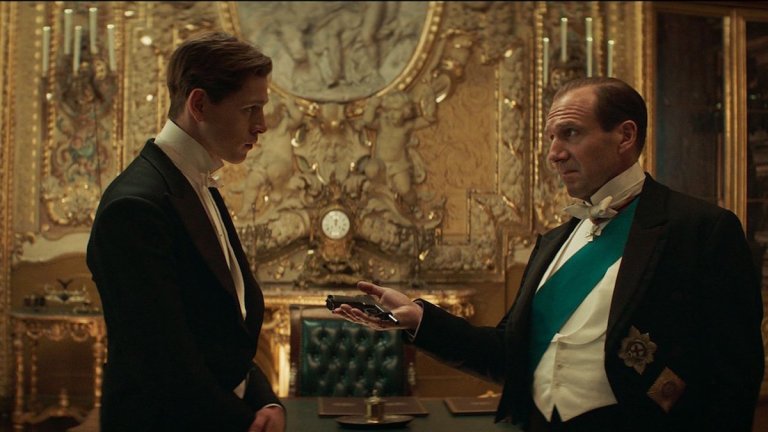 Matthew Vaughn has a confession to make. He's watched all the "Oscar movies" nominated for Best Picture. He watches them every year. And while most of them are good, there are few he ever wants to sit down to view more than once. He's not being pretentious when he admits this to a New York Comic Con crowd eager and ready to get an extended glimpse of The King's Man, a prequel to Vaughn's first two Kingsman movies. Quite to the contrary, in fact. Vaughn misses when epic adventures—many of them directed by David Lean—were the order of the day for both awards season and, more importantly, moviegoers.
Thus enters King's Man, a new spy film that re-contextualizes Vaughn's already distinctive and post-modern take on the British spy genre. Whereas the first two Kingsman movies were giddy reimaginings of the '60s spymania archetype, best associated with James Bond, The King's Man journeys back to World War I for a decidedly classical version of storytelling. Insisting they did as much in-camera as possible, Vaughn underlines the fresh perspective his new movie has by telling the origin of the secret agent organization operating out of a tailor's shop in London's trendy Mayfair neighborhood. Indeed, Vaughn reveals that they shot it with the same lenses used on Lean's Lawrence of Arabia.
"They sometimes fell apart," Vaughn mused to the crowd but they also produced a movie that looks strikingly apart from most major blockbusters of today. In this vein, we glimpsed footage that suggests a more classical adventure story that predates the Bondian influences that have come to be associated with this franchise. Among the sizzle reel footage teased—which included a slightly different variation of what was gleaned in this week's trailer—were several full scenes.
The first is when Ralph Fiennes, as the Duke of Oxford, takes his son Conrad (Harris Dickinson) to the classic Kingsman shop on Savile Row. There is the lone bit of happy continuity with the past, as it's the same shop from the first movie, looking much as it does in 2015 when Eggsy (Taron Egerton) entered. However, the relationship presented here is not master and apprentice, but father and son. As such Fiennes gets an insightful exchange with his heir who is perhaps much too eager to wear the dinner jacket (and implicitly the military uniform that goes with it).
Fiennes, who appeared before NYCC to thunderous cheers, later said of the characters' relationship, "A tragedy has happened to the family which has given my character, the Duke of Oxford, a particular perspective about warfare. He's essentially a pacifist and his son Conrad grows up, of course, when England is going into the First World War wanting to step up and join the army, join the forces, and to honor his nation. And I think in that differing opinion about combat and violence." Not that there isn't a history of violence in this family.
During the aforementioned scene, Fiennes' Duke character gives his son a bit of perspective about how their ancestors became nobility: it wasn't because they were kind-hearted but because they were violent men of action. In their day, to be described as a "gentleman" would be an insult instead of a virtue. "We're oxfords not brogues," the Duke tells his son. Clearly Fiennes' secret agent man will be of stricter, sterner stuff than Colin Firth's droll Harry Hart.  It also ties into a line from the previous trailer the Duke also enjoys: "Reputation is what people think of you; character is who you are."
During the panel, Fiennes contemplated that bit of advice, saying, "That really leapt out when I read the script. I remembered my own parents always saying to me, you should never worry about what people think of you. And I think thank God because our reputations are terrible but our character's good."
This perhaps underscores Vaughn's hope that even people who disliked the first two Kingsman movies will reluctantly be able to enjoy this one. After all, the movie he says he most aspires to emulate is The Man Who Would Be King (he was also impressed some of the audience cheered at its name, "Are you sure this is Comic Con and not film appreciation club?" he quipped). The John Huston film in question is based on a Rudyard Kipling story and starred Sean Connery and Michael Caine as two members of the British Army during 19th century colonialism. They essentially become soldiers of fortune to both glorious and then disastrous results. No matter what though, their lives are a rip-roaring adventure.
However, judging by the other footage we saw exclusively for NYCC, it is easy to surmise that the film might be closer to Vaughn's X-Men: First Class. That was of course a superhero origin story, but it was also an exhilarating spy movie before Kingsman; it's set literally in the 1960s and it played with movie history and then a more perilous kind—giving a Bondmania/superhero-bent to the Cuban Missile Crisis. By contrast, King's Man footage included a sword fight between Djimon Hounsou's Shola, one of the early secret agents for would become the Kingsman Intelligence Service, against Rasputin. Shola and Conrad cross swords with a comic book villain version of the Russian political power player and alleged wizard. At one pint Gemma Arterton's Polly even intervenes, shooting the swords out of the hands of Rasputin and a now intervening Duke, saying, "Why is it that boys are so messy?"
Other footage that caught my eye was what appeared to be the famed assassination attempt of the Archduke Ferdinand in Serbia. Famously, there were several attempts to kill him as he visited Sarajevo, including an instance where a would-be killer threw a grenade in his car and he threw it out. In King's Man, an agent swats a grenade with a rifle as if it's a baseball meeting a bat. Deflected from his open-roofed motorcar, it flies back and blows up the one behind them.
Such is the kind of hijinks promised by The King's Man. And promising it is, indeed.
The King's Man opens on Feb. 14, 2020.
David Crow is the Film Section Editor at Den of Geek. He's also a member of the Online Film Critics Society. Read more of his work here. You can follow him on Twitter @DCrowsNest.