Reviews
The Johnny Depp DVD Collection (1993) review
A few odd entries in this collection, but some solid work from Mr. Depp as well...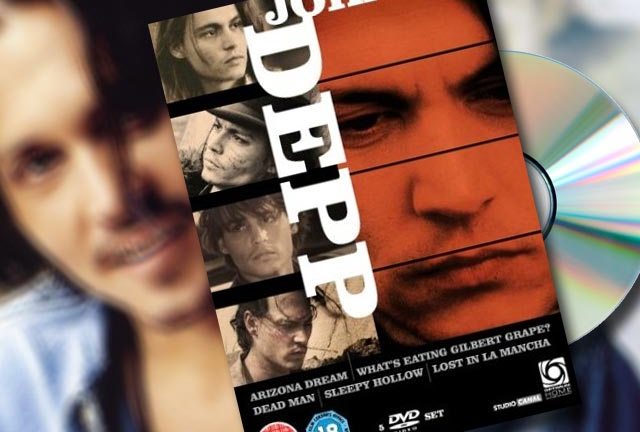 I like Johnny Depp and I have done since Edward Scissorhands. I admit that I am biased, but it was a bias based upon Scissorhands, Sleepy Hollow, Pirates Of The Caribbean and, of course, the fantastic, (but often overlooked), Ed Wood. Imagine my glee when I was asked to look at the new box set which featured some of his earlier movies.
If I had based my review on the first movie I looked at, I might never have written anything good about this box set at all. Lost In La Mancha, is a movie about a movie that never got made. It charts the route taken to try and get the film The Man Who Killed Don Quixote onto cinema screens, and although it is interesting in its own way – it cannot be classed as a Johnny Depp film. In fact, it is a Terry Gilliam documentary that is very interesting at times and shows the background to the film making process that many of us know nothing about. However, and I repeat this again, I don't think this film should be in this collection.
The next film I looked at was Sleepy Hollow, which I still think is one of the scariest films I have ever seen. I can't explain why; it just scares the proverbial skin off me. It's a well-written film, with many of my favourite actors in. Johnny Depp, Christina Ricci, Miranda Richardson, Michael Gambon, Casper Van Dein, Christopher Walken, Christopher Lee, Michael Gough, Ian McDiarmid, Richard Griffiths, Jeffrey Jones all star in what is a mix of some of the best American and English actors. It's also directed by Tim Burton, who has been involved with many of Johnny Depp's more successful films.
Depp plays Ichabod Crane, a Constable from the city of New York, who is sent to investigate some gruesome murders in the village of Sleepy Hollow. There he discovers a mixture of local politics, supernatural happenings and, of course, the essential love interest – Katrina Van Tassel played by the diminutive Christina Ricci. Ricci plays this role with just the right amount of aloofness and hidden concern. She was a wonderful choice for this role, and helps make the film the masterpiece it is.
The third film I watched was one that I have never seen before and instantly regretted not having done so. Arizona Dream is one of those films which is difficult to describe. It is also difficult to watch at times, but not because it is a bad film. Quite the opposite. It is a masterpiece of character acting and not only stars a young Johnny Depp, but also two of my longterm favourites, Jerry Lewis and Faye Dunaway. It is directed by a director I had not heard of until this movie, Emir Kusturica, who according to the brief extras included on the disc, took three months off filming because he was depressed. You just know when you hear this that the movie will be interesting, and it is.It is also confusing, but not in a bad way. Rather, it jumps around showing you little bits, and then all of a sudden you realise that you understand what is going on.
I won't go into the details, because they could so easily spoil your entertainment, but Jerry Lewis is wonderful as the aged car salesman that is desperate for Depp's character to take over his business from him. Depp easily drops into the role of Axel Backmar, the man who tags fish for a living in New York. His character is the most real of those you will come across and develops well in the film. Dunaway plays her character, a depressed and selfishly obsessed woman with a fixation with flying, with aplomb and energy. She exudes sex appeal and is totally enthralling. Finally, and worth a mention, is Lili Taylor, who plays Grace Stalker, the step daughter of Dunaway's character. Grace is probably the most tragic of the characters featured, who turns from a nasty misunderstood step daughter into a loving, caring and ultimately depressive woman.
I love this film for all the things that make it quirky, including the Eskimo scene at the end, and I would rate this one of my top ten movies to watch on a rainy day.
What's Eating Gilbert Grape is the story of a young man that has taken on the responsibilities of his dead father, and cares for his mentally handicapped younger brother, played by Leonardo DiCaprio. It is a story of how a young man deals with the responsibilities placed upon him by fate and family. DiCaprio is the undoubted star of this movie and should really have won an Oscar for the performance. Gilbert himself is a man that is burdened to the point of snapping and then some. His 36 stone mother has not left the house since her husband killed himself, his relationships with everyone are overshadowed by his brother and he is reaching the point at which his life has to change. Then it does, with the aid of worldly wise Becky, played by the wonderful Juliette Lewis.
This is a quiet, quirky film with love, grief, humour and Arnie – the irrepressible force that both taints and enriches Gilbert's life. Highly recommended.
The final film in this set is the movie Dead Man. Dead Man is a western, but with a quirkiness that detracts from what is already a slightly weird movie. It tells the story of a law abiding man who through the twists and turns of fate ends up getting involved in murder and then ends up on the run. It is strangely humorous in places, confusing in others, but ultimately a good vehicle for Depp. It is not his best movie though, and many will find it just too strange. It's shot in monochrome, (black and white for the uninitiated), and actually works well in this format.
In general this is a good box set that only suffers from one or two weaker movies. However, it is an excellent introduction to some of the earlier Depp catalogue and although it doesn't have a mountain of extras, it is still great value. I would heartily recommend it, especially at the price that Amazon are doing it at the moment.
Films:
Disc:
The Johnny Depp DVD collection (1993) is out now