Reviews
The John Carpenter collection DVD review
Seven John Carpenter classics in one box-set. But is this one for true Carpenter aficionados...?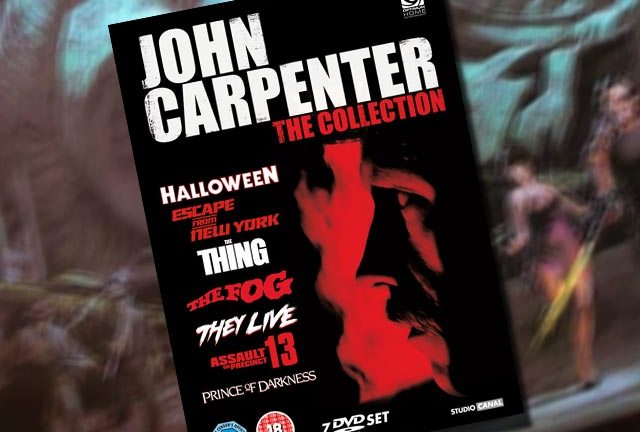 Momentum today release seven classic John Carpenter films in one edition. Let's take a look at what's on offer…
Assault On Precinct 13 (1976) This is one of the slowest-moving thrillers ever, but absolutely packed with atmosphere and unusual Los Angeles locations. Lovingly based on Howard Hawks' Rio Bravo, Carpenter sets up the template for his career with the tale of a disparate band of police officers, civilian staff and hardened criminals trying to fight off the waves of gangs determined to break into a police station and kill a key witness on the night that the station is being decommissioned. Look out for child-killing Frank Doubleday, who went on to make an equally big impression as the punk stooge in Escape From New York.
Extras: These are exactly the same as the 2003 region 1 release, but with far nicer menus.
Commentary by John Carpenter Another illuminating insight into low-budget movie-making with Mr. Carpenter.
Q&A with John Carpenter and Austin Stoker (23.04) A 2002 chat filmed at the Egyptian theatre in Hollywood in front of an audience. Rough and ready, but none the worse for that.
Production history (16.48) A cross between a slide-show, a featurette, a stills gallery and a trivia track, someone seems to have had some fun with Powerpoint here, but this non-narrated feature lacks the immediacy or convenience of any of the more traditional formats it has tried to fuse together.
2x radio spots
Original theatrical trailer
(mainly for the commentary)
_________________________
Halloween (1978) Carpenter's seminal slasher pic changed the face of Hollywood horror for the following decade and beyond. Revenant child-murderer Michael Myers is all grown up now and escapes from his life sentence in an asylum to wreak bloody mayhem in his old neighbourhood. When goodie-two-shoes babysitter Jamie Lee Curtis comes within his sights, this new incarnation of the boogeyman proves hard to kill…
(If you discount how imitated it was afterwards, which is hardly its fault!)
Extras: Unforgivably, this version does not feature the John Carpenter commentary available on the 25th anniversary edition.
Halloween unmasked 2000 (27.08) A glossy TV documentary featuring some nice chat with Carpenter, Jamie Lee Curtis, producer the late Debra Hill, cinematographer Dean Cundey, producer Irwin Yablans, financier Moustapha Akkad and various others. It won't satisfy Halloween fans who really want to get behind the scenes, but has enough stories to be worth a look.
Trailers (contemporary and re-release)
TV spots
Radio spots
Talent bios Text bios featuring John Carpenter, Debra Hill, Irwin Yablans, Moustapha Akkad, Donald Pleasance, Jamie Lee Curtis and P.J. Soles.
Still galleries
Trivia Text information with some quite interesting nuggets about the film
_________________________
The Fog (1980) Carpenter's salty ghost-story concentrates on creepy atmosphere at the expense of gore, and in fact the studio sent him back to put more in after principal photography. It's time to pay the piper for a Californian town that did the wrong thing by some visiting sailors at the time of the founding fathers. The film comprises a number of stories that only partially link up, including Jamie Lee Curtis and Tom Atkins as the hitch-hiker and the man who (pretty much in every sense) picks her up, Adrienne Barbeau as a silver-voiced disc jockey under siege (would this be a Carpenter flick without a siege?) to the maritime nasties and Curtis's real-life mum Janet Leigh as the mayor trying to keep a PR lid on the terrible happenings.
Extras: Obviously this one-disc release doesn't have the space for the extras enjoyed by the 2004 region one 2-disc special edition, and in fact only retains the John Carpenter commentary. Thankfully, that's the one extra it would have been a sin to omit.
_________________________
Escape From New York (1981) Enjoy once again the post-apocalyptic, low-budget thriller that is often over-looked in favour of Blade Runner or Mad Max (both of which it preceded) in terms of the huge influence it was to have on cinematic sci-fi. Kurt Russell is the sentenced convict given a chance of freedom if he can get the president out of Manhattan – now a no-rules prison for the worst of future society's offenders – in 24 hours. If not, twin charges are going to explode in his neck! Riveting and full of great atmosphere and innovative production design, with first-class support from Harry Dean Stanton, Adrienne Barbeau, Isaac Hayes and Ernest Borgnine. A classic, and an essential item in anyone's movie collection.
This is a very similar release to the 2003 'Special Edition', only with the unskippable and un-fast-forwardable 'You wouldn't steal a car' video insult mercifully cut out, and much nicer menus. It also boasts a new John Carpenter interview, or at least one that I am not aware has graced any other edition to date. Sadly it lacks the Debra Hill commentary from the 2003 version, presumably edged out by the space the new Carpenter interview takes up on the DVD.
Extras:
Return to Escape From New York – documentary (22.59) Featuring John Carpenter, Kurt Russell,   Isaac Hayes, Adrienne Barbeau, Debra Hill and many others, this is a nice little retrospective you might have wanted a bit more of.
Audio commentary with John Carpenter and Kurt Russell A legendary DVD double-act, the good ol' boys have their usual fun here. It's amusing to listen to John Carpenter's typical restraint as Kurt Russell admires his ex-wife's physiognomy….
Exclusive interview with John Carpenter (31.14) A very nice recap from the great man on his career from Dark Star up until the mid-nineties.
2 trailers
_________________________
The Thing (1982) Carpenter's take on the classic and chilling short story from John W. Campbell pretty much bypasses the 1950s version from his beloved Howard Hawks and gets to the heart of the original story.  A group of arctic research scientists are left with the fate of the human race in their hands as an ancient alien presence wakes up and begins to imitate the group, one at a time. There's no telling who has become 'the thing', and – gripped by fear – the scientists descend into paranoia and violence. If they can't stop the alien getting to the mainland, it's curtains for everybody in the world….
The ultimate movie for a cold winter night.
Extras:
The bad news: this is just the previous 'special edition'; even the menus are the same. The good news: same as the bad news – the special edition for The Thing is one of the finest extras packages outside of the Alien Quadrilogy, and really delivers on all the detail and background any fan of this horror classic could want.
Commentary with John Carpenter and Kurt Russell The best of the pair's various commentaries, and arguably one of the best commentaries ever, along with George Clooney's for Goodnight And Good Luck.
The Thing: Terror Takes Shape (1hr, 20 minutes) Originally made for the laserdisc release, this is an absolutely superb documentary which leaves no detail undocumented about the history of The Thing, and gathers interviews, facts and contemporary documentation from pretty much every actor and principal film-maker, including Carpenter himself, Kurt Russell, Dean Cundey, the delightfully whacky Rob Bottin and many many more. Absolute gold for Thing fans and fans of Hollywood history alike.
Production background archive Similar to the production history feature in Assault On Precinct 13, this is far more succinct and has a wealth of interesting facts about the show mixed in with photos and text. Additionally it is not – unlike the Assault featurette – a rendered movie, so you can move on to the next section with the arrow keys rather than trying to rewind or move forward.
Cast production photos Realised in the same manner as Production background archive above, this is a fairly pointless gallery of frame-grabs of characters in the movie.
Production art and storyboards More easily navigable stills interspersed with useful explanatory text. Some of the early creature designs are fascinating glimpses into what didn't make it into The Thing.
Location design Pre-production art and sketches and production photographs put into context by the explanatory boards.
Production archives A great collection of behind-the-scenes photos.
Outtakes (3.57) A collection of excisions from The Thing   adds a little background to the final cut of the film itself.
Post production Stills from the scoring and editing stage of The Thing, including early advertising artwork.
Production notes Textual information about The Thing.
Cast and filmmakers Text and pictorial bios.
Trailer A more than usually interesting trailer as it features dialogue from a radio operator that is not featured in the film.
_________________________
Prince Of Darkness (1987) The second of Carpenter's 'end of the world trilogy' (begun with The Thing and concluded by In The Mouth Of Madness) finds priest and Carpenter stalwart Donald Pleasance calling in some physics students to investigate the noxious green liquid kept by a catholic sect for centuries. With its suggestion that evil might be a physical element, it's a fascinating departure for the director, but it soon turns into another Carpenter siege as the possessed seal the students in over a long weekend, and in that much probably owes as much to Night Of The Living Dead as Assault On Precinct 13. By the great man's standards, a pot-boiler, but retains the power to chill and shock in certain moments.
3 stars
Extras: Sadly lacking in the John Carpenter commentary available in the region 1 release from 2002, this version only has a trailer.
_________________________
They Live (1988) Ex-wrestler Roddy Piper is the man with the stolen alien sunglasses that reveal the human race to be a subjugated shadow of what it thinks it is. With the glasses on, billboards reveal their subliminal messages to 'Obey' and 'Consume'. Before you know it, the aliens want their specs back and Piper's in big trouble…
They Live is an enjoyable low-budget satire on Reaganomics, and the first purchase anyone makes when they join the tinfoil-hat brigade. It has a nice line in humour and one of the longest fight sequences in Hollywood history!
Extras: Commentary with John Carpenter and Roddy Piper One of Carpenter's funniest and most exuberant commentaries outside of those with Kurt Russell, this one's a barrel of laughs as over-the-top Piper contrasts his high-octane approach to film-making and life with the measured Carpenter.
The Making Of They Live featurette (8.01) Promotional fare from junket-land at the time of the film's release, but interesting nonetheless. This was featured in the R1 2002 DVD release.
John Carpenter profile (2.41)
Clearly made along with the above-mentioned featurette, this brief look at Carpenter scoring They Live was not included on the 2002 release
Roddy Piper profile (2.06) Same as above, but concentrating on Roddy Piper.
Meg Foster profile (2.18) Same as above, but concentrating on one-time 'Cagney' Meg Foster, who seemed permanently in competition with Kirstie Alley for roles in the 1980s.
(if only for the commentary!)
Overall
This is far from an essential purchase for true Carpenter fans, and ironically displays some of the cobbled-together, low-budget attitude which hallmarks the man's best work, but not to the same pleasant effect. No-one could dispute the value of having the superbly arrayed special edition of The Thing in their collection, but more care should have been taken to ensure that audio commentaries were available for all the films.
Additionally, there's no particular rhyme or reason to the selection, which overlooks Starman and Big Trouble In Little China within the years in its ambit. This is a fairly cynical collection without any cohesive effort behind it, but possibly a good starting point for the Carpenter neophyte.
This collection is lower than usual in unskippable corporate self-aggrandisement and accusations of piracy, which is hugely welcome. Whether it's worth getting depends on the price that you can get it for, as a lot of these films are available in more complete editions at very low cost.