News
The Jodie Foster Ready Reckoner
The most prominent moments of one of Hollywood's finest actresses come under the Den of Geek Ready Reckoner glare...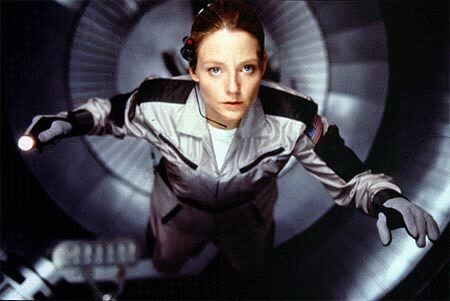 Be warned: this guide doesn't cover the full range of Foster's career – but we've done the bulk of it….
Taxi Driver
As astonishing a breakthrough performance as a child star has ever given. That it happened to be in one of the best films of the 70s was no coincidence.
Bugsy Malone
Another good name on the CV for the young Foster, with Alan Parker's child-populated musical still popular today.
The Accused
Foster's career after
Taxi Driver
was fairly non-descript, with some reasonable roles but nothing of much note. Then The Accused happened, a harrowing Hollywood tale of rape that works primarily because of its lead actress. Foster took home her first Oscar for a film that would be robbed of much of its power without her.
The Silence Of The Lambs
A second Oscar followed not long after, courtesy of his mesmerizing turn as Clarice Starling in one of two Thomas Harris movie adaptations worth watching (
Manhunter
being the other). Foster wisely sidestepped the damn-awful Hannibal.
Little Man Tate
Her directorial debut is a quiet little film where she also takes the role of a single mother of a boy genius. Diligently made, and in a pleasantly understated way, the script doesn't always do the material many favours, but it's worth a spin.
Shadows And Fog
The weak Woody Allen film from the early 90s, at a point where the writer-director was otherwise having his last great run. The only real thing of note about Shadows And Fog is how well shot it is, because sadly there's little else to spring it into life.
Sommersby
Fairly bland remake of the French film
The Return Of Martin Guerre
, although you can't fault that Foster gives it her all. Paired with Richard Gere though, there's simply nothing spectacular about it, even rendering its initial story premise fairly redundant by the end.
Maverick
Much more like it. A woefully underrated action-comedy from the mid-90s, and one that showed Foster's underused talent for comedy. Paired with Mel Gibson, they clearly had a blast making the film, which comes across a western take on
Lethal Weapon
, without all the rubbish bits and with a lot more cards.
Nell
The kind of role that, sadly, Hollywood tends to rely on simply to earn its actors award nominations. Foster is extraordinary in the title role, and did pick up an Oscar nomination, but the film feels more show-and-tell as opposed to anything incisive.
Contact
A right-royal mess of a film, kneecapped by a slow beginning and an ending that simply explains absolutely everything, for no discernible reason whatsoever. The middle bit is terrific though, with Foster's lead character finding proof of alien existence, gamely backed by a great supporting cast.
Anna And The King
A lavish production of the same tale that inspired the musical
The King & I
. Foster plays schoolteacher Anna who becomes embroiled in a romance with the King of Siam. It's a forgettable Sunday afternoon movie, sure, but not without merit.
Dangerous Lives Of The Altar Boys
Terrific and largely unseen indie movie, with a group of Catholic school friends and their love of creating comic books (Nunzilla, being a favourite). Foster is the Mother Superior who said friends don't get along with, in a really good drama that's well worth seeking out.
Panic Room
A fairly standard thriller at heart, made significantly better by Foster's spirited leading performance, and David Fincher's taut direction. Also worth noting for the terrific title sequence.
Flightplan
Another thriller, and one with a smashing premise. But, as with
Contact
, the ending is blown, and it's left to Foster to hold together what slowly degenerates into a mess.
The Inside Man
A superb cameo in Spike Lee's enjoyable heist movie, Foster is the person who walks in and steals every scene she's in. You wouldn't want to mess with her….
The Brave One
Not actually seen this, but am I the only person who's amused by the fact that the title in France has come out as 'A Vif'. I think I watched too much
'Allo 'Allo
as a kid…
Not seen: a reasonable chunk of her early child-star TV and movie stuff, and, er, a good chunk of her 80s stuff too. Ahem. Perhaps we may need to a do a redux at some point…