Features
The James Clayton Column: Writer movies – the right movies
In anticipation of the marvellous Ruby Sparks, James salutes cinema's finest movies about writers…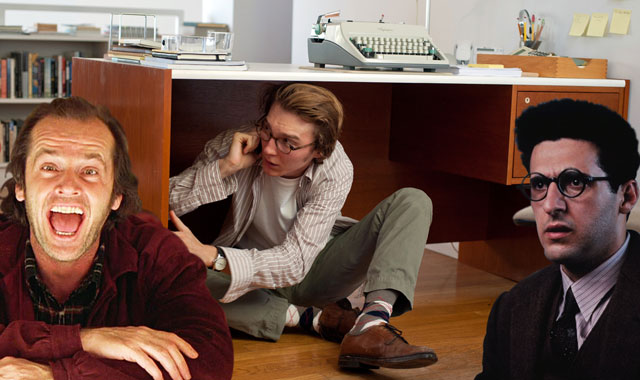 In Ruby Sparks, Paul Dano plays a writer who's struggling with writers' block. Right from the off, we're already certain that Ruby Sparks is going to be a superb film, possibly even among the greatest films of all time.
Barton Fink. The Shining. Adaptation. Misery. Fear And Loathing In Las Vegas. See what I mean? All the best movies are about tormented writers plumbing the depths of despair and derangement, strung out on sentences that won't flow or scenarios where the actual writing mission has long since ceased to be healthy or sane.
Many flicks about journalists rightly rank in the classics – His Girl Friday, Citizen Kane, All The President's Men, Missing by Costas Gavras – but I think the most entertaining and moving writer movies are the ones about fiction-fabricating hacks whose work either adds an extra dimension of difficulty or drives them to madness.
I probably feel this way because I am a writer, much as I imagine educators enjoy teacher films, motorcycle enthusiasts savour biker movies and members of the armed forces love war flicks. (See the troops in Jarhead enjoying a communal screening of Apocalypse Now for proof of this.)
There's an affinity and an understanding I share with these creators because I'm someone who dances with words and get a kick out of scribing silly things (you're reading one such silly thing that I got a kick out of doing). I look at weird writers on screen and think, "these are my people!" even when they're unbearable, obnoxious organisms, existing at the frayed ends of sanity or being possessed by the hotel they've shut themselves up in in order hopefully churn out their magnum opus.
When Barton Fink is hollering his "I'm a writer, you monsters! I create!" speech at all those marines, I'm with him crying out, "amen, brother!" I'm cackling all the way through Jared Hess' Gentlemen Broncos (without doubt a masterpiece and the finest comedy film that no one's ever heard of) as Michael Angarano's awkward teen storyteller has his 'Yeast Lords' idea stolen by sci-fi idol Dr Ronald Chevalier (Jemaine Clement) at a fantasy writers' summer camp.
I empathise and sympathise with these kindred spirits and I'm drawn to them regardless of the fact that they might be repulsive, neurotic or odder than what we might term politely term as 'eccentric'. Nevertheless, they also make ideal leading characters for spectators who wouldn't readily identify themselves as 'writers' per se.
What better way to tell a story than through the eyes and experience of a storyteller? It's much easier to get into a narrative if your access point into the film is an individual with imagination, awareness of what's important and interesting and – most likely – a creative ability to identify the profound, the poetic and the pertinent. I'm picturing a version of Barton Fink where Barton is a background figure and it's not as poignant or entertaining. (To quote John Goodman's Charlie Meadows, "I can feel my butt gettin' sore already!")
In my view, the ultimate screen heroes are armed with typewriters or notebooks, and though I may idolise intrepid adventurers, superspies, renegade cops and monster hunters, there's a special place in my heart for pop culture protagonists who are, first and foremost, writers.
This explains my deep long-lasting love of Tintin, bequiffed globetrotting boy reporter, even if he never appears to actually write anything. Furthermore, recalling this year's theatrical releases, it's unsurprising that I really liked both Young Adult (Charlize Theron is a messed up queen bitch teen fiction hack) and The Raven (John Cusack is a messed up Edgar Allan Poe trying to solve murders based on his own mystery tales).
More recently, affecting high school memoir The Perks Of Being A Wallflower proves that films presented from a writerly perspective (in this case from the experience of a troubled teenager with literary ambitions) are more likely to carry extra dramatic power and resonate with an enlightened elegiac essence. All of the above only add to my excited anticipation for this week's cinematic offerings which are On The Road and, of course, the aforementioned Ruby Sparks.
On The Road is intriguing as it's an adaptation of the beloved book by legendary Beat poet Jack Kerouac – a transcendental tome that I'd always reckoned to be unfilmable. I'll pass that by now though because I'm nervous about it and it's going to be more of a freewheeling road movie than a straight-up 'writer film'.
Instead, I'll come back around to Ruby Sparks, which is definitely a 'writer film' in that its synopsis starts with a novelist in therapy trying to overcome his chronic case of writer's block. There's no beatific jazz-bop journeying across vintage Americana here – at the heart of this movie is the writhing pain and intense feeling of frustration that can characterise the life of a creator. At least Paul Dano's character Calvin Weir-Fields has a shrink to help him though. Without assistance and soothing companionship, a creative rut can turn you into Jack Torrance.
The really good news, however, is that our hero rediscovers his mojo when he starts writing about a woman who shares her name with the title of the film he's in. Ruby Sparks comes to his creative rescue and then subsequently comes to life – real, tangible life in the form of Zoe Kazan, walking around Calvin's kitchen, wearing his clothes and eating his cereal.
Falling in love with a fictional figure you've made up and then having them become non-fictional isn't ideal, and may actually be highly unnerving but, hey, it's better than writer's block. I love the idea behind Ruby Sparks and I'm inspired by it, renewed with fresh hope that should I ever hit a wall when I'm trying to conjure up words, I can follow Calvin's lead. Stuck? Start fantasising and focusing on highly attractive figments of your imagination and presto, you have words and you have sweet wet dreams.
You'll find peace, hit a prolific streak and you'll have readers and a manifest manic pixie dream girl of your own creation thanking you and loving you. For a writer, this is an even better wish fulfilment fantasy than Ted's 'talking stuffed bear comes to life as a profane pot-smoking best friend to watch Flash Gordon with' scenario.
Last thing before I go to sleep and first thing when I wake up, these two questions go through my mind: "What do I want to write?" and, "Where's my manic pixie dream girl?" Ruby Sparks may possibly be providing the answers to those questions.
James Clayton is a writer, you monsters, and he's going to script up his manic pixie dream girl once he's finished with this difficult wrestling movie screenplay (it could be a pip). You can see all his links here or follow him on Twitter.
You can read James' last column here.
Follow Den Of Geek on Twitter right here. And be our Facebook chum here.