Features
The James Clayton Column: Why Russell Crowe rocks
To mark the release of Broken City, James trains a spotlight on the sterling work of actor Russell Crowe...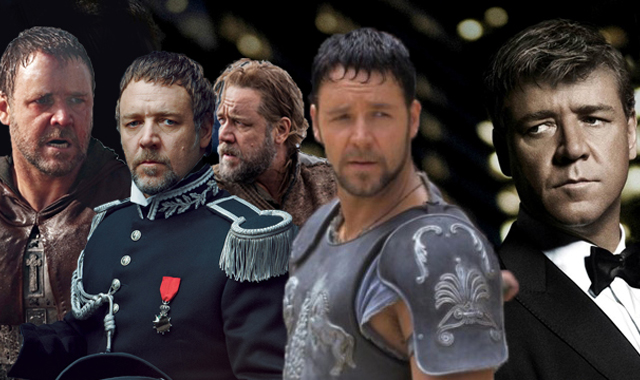 Broken City might be a broken city because no one single urban area is strong enough to hold both Mark Wahlberg and Russell Crowe. This town ain't big enough for the both of 'em.
Nevertheless, the new crime drama directed by Allen Hughes does contain both Wahlberg and Crowe. Playing, respectively, a wronged private investigator and the Mayor of New York, the pair have the opportunity to exhibit their great acting range, which is something I feel neither A-lister always gets due credit for. They're both excellent actors whose best performances are possibly overlooked because they're embedded in an ensemble cast or played opposite a scene-stealing extrovert.
This is definitely true for Marky Mark if you consider Boogie Nights, The Fighter and Ted (luminous as a true big bright shining star even when surrounded by aurous porn stars, drug-addicted Christian Bale and the crudest teddy bear in soft toy history). However, unfortunately for Wahlberg he's not my focus here, and I'm turning to scrutinise Crowe, who's embraced an even more eclectic array of roles over a longer career. This column ain't big enough for the both of them, so I'm going to write about Rusty. (Sorry Mark.)
It might seem odd to suggest that an Academy Award winner (he got Best Actor gong for Gladiator) is an underappreciated, undervalued actor, but I reckon it's accurate in Crowe's case. He's well-known but his name doesn't generate an excited buzz like those of his contemporaries. I personally find that my interest in a movie increases every time I see that he's attached to it but I'm aware that that's perhaps not common. Among veteran highly acclaimed actors, Rusty probably attracts a disproportionate amount of audience indifference in spite of his ability and relative commercial and critical success.
Looking to his recent releases before Broken City, the most popular response to his casting as Javert in Les Misérables ran somewhere along the lines of "Russell Crowe singing? Really? What the cuss?!" His surprise appearance in The RZA's chopsocky hip hop mash-terpiece The Man With The Iron Fists inspired similar incredulity as people struggled to comprehend the sight of Crowe camping it up in a kung fu film.
Still, at least the roles of Javert and Jackknife (a lusty opium-addict British emissary with a dandy 'tache and deadly personal weapons) raised eyebrows and actually prompted a reaction. Compared to the hype and excitement experienced by other heavyweight icons – Denzel Washington, George Clooney, Christian Bale, Kevin Spacey and so on – Russell Crowe's releases are met with milder levels of interest.
In fact it's probably more a collective shrug and the diminished box office clout of the man who was Roman warrior Maximus, genius mathematician John Nash (A Beautiful Mind) and Captain Jack Aubrey (Master And Commander: The Far Side Of The World) strikes me as something of a shame. Still, life hasn't been what you'd call bad for Rusty over recent years and the future looks bright. I foresee a swift change away from apathy in the wake of Les Misérables' massive success and in promising upcoming movies that have their own building momentum. These pictures will all serve to remind complacent viewers of Crowe's calibre on the big screen.
What are those roles? Following Broken City (Crowe gets to play political animal as the Big Apple's Big Cheese) Rusty will function as fundamental riveting in Man Of Steel. It's Crowe's first foray into major franchise territory and that undoubtedly means exposure to entirely new audiences and – at long last – an action figure.
The big deal with Man Of Steel is that Crowe is playing Jor-El, the biological father of Kal-El, a.k.a. Superman. In effect, Crowe is not only the successor to Marlon Brando but also the enlightened Kryptonian ultra-being whose gonads spawned Superman. It's perfect casting: just look at the Australian actor and you can clearly feel that he's the kind of person who could produce supersperm and father superhero offspring without even really trying.
Once he's done with cape escapades and the death of Krypton, Crowe will be appearing as an insane gangster named Pearly Soames in Winter's Tale. Reuniting with A Beautiful Mind writer Akiva Goldsman (who this time directs and produces as well as penning the screenplay), he's joined by Will Smith, Jennifer Connelly, Colin Farrell and William Hurt in a period New York City-set fantasy novel adaptation that sounds intriguing.
The streak of working with distinctive directors and rich ensemble casts continues with Darren Aronofsky's biblical epic Noah, in which Crowe plays the eponymous patriarch, prophet and master boat builder. He is thus, the righteous one chosen by God to guide the remnants of earthly life through the Great Flood and its aftermath. Once again, it's inspired casting and I can believe in Crowe as a divinely appointed protector, Ark captain and leader of humankind for a new age, starting afresh now that God has exorcised all his wrath on his spoiled creation.
These are challenging parts that resonate on paper as a variable mix of meaty roles that allow Crowe a high profile showcase. Launching himself into diverse projects that are demanding on a multitude of levels is nothing new for our main man, though. A brief jog across Rusty's filmography reminds you that he's always been up for a challenge and boldly picked up potentially-difficult roles and it's to his credit that he pulls them all off with aplomb.
Way before he was taking on the ghost of Marlon Brando and literary musical adaptations, Crowe was committing himself to characters like Hando of Romper Stomper. It takes a hell of a lot of guts to put yourself up on screen as a Neo-Nazi skinhead – covered in swastika tattoos, fervently proud of his Third Reich memorabilia collection – and inhabit the persona of a purely hateful thug psychopath with no redeeming qualities whatsoever.
That immersive work ethic characterises his good guy gigs as well. Take Cinderella Man, Robin Hood and Gladiator as examples of roles where Russell's trained up and got into the right fighting shape for the role. That's standard for actors but it's something that always impresses me and Crowe-Magnon's consistent physical willingness is exemplary. Plus, there's a refreshing earthiness and raw elemental honesty in the fact that he acquired his Maximus physique simply by labouring on his farm in Australia.
He reads up on the relevant history to get into the contextual spirit of period pics and the dedicated approach he takes to physicality extends to the emotional and cerebral aspects of character. He's always a believable, relatable human being whether he's performing action lead duties, portraying a more modest protagonist or playing a role in an ensemble.
Crowe has a knack with conflicted characters and deftly conveys inner turmoil without ever lurching into ludicrous ham thesp territory. In the overwrought melodramatic onslaught of Les Mis, for instance, his portrayal of Javert is a refreshing model of restraint.
Rusty is a subtle yet powerful presence and I'd rate Crowe as our generation's prime specialist in embodying obstinate principled people on screen. His characters often seethe with appealing conviction for the cause they carry, but it never feels like an affectation. Rusty is a no bullshit bloke and you always feel that – both as character and performer – he firmly believes in it and will see it through to the bitter end, rising and rising again until lambs become lions. There's the Robin Hood resolution, and it echoes in Javert, in Maximus, in Richie Roberts (American Gangster), in Bud White (L.A. Confidential) and all the rest.
Combine that with the chemistry he manages to conjure up with his co-stars whether they be illustrious or not and it's plain that Crowe is pretty much the bonafide whole package. A solid masculine icon with grit and guile, Rusty is ever-reliable whether he be a lead or support, whether he be offering light or shade.
Admittedly, I'm biased as a Robin Hood apologist and as a kid who likes movies about gladiators. Nevertheless, I do think it's a fair judgment to say that Crowe is a first-rate figure  whose mastery of multifaceted roles in multiple genres deserves praise.
Wherever the Crowe flies, he's worth following. The current hot streak of compelling parts will, I hope, help people appreciate the Aussie actor again if they'd got a bit apathetic about him. Are you not entertained? With Russell Crowe, I always am.
James Clayton is going to be the dove in Darren Aronofsky's Noah and thus guide the eponymous patriarch back to dry land so he can repopulate the Earth with Baby Russell Crowes. You can see all his links here or follow him on Twitter.
You can read his previous column here.