Features
The James Clayton Column: We need these sequels
This week, James considers the impact of film sequels, and comes up with a few he'd like to see himself. Robot & Frank Rises, anyone?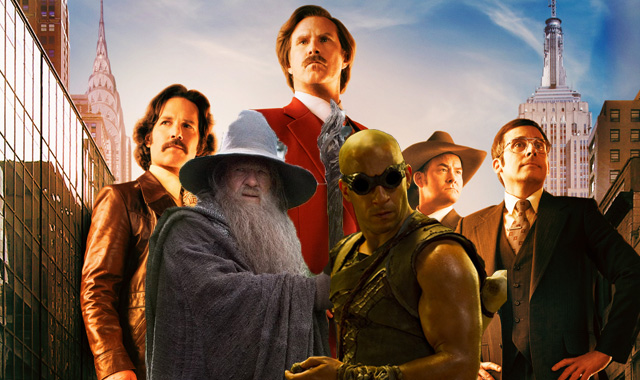 "This film! I like it! Another!" Thor at the premiere of Thor III: Revenge of the Sif.
"Too much of a good thing is wonderful." – Liberace at the premiere of Behind the Candelabra 2: Attack of the Rhinestones.
"So, when do we start shooting the next one?" – Every major movie studio executive on the Monday following a bumper opening weekend at the box office.
Did you enjoy that? Good, because they're going to make a sequel. This is standard operating procedure and the modus operandi in Hollywood film production. If something is successful you do it again. And then you do it again. And then you do it again and again until it's not successful or until a culture shift occurs and another repeating success story requires or appears to deserve more of your imminent attention.
For studios, epic box office hauls are the clincher. If a movie breaks out as a hit and turns a notable profit, it will most often get a greenlight for a follow-up. It's figured, understandably, that you have to supply the demand and cash in on audience goodwill and enthusiasm while it still exists. The high-ranking honchos hope to make the most out of hot properties while they are still hot. We therefore see a quick turnaround, wheels put in motion without hesitation and sequels pushed through production at rapid speed.
That's how it looks if we come at things from a commercial point of view, but it's not all cold-hearted business scheming. Filmmakers have many stories to tell and, having built worlds and created compelling characters, they inevitably find that they have more to offer and explore. Audiences also want to know more and that yearning desire feeds the sequelitis that surges through the movie scene and, as a matter of fact, other artforms.
It's obvious but we possibly don't acknowledge the symbiotic relationship and our own compulsive desire because it's disturbing to face the idea that we're all insatiable creatures wanting more and more and more. That's a fact, for better and for worse, and alongside the unquenchable thirst humans also have difficulty letting go and accepting 'The End'.
Modern culture has conditioned us into this mindset and, thus, when we leave theatres we're already eyeing up the next instalment. We're devastated when long-running TV series finish and struggle to cope when someone informs us 'that's all, folks'. Viewers want series – whether they be film or TV – to run on and on and on. The people behind them are exactly the same, and that might go some way to explaining JK Rowling's upcoming moves to expand the Harry Potterverse and Peter Jackson's return to Middle Earth with The Hobbit trilogy.
I was particularly struck by the words of Neil Gaiman – author and geek culture icon – when I got to see him on his recent reading tour. In the Q&A section Gaiman stated that he always aims to write sequels to his various works. He then listed various spin-off projects he's got in the pipeline including further Neverwhere tales, more stories continuing on from his American Gods novel and plans to write another children's picture book about Chu the Panda every year.
Gaiman's return to the Sandman comics mythos for a six-issue prequel series is a salient point actually in print. His fans, of course, want all of these extras and will eagerly eat them all up. The same is true for films that inspire cult followings.
With fanpower and the enduring fervour of the creators, it's no surprise when we see sequels like Anchorman 2 eventually coming around. The cumulative affection of both Peter Jackson and cinemagoers for Middle Earth allowed The Hobbit trilogy to happen as a prequel to The Lord Of The Rings series. Likewise, recent threequel Riddick was driven by Vin Diesel and director David Twohy's passion for their mythos. That passion was echoed by franchise fans eager to see the Furyan antihero on cinema screens again and, thus, a third film was produced. Reflect on the unlikely rise of Riddick and you start to feel optimistic about the possibility of Dredd 2 actually happening.
Looking beyond Riddick and back across the 2013 in its entirety, we see that it's been a year replete with sequels across all genres. We've had Iron Man 3, Star Trek Into Darkness, Insidious: Chapter 2, The Hunger Games: Catching Fire and Cloudy With A Chance Of Meatballs 2 to name a very select few.
The same is true for 2014 and a quick scan of next year's slate reveals titles like Muppets Most Wanted, Captain America: The Winter Soldier, The Amazing Spider-Man 2, X-Men: Days Of Future Past and 22 Jump Street. There are many, many more and you'll be (re)familiar with them all soon because sequels don't tend to go unnoticed when they surface.
We also already know that 2013 success stories such as World War Z, Man Of Steel, Oz The Great And Powerful and Olympus Has Fallen have all been given the go ahead for sequel treatment. What I want to focus on, though, are the movies released over the past calendar year that won't spawn neverending series.
As a film fanatic, I'm excited about a lot of likely-to-certain sequels (further additions to the Marvel Cinematic Universe and, hopefully, Pacific Rim 2 in addition to the aforementioned above) but I find myself making futile wishes for follow-ups that have zero chance of happening. The films I want to see sequelised won't ever become franchises because they are either to offbeat or because they didn't do major box office business.
Even so, I can dream, I can hope and I can pitch them. My tiny amount of fan pressure could potentially start a ripple effect that stirs the cast and filmmakers connected to the original movie and who knows what might happen then?
I believe that there are still stories to be told and I believe that each of these excellent recent movies deserves at least one follow-up feature. I formed a really strong bond with the characters of all of these flicks and came to care deeply about the fascinating worlds and scenarios depicted. I'd love to spend more time with them at the cinema and if there are narratives to chronicle and overhanging mysteries left over from the first movie, we must have sequels. I'm insatiable! I like it! Another!
For your consideration, then, here are my picks for 2013 films that need sequels…
Pain & Gain
"Their American Dream is bigger than yours" and in the movie business that aspiration means 'franchise'. Everything's bigger in the pumped-up first sequel to Michael Bay's bodybuilder heist movie – bigger muscles, bigger action, bigger black comedy beats and bigger manparts for the protagonists who've undergone successful treatment for steroid-induced impotency.
As with its predecessor, it doesn't matter if the spin-off plays loose with the true story of the Sun Gym Gang. We just want to enjoy more of the inept macho antiheroes' ludicrous extortion schemes and see The Rock go on another cocaine rampage. Sceptics be damned and forced to eat a shame sandwich – these guys are doers and life is gonna give them another set!
Possible titles: More Pain, More Gain; Pain & Gain 2: Doers Do Double Effort; Pain & Gain Again.
Robot & Frank
I rate the titular old-man-and-android tag-team (played by Frank Langella and voiced by Peter Sarsgaard, respectively) as the year's greatest buddy match-up. They also deserve another shot at criminal plotting and I'd love to see them re-unite for further bittersweet misadventures in larceny. It doesn't matter what their illicit enterprise is – stealing back their lost memories, breaking Frank out of "the Brain Centre" care home or hijacking the box office haul of mega-mecha rival Transformers: Age Of Extinction – I just want to see them again and celebrate the beautiful friendship of a dementia sufferer and his domestic robot.
Possible titles: Robot & Frank Return; Robot & Frank Forever; Robot & Frank Rises.
Much Ado About Nothing
Everyone had a good time when Joss Whedon hosted a black-and-white house party and invited all his friends round to hang out and read Shakespeare. Let's do it again next summer, and fret not that the Bard never wrote a follow-up to Much Ado About Nothing. They can either adapt another Shakespeare classic or simply fabricate additions to the original text. It's the perfect opportunity to embrace 'Darker Second Film Syndrome' and Whedon can do that by either staging a more tragic Shakespeare play (Othello, Macbeth, the one where a man is turned into an ass) or by killing off a popular character.
Possible titles: Much Ado Two; Much Ado About Nothing 2: Bringin' Shakey Back; Much Ado: The Dark World.
Only God Forgives
Lieutenant Chang (aka The Angel of Vengeance) is the true iconic hero of Nicolas Winding Refn's beautifully ultraviolent neon-noir and I can picture him fronting a whole series of his own. He's pretty much Asia's more morally-sound, more brutal version of Dirty Harry with Muay Thai moves and a sword. The musical interludes where Chang visits Bangkok karaoke bars and croons out Thai pop add extra colour and surreal intrigue to this most exotic and artistic of cop movie franchises.
Possible titles: God Still Isn't Forgiving; Only God Forgives 2: Bangkok Dangerous; Only God Forgives: Karaoke Cop.
Upstream Colour
An improbable sequel to Shane Carruth's abstract arthouse meditation would be wonderful. Such a proposition would allow beguiled audiences the chance to immerse themselves in an experiential world of stirring soundscapes and dreamlike imagery all over again. It would also hopefully give us some clues to what it all actually means. Having been hypnotised by the first film and left incredibly anxious about the fate of all these pigs and brainwashed people and their parasites I demand a comprehendible follow-up. Even if we don't get any answers or explanation, more experimental movies about pigs will always be welcome.
Possible titles: Upstream Colour: Back in Black; Upstream Colour Into Darkness; Upstream 2: Going the Whole Hog.
Of course top priority is Pacific Rim 2. I liked that film most of all so yes, by Thor, "Another!"
James Clayton isn't getting a sequel. Instead they're going to give him a reboot because he could do with a darker origins story and a fresh new angle that's more relevant and exciting to the modern day world. You can visit his website or follow him on Twitter. 
You can read James' last column here.
Follow our Twitter feed for faster news and bad jokes right here. And be our Facebook chum here.