Features
The James Clayton Column: My 2013 Christmas gift wishlist
As the season of Yule approaches, James lists the film-related gadgets he'd love for Christmas...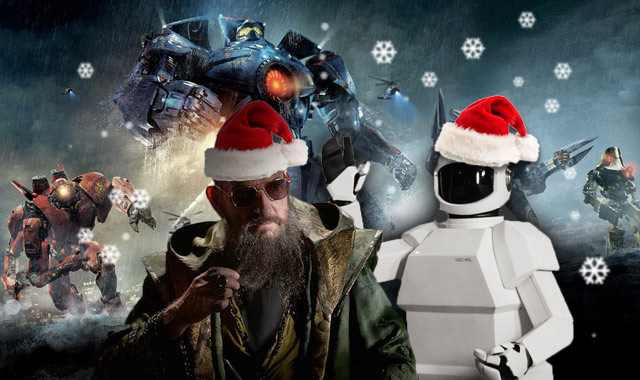 (NB: This column contains spoilers for Iron Man 3, Star Trek Into Darkness and possibly your own Christmas Day if you do actually get certain presents that you were not expecting at all. I'm sorry if I blew the surprise and I'll make it up to you by letting you win all the Christmas cracker-pull contests.)
Christmas is coming! Deck the halls! "Merry Christmas, ya filthy animal!" Yippee-kay-ay and let's watch Die Hard! Fa la, la la la!
Carol singing! Baby Jesus! Overly-rich food! Family board games! It's A Wonderful Life! Giving presents! Getting presents! Getting presents? Oh, damn.
I knew I'd forgotten something. You may have overlooked it as well. The crucial pre-Christmas questions are: What gifts are you getting and what gifts have you got (or have not yet got) for your nearest and dearest?
I've handled the latter so no worries there. (I hope Loki likes the personalised bootie socks I knitted for him. I know villainous Norse gods don't care much for Christian holidays but still, Christmas socks!) The problem is that I never got round to writing my own Christmas wish list to send to Santa or Father Christmas or Jack Skellington or whoever is responsible for these things. Right now there's a guy at the North Pole or in New York City (prime Christmas movie location) chortling "Ho ho, but h'where's James Clayton's Christmas list? Ho ho ho?!"
I'm not sure why he finds this so funny and I'm not sure if he's played by Tim Allen, Sir Dickie Attenborough, Billy Bob Thornton or somebody else. Regardless, he's at a loss and I'm at a loss as to explaining why I haven't written and posted a personal letter to the festive big fella. Altogether, this isn't an ideal situation with only a few days left on the Advent calendar.
I must rectify this and you must rectify this too if you've also forgotten to file your requests to Kris Kringle, the Grinch, Buddy the Elf or whoever little children currently believe in most. I don't want to have to go through one of those awkward occasions where I have to send Father Christmas a Facebook message saying "Thanks for the Chronicles Of Riddick underwear, man! It's appreciated and, y'know, I like Riddick but I'm not sure I want his head on my crotch". That one didn't get many likes though, surprisingly enough, the photos did.
I've tried to work out what I want aside from world peace and a role in future Star Wars movies (see these pleading big wet Wookiee eyes) and the whole exercise has been fruitless. This paper (I'm old school like that) is blank. I don't think I want or need a next gen games console, a Wreck-It Ralph onesie or Danny Trejo's new cookbook. ("Machete Grills" isn't easy to find on the high-street, in case you're curious.)
There's hope for me yet though and fresh ideas come as I acknowledge the fact that it's the end of the year. 'Tis the season to get retrospective and as I look back over 2013 in cinema and remind myself of all the amazing movies I've seen, I'm finding fresh inspiration for Christmas presents all over the show. In some cases I even recall the moments where I said "Hot dog! I want one of those for Christmas, by George Bailey, yes I do!" when I saw them on first release, even if that first release was back in the spring.
Making my way through all these beautiful memories of films released this year, a whole stack of ideal gifts appear and, well, I'd be more than grateful if I received any of them on the 25th December. You might agree and may also wish to ask Sandy Claws or Arthur Christmas or Ebenezer Scrooge (preferably played by Michael Caine and supported by Muppets) for the following yourself. Alternatively, if you've not yet bought presents for your loved ones because you're a disorganised bah humbug, feel free to use this list as go-to last minute shopping guide.
Here then – Dear Santa – is my Christmas wish list. I've been a very good boy this year and haven't done anything bad apart from watch lots of violent movies (not actually bad, but I can't be sure of St. Nick's tastes and prejudices). If any of these artefacts extracted from recent sci-fi flicks appeared beneath my Christmas tree I'd be grinning from ear to ear to final frontier. For your consideration, then, with warmest thanks in advance…
Robot, as seen in Robot And Frank
I don't want to be lonely at Christmas. I need a friend and I'd like a high-tech futuristic friend who can provide therapeutic care and encourage me in self-improvement schemes. Robot & Frank provides the answer and shows me that I need a domestic android amigo like Robot. After we've bonded, been on a few country walks together and got used to each other's irritating quirks we can start our fresh partnership as a criminal duo stealing the prized jewels of everyone in the neighbourhood. Something's got to pay for Christmas and, really, we all need friendship and meaningful social relationships in the bleak midwinter.
Gravity Spikes, as seen in Thor: The Dark World
The Aether is powerful but, ultimately, too dangerous for me to handle and I don't want to attract the unwanted attentions of Dark Elves. There's something more appealing and practical showcased in the second Thor flick though – Dr Erik Selvig's homemade 'Gravity Spikes'. Made to mark the Convergence of the Nine Realms, the special rods allow careful owners the ability to leap through portals and move between worlds instantaneously. This is handy come crunchtime (hammer time?) and is a quicker, more efficient and more reliable method of transportation than the London Underground. Forget the Christmas traffic – just point a spike at a portal and, Hey Heimdall! You're back home from Asgard in time for your family Christmas Eve Frost Giant fight!
Butterfly Dress, as seen in The Hunger Games: Catching Fire
Panem is packed with sweet techno touches and state-of-the-art devices but most of all it's the The Hunger Games' style that drives me wild. Out of all the costumes on display in this year's sequel my favourite is probably Effie's butterfly dress. I could rock that look and need something awesome to wear on New Year's Eve. A Cinna original would be perfect and if he can sort out some of those attention-grabbing faux-flames to make the look extra hot then bonus. Cut to an excited blue-wig wearing Stanley Tucci: "I love it!"
The Mandarin, as seen in Iron Man 3
Extremis tech-treatment has bad side effects that outweigh its superhuman benefits and Tony Stark can keep all those surplus Iron Man suits, thanks. What I'd really like from Iron Man 3 is the most ingenious and astounding element of the movie and that would be Trevor Slattery (aka the drug-addict Cockney actor playing The Mandarin). I reckon that having a theatrical false front acting up an iconoclastic storm of culture jamming and viral terrorism could be hugely helpful as I work my megalomaniac schemes in secret. It's also true that Trevor's a likable guy and I bet we'd get on famously. Slattery's dramatic expertise may come in handy when I'm making my Star Wars VII audition tape.
Med-Bay, as seen in Elysium
A powered exoskeleton (modelled by Matt Damon) would give me extraordinary strength and look pretty bad ass but I think I can do without that cumbersome, uncomfortable load. The implant operation looks really painful as well so instead I'll opt for one of the high-tech Med-Bays they keep sequestered away on-board the Elysium space station. Repairing my injuries and ridding me of all diseases, I'll be heading into the New Year a privileged perfect picture of optimum wellbeing.
Celebrity Diseases, as seen in Antiviral
If all these beneficial health boosts aren't available, I'll go for the extreme opposite and embrace atrocious sickness this Christmas. Brandon Cronenberg's disturbing debut feature Antiviral presents a world where celebrity obsession has gone so far that the hottest products on the marketplace are the illnesses of A-listers. I'll therefore take a specially-harvested, custom-modified pathogen drawn from one of my idols so I can be just like them, warts and all. I'll pass on the edible celebrity meat, though, because cannibalism doesn't strike me as being very Christmassy, even it is flesh grown from the cells of glamorous stars. Please, pass the sprouts and ignore my sneezing.
Jaeger, as seen in Pacific Rim
On the off chance that alien Kaiju burst through a portal beneath the ocean and start attacking the Earth, I could do with my own mecha. Even if the threat level is low (Stacker Pentecost cancelled that apocalypse) I stand by the 'A Jaeger is for life, not just for Christmas' proverb and, accordingly, politely request a gargantuan robot to commandeer. I'd call her 'Bravo Pandemonium ' and would have so much fun riding her, getting into the drift and taking her out to grapple with giant monsters. In fact, I'd like that more than any other frivolous Christmas gift so I think I'll say "Yes, this is the one! Please, please, please Santa!"
It's going to be brilliant and Bravo Pandemonium and I are cancelling Boxing Day. With a giant robot fist bump to you all then, Merry Christmas!
James Clayton is looking forward to another Christmas in the trenches. (He's going to watch Home Alone 2, as per tradition). You can visit his website or follow him on Twitter. 
You can read James' last column here.