Features
The James Clayton Column: Much Ado about Joss Whedon and Shakespeare
In light of Joss Whedon's Much Ado About Nothing, James considers a few other great Shakespeare film adaptations...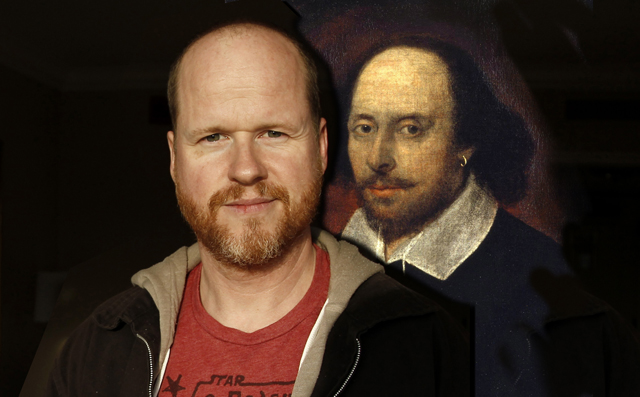 But, soft! What light through yonder cinema screen breaks? Why it is Joss Whedon and Joss is the sun. Yes, he is a star and we are all basking in the golden glow of his luminous genius. All our attentions and many of our pop cultural satellites are in orbit around his radiant fiery red beard, warmed by the light of creation casting vitalising rays out into the dark voids of the galaxy. He's blazing especially hot at the moment and, consequently, many of us have got Jossburn.
Away from the science-lite gushing and back to the bastardised Bard speak though, and O! For our muse of fire that would ascend the brightest heaven of invention! That which we call Joss by any other name would smell as sweet! The Prince of Darkness is a gentleman! O! Let me kiss that hand!
'Zounds! I was not born under a rhyming planet and the shaky Shakey quotes are getting awkward and the next line would be Whedon saying "Let me wipe it first; it smells of mortality" so I'll stop and get closer to some kind of lucid point. Right now, Joss Whedon is rocking out on a global stage to rapturous applause but he is no mere player. He's a divinity that shapes our ends – a fellow of infinite jest, of most excellent fancy and his plays are the things catching the consciences of kings.
Against all the odds, Whedon managed to assemble Avengers Assemble and pulled off the incredible feat of combining Marvel's disparate superheroes into a blockbuster ensemble piece par excellence. It was a universal hit that Hulksmashed its way to huge box office hauls worldwide and received tremendous acclaim from critics and audiences alike.
Adding to the sheer joy of seeing the Marvel Comics icons finally unite on screen it was also sweet to bear witness as the long-thwarted Whedon got his long-overdue glory moment as a conqueror of the impossible, on top on top of the world at last.
What does the director of The Avengers (the film director, not Nick Fury) do after he's delivered the goods and produced the ultimate comic book movie? For Joss Whedon it's once more into the breach, dear friends, and on from one of the biggest blockbusters of the 21st century so far to its sequel – Avengers 2.
Yet Whedon needed – and more than deserved – a break before throwing himself into the Marvel Phase Two project after the epic endeavour that was Avengers Assemble. It turns out that when Joss Whedon takes a holiday from making films, he makes films.
His next feature – now out in theatres – is a smaller scale piece he made with his colleagues over the course of 12 days during the working 'rest period'. Filmed at his Santa Monica family home and featuring a cast of Whedon regulars, it's a fresh black-and-white adaptation of William Shakespeare's play Much Ado About Nothing. An inspired idea, it strikes me as a perfect follow-up companion piece to The Avengers (a.k.a. 'Much Ado About Something to Do With the Tesseract' or as Iron Man has it, 'Shakespeare in the Park').
Knocking out a low-budget Bard adaptation after the gargantuan superhero show might seem a surprising choice but it actually makes a lot of sense. People might also raise eyebrows when they see that the man behind Buffy The Vampire Slayer, Firefly and so many other modern geek culture monoliths is dabbling with Elizabethan English theatre.
Once more, dear friends, I'd say that it's entirely logical and I see pertinent parallels between Joss and Will. Friends, Romans, countrymen, lend me your ears and observe a few similarities – they both write timeless tales rich with strong characters, pepper their scripts with witty dialogue and combine sparky comedy with crippling tragedy. Both inspire cultish devotion from followers and are perhaps the best at what they do in their own cultural niche so, really, the pair are excellent bedfellows – albeit fellows separated by an ocean and several centuries of time.
"But why is Joss Whedon – one of the brightest original creators in pop culture – working on such stuffy source material as Shakespeare?" some jesting monkeys with foreheads villainous low may ask. If anyone does speak such foul words – and "foul words is but foul wind, and foul wind is but foul breath, and foul breath is noisome; therefore I will depart unkissed" – I'd fire back with the assertion that Shakespeare is in fact ultra-cool. He's always been cool and Whedon's take on Much Ado About Nothing will re-emphasise this truth.
The Bard is only boring because he's compulsory on the school curriculum and there's a misconception in many people's minds that everything you're forced to do at school is dull. It taints the experience of one of the greats of English literature for some but, Lord, what fools these mortals be if they hold fast to high school grievances. Shakespeare and his extensive oeuvre are too awesome and interesting to be contained in an austere academic straightjacket. The legend and legacy have a life of their own and it continues ever onward to eternity.
For on-the-pulse evidence of Shakespeare's perpetual relevance and popularity you only have to look to the excitement ahead of Whedon's Much Ado About Nothing. A new period version of Romeo and Juliet led by a teen cast follows and will grace cinema screens in July.
It's also worth noting how the illustrated choose-your-own-adventure-style novel adaptation of Hamlet by comics writer Ryan North – titled To Be Or Not to Be? That Is The Adventure – raised over half a million dollars on Kickstarter. The initial target was $20,000 which is either an indication of how enthusiastic people are about gamebooks or proof that people really like the tragic tale of the indecisive Prince of Denmark. I'd say it's definitely both and likewise with Much Ado About Nothing, the lure of the Bard remains strong and is highly attractive to eager modern audiences.
Shining the spotlight on cinema, moviemakers frequently flock to Shakespeare in their searches for rich source material with strong plots and protagonists. Alongside terrific traditionalist film versions of the plays (see Laurence Olivier and Orson Welles for some classics) I really enjoy experiencing the Bard afresh when he's handled creatively in radical style for the motion picture medium. If anything, film has been the most vital of art forms in the continued significance of Shakespeare up to the present day, nearly 450 years after his birth.
Unconventional Shakespearean pics like Much Ado About Nothing aren't a particularly new phenomenon if you voyage back and recall loose adaptations like Forbidden Planet (The Tempest as a 50s science fiction space adventure) and West Side Story (Romeo And Juliet as a 60s New York City gang war musical). Similarly, immerse yourself in Japanese auteur Akira Kurosawa's Throne Of Blood (Macbeth) and Ran (King Lear) for incredibly gripping samurai Shakespeare.
This inventive approach to the Bard's bibliography has continued into the modern moviemaking era as inspired people continue to repackage the plays in fascinating, appealing ways. Teens trudging through dusty textbooks, struggling to get turned on by the tricky poetry of ancient theatre can, if they so wish, establish link to Shakespearean brilliance through films.
Baz Luhrmann's Romeo + Juliet brings the tragedy of the star-crossed lovers to vivid, flamboyant life through contemporary iconography and film language. Gus Van Sant's My Own Private Idaho is similar and gives us an arthouse street-hustlin' Henry IV with Keanu Reeves delivering archaic dialogue in a valley dude accent. Last year Ralph Fiennes reimagined Coriolanus – a tragedy set in Ancient Rome on the stage – as a stark modern warzone political drama.
For even more instantly relatable adaptations, Shakespearean high school movies like Get Over It (A Midsummer Night's Dream) and O (Othello) are on hand to open younger minds to literary masterpieces. More than simply serving as audiovisual study aids, these fresh film spins – no matter how loose they are – all show just how thrilling and ever-intriguing the works of Will Shakespeare are and can potentially be.
Radical screen realisations – and the more faithful takes for that matter – make me appreciate the original plays all the more. Simultaneously, poring over Shakespeare scripts enhances my respect for filmmakers who adapt the material in unique fashion with a keen determination to weave the works anew, enhancing them with the full art and magical attributes of the film medium.
Joss Whedon's Much Ado About Nothing will further that tradition and I hope more cult filmmakers will turn to the Bard and play like a sublime celluloid Prospero or filmic Three Witches to produce distinct adaptations in years to come. Shakespeare doesn't really need the extra cultural cache and credibility but more idiosyncratic versions from auteurs will guarantee that his good name is held high on shining marquee lights.
What could be cooler than the combination of Joss Whedon and William Shakespeare? In the absence of Quentin Tarantino's Othello or Hayao Miyazaki's A Midsummer Night's Dream, I'll take the black-and-white backyard Much Ado About Nothing with tremendous enthusiasm and view this proposition as something about which there should be much ado.