Features
The James Clayton Column: Metallica at the movies
James is off to never never-land, as he considers Metallica: Through The Never and the band's appearances in the movies...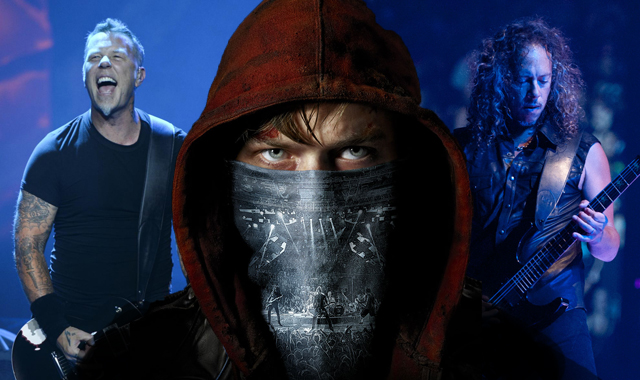 A Metallica movie? Oh yeah? Say f*ck yeah, James! I'm there and I'm throwing up heavy metal horns and headbanging like a maniac. Unfortunately, trying to watch a film and simultaneously make moshpit movements is a tricky feat to pull off.
It raises a distressing dilemma: "to rock out or not to rock out?" It's a little like those moments where you're enjoying a musical and can't resist singing along, except with the Headbanger Hamlet question, there's little chance of you being able to follow what's happening on screen.
You can't properly appreciate, say, the cinematography and nuanced depth of the acting performances with blurred vision and flailing hair in your eyes. Also, as unfortunate possible side effects, you can end up severely disorientated and suffer from nausea or whiplash as a worst case scenario.
You may also upset other cinemagoers and find yourself ejected from the multiplex as a result of your disturbing thrash spasm freakouts. Ruining the movie experience for other people isn't rock 'n' rebellion – it's just lame and selfish, so I'm going to do my best to restrain myself and limit my enthusiasm to rhythmic nodding while Metallica: Through The Never unreels before me.
I'm hoping that this new movie does get a wide theatrical release so that I and other 'Tallica enthusiasts around the globe can get another cinematic fix on the thrash legends with bonus big screen vision and surround sound. (If it isn't showing at my local cinema you'll find me stomping around the car park rasping out "Seek and Destroy!" though please see this as nothing more than annoyed young man exorcising his frustrated aggression and not a genuine statement of intent to "Kill 'Em All".)
Short of actually going to a stadium gig this is the best way to experience the immense beast that is Metallica, live on stage as a performing heavy metal band. We got some insight into the power of the Metallica roadshow in the band's last motion picture, Some Kind Of Monster, but it was limited to the fringes as the documentary's focus centred on the making of an album and the behind-the-scenes turmoil in a highly troubled band camp.
Some Kind Of Monster unintentionally manifested itself as the spiritual progeny of This is Spinal Tap, except it's not a mockumentary – it's an authentic, true-to-life chronicle of a rock group in crisis punctuated with cringeworthy inadvertent comedy.
The 2004 feature directed by Joe Berlinger and Bruce Sinofsky is a sublimely entertaining and fascinating piece of work for fans to behold. Nevertheless, it's also a disconcerting document that does much to smash delusions about the indomitable divine might of iconic rock gods.
Here are your rock hard heroes James Hetfield, Kirk Hammett and Lars Ulrich rendered as something underwhelming – sulky drama queens bickering while they struggle with their own demons and each other. Here are your guitar idols engaging in group therapy, throwing the temper tantrums of a six-year-old, all the while having a hard time writing new material. The most ego-shattering moment might be the point where Lars' dad comes into the studio to listen in and offer his withering critiques ("I would say… delete that.").
That's all well behind us now, though. Metallica hired a happy new bassist – Robert Trujillo, seen successfully auditioning for the gig in Some Kind Of Monster – released that thrash therapy album (St. Anger) and made another, superior LP in the shape of Death Magnetic. (Superior because it brings the white-hot Hammett guitar solos back.)
Ulrich also functioned as the MacGuffin in the moving documentary Mission To Lars, which followed Kate and Will Spicer's endeavour to bond with their autistic brother Tom and make his dream come true. Tom – a huge Metallica fan who suffers from a condition called Fragile X – has "Wanna meet, Lars, wanna meet Lars" as a mantra and, thus, they drag him off on an American road trip in hope that they can make that wish a reality.
Whether you like Metallica or not, I'd recommend Mission To Lars as a touching, insightful portrait of the challenges of mental health and the impact it has on families. It's well worth seeking out and it proves that the man that so many people despise as the anti-Napster figurehead is actually a nice guy. Mission To Lars is also a really nice antidote to all the resentment and inflamed ego action of Some Kind Of Monster.
That bring us up to now, the 30th anniversary of the release of debut album Kill 'Em All. The Through The Never film is both an ideal way to mark that milestone and, after multiple introspective documentaries, bring back the Metallica live monster.
This fresh movie also differs from the rest of the band's recorded concert packages and motion picture features in that it's fleshed out with fictional elements. Metallica: Through The Never has a narrative amidst the music, is directed by Nimród Antal (the man who helmed Predators) and has actor Dane DeHaan playing the lead protagonist.
It's therefore a film in the same vein as Tenacious D In The Pick of Destiny or The Beatles in A Hard Day's Night or Help! – an audiovisual experience that operates both as a vehicle for the band's compositions and as a scripted cinematic story in its own right. I approve of these kind of rock 'n' roll fusion flicks and I'm excitedly anticipating Through The Never as Metallica's Magical Mystery Tour.
In the film, DeHaan plays a roadie named Trip who's tasked to go and pick up some equipment. This routine assignment veers off road and suddenly Trip finds that he is, indeed, tripping through a surprise surreal experience out in the streets when he should probably be back at the arena winding up wires or giving wannabe groupies without backstage passes the 'You Shall Not Pass' glare.
While the band rocks out with IMAX 3D bombast and give fans the full heavy metal pyrotechnic stage spectacle, the mute Trip is lost in a post-apocalyptic dreamscape that interweaves with the concert footage. It sounds arty and interestingly unusual in a world where concert movies have become increasingly homogenous and generic – a Magical Mystery Tour for the metalheads utilising the full possibilities of modern moviemaking technology.
All being well (and it will be well because I have faith in Metallica) Through The Never will thrill with both the band footage and the fictional trip with Trip bit, leaving you with metal up your ass, metal in your eyes and metal in your ears. Ideally the movie will also remind us that Metallica are still very relevant, very powerful and, actually, very cinematic.
Recall the opening titles of Zombieland and you realise that it's emphatically true. As we watch the blackly comic apocalypse of the American undead unfurl in stylishly gory slow-motion we hear the thunder riffs of For Whom The Bell Tolls. Setting the tone perfectly and hitting viewers hard right from the start, Ruben Fleischer's use of Metallica in his zom-com is an inspired masterstroke.
I may just be saying that as a biased fan with a macabre sense of humour, wicked grin on my mug and fist pumping in time as Hetfield shouts "Time marches on!" while a zombie stripper chases down a besuited businessman. That's the perverse power of heavy metal for connoisseurs of the style, I suppose. Listening to tracks like Enter Sandman, The Four Horsemen and One does similar things to the inside of my imagination, evoking vivid pictures of highly appealing glorious and grotesque theatrical grandeur.
On reflection I realise that this band actually played an important role in my development as a discerning film aficionado. Once upon a time – a time before I found out that Metallica's intro music was The Ecstasy Of Gold by Ennio Morricone from The Good, The Bad And The Ugly's climactic shootout – I was an ignorant, uncultured teenager.
Curious about the inspiration behind their instrumental The Call Of Ktulu (the misspelling is Metallica's) I ended up searching out and discovering the brilliance of HP Lovecraft. The same is true for Universal monster movies – Kirk Hammett's iconic Karloff's The Mummy guitar ushered me towards a whole stack of movies that became personal all-time favourites.
Whole rich and exhilarating new worlds were opened up to me by Metallica, my mind tuned in to a whole array of sounds, sights and experiences that formed fundamental parts of my personal evolution. Metallica – one of my first touchstones in heavy metal music – led me towards bands like Iron Maiden and from their songs I discovered classic movies like Phantom Of The Opera, Where Eagles Dare and The Loneliness Of The Long Distance Runner.
Metallica's love of the Misfits, likewise, nudged me towards the finest horror punk band in history and, subsequently, got me hooked on the vintage B-movies they mined for song source material (for instance Return Of The Fly and Night Of The Living Dead).
Heavy metal is very much a musical genre that makes you think and feel – even if that feeling is tinnitus and whiplash and the thoughts are of diabolism, destruction and grim death. To see Metallica on the big screen is to get a nostalgia kick that recalls early adolescence and simultaneously allows you to embrace a majestic primal force that compels you to raise horns and headbang until it hurts.
Metal up your ass, metal in your ears and metal in your eyeballs – Metallica: Through The Never is just the kind of 3D concert movie experience that people like me need.
James Clayton is thrashing all around, acting like a maniac – *drum roll* – WHIPLASH! You can visit his website or follow him on Twitter. 
You can read James' last column here.