Features
The James Clayton Column: Johnny Depp, costume hero
Johnny Depp's costume in The Lone Ranger makes James consider the other outfits from the actor's signature movies...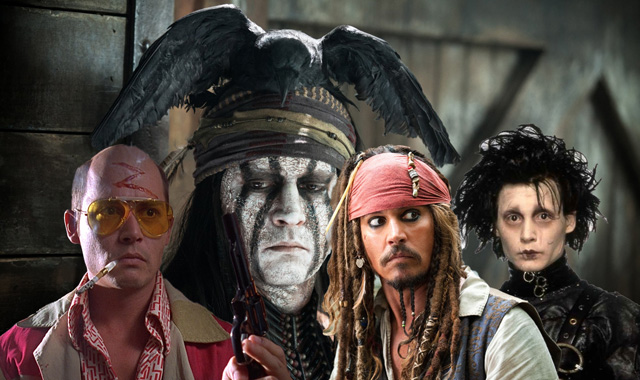 Johnny Depp has a dead crow on his head. This is brilliant. Depp is Tonto, and in an act of remarkable inspiration, the actor has decided that a bird carcass is ideal headgear for the role. It's a macabre masterstroke.
Next to him, handsome Armie Hammer is looking pretty darn sharp in a 19th century suit, a white Stetson and a bandit mask, but really it's all about Depp and his unusual avian accessory. The eponymous star of The Lone Ranger looks good, but Tonto is the true fashion figurehead fronting this fresh Jerry Bruckheimer production. Once again, Depp is the dynamic force driving a movie through the magical power of costume and makeup.
It is true that Depp could wear nothing but a pair of binbag boxer shorts and still maintain a sense of cool. Even with the balding scalp and Hawaiian shirts of Hunter S Thompson in Fear And Loathing In Las Vegas Depp managed to look cool. It's effortless – both his acting performances and his ability to keep up a constantly interesting and appealing appearance.
Of course, appearance is something that's essential to those performances and Depp is the modern day maestro of movie costume, hair and make-up. These elements are all vital to everything he brings to each individual character and they help flesh out (thread out?) the protagonists he plays and, subsequently, the surroundings they inhabit.
Short-sighted critics and jaded audiences occasionally blast Johnny Depp for being Johnny Depp (read: getting down in weird get-up) but I'd argue that those slams miss the point entirely.
Depp's renowned interest in the visual aspects and physical embellishments to his person are both entertaining to viewers and crucial to the films he graces. His wardrobe and other assorted cosmetic choices function as both a distinct, alluring draw and as a fundamental theatrical device in terms of narrative and character development. This is the case for both his more 'eccentric', unreal turns and for the numerous times he's togged up in realistic period dress (Sleepy Hollow, Public Enemies, Cry Baby, Donnie Brasco, etc).
It's plain to see, for what is Edward Scissorhands without its title character's sharp cutting edge limbs? Likewise, the Pirates Of The Caribbean franchise would collapse if it wasn't anchored around a rogue 18th century rock star retro-reincarnation of Keith Richards.
Appearance is everything, honey, especially in a visual medium like film. Costume is just one of the many overlooked and undervalued aspects of motion picture production and its deep significance probably deserves greater appreciation. If I was to start a serious campaign to raise awareness, Depp would be enlisted as the poster boy.
I don't know which outfit he'd be wearing on the posters but that kind of proves my point about his chameleon-like metamorphoses across a multitude of eclectic movies. What's more, as I've already noted, his looks in all those flicks all evince a certain aura of 'cool'. I can't think of one that looks a little bit lame and that prompts me to critically click my fingers and cry out, "Oh Johnny boy, you look like a real square, daddio!"
(I wouldn't do that anyway because I'm not a Beatnik from a '60s counterculture B-movie. Actually, it's a shame I'm not. Apart from being Johnny Depp, that's probably one of the coolest things you could be.)
Depp and other screen icons – assisted by directors and the unsung heroes in the hair, costume and make-up departments – make meaning and bring visual vitality to cinematic material. These aesthetic aspects are integral to production design, the film's personality (tone and style) and are crucial in world building. Off the top of my head, A Clockwork Orange, The Warriors and The Fifth Element are all excellent examples of this kind of emphatic semiotic activity in action.
What Depp and his behind-the-scenes collaborators are doing is aiding the viewer's understanding and appreciation of the story. Plus, the actor always impresses a potent presence and weird charm regardless of how he's made up and I don't believe it damages the film around him. In fact, in some cases it elevates material that's lacking or flawed in some way.
Tonto's dead crow topknot may, for some, be the most interesting thing about The Lone Ranger but it isn't a birdbrained gimmick. Depp's a sophisticated man and a creative performer who's immersed in his roles and there's reasoning behind the bird accessory that offsets his Comanche costume and painted white face.
Allegedly, when researching and ruminating on his personal take on Tonto, Depp came found an old portrait of an Indian warrior with a crow flying in the background behind the subject. "At first glance I thought the crow was on his head, so I decided the way to go was take a dead bird and put it on my head as my spirit guide." the actor explained in a recent issue of Empire Magazine. He then added, "Everyone should try it, it's really something."
The wearing of a winged corpse atop his bandana-wrapped bonce is thus a significant symbol tied into traditional Native American spirituality. It also subsequently speaks of Tonto's relationship with the Lone Ranger and his status as more of a mystic mentor as opposed to subservient sidekick in this adaptation.
Depp's "Everyone should try it" statement also reminds me of the actor's status as a fashion icon. At least, he would be a fashion icon if mainstream society embraced his sartorial flair and followed the trails he blazes.
He's an innovator and his idiosyncratic, offbeat images are engrained in pop cultural consciousness. Nevertheless, none of them have effectively conquered the mainstream and make a mark on wider society's behaviour and actual clothing choices.
This is because people, by and large, are pretty bland and conservative. Depp's outstanding screen appearances may have inspired a few Halloween outfits (I mimicked his Sweeney Todd a few years back) and some fancy dress party costumes but you won't see any Tonto-a-likes on the street. I consider this to be something of a shame.
The high street makes me yawn. I look around the urban milieu and see that the scene is awash with masses wearing conventional clothing. Few people seem to care or be willing to dare to embrace flamboyant difference. I feel the same about myself and sometimes start dressing down the man in the mirror for wearing the same generic creased t-shirt and jeans combo again. (Don't worry. I wash 'em regularly.)
In those moments where it all feels humdrum and oh-so-samey I begin to wish that cosplay wasn't only confined to comic conventions. Even more ideal, I fancy as I look to the coming of The Lone Ranger, I yearn for a popular channelling of Johnny Depp's maverick spirit. I believe that it would make people happier and that the end result would be a major upswing in more positive self-image and self-confidence. These things come when you put on make-up or dress up in costume, as every superhero and cast member of The Warriors can confirm.
If we do this we'll all look and feel so much more fantastic. We'll all be like Johnny Depp and that's the coolest thing you can be – even cooler than a countercultural Beatnik from a '60s B-movie.
If we're accepting Depp as the fashion star around which we all orbit there's a range of possibilities for every taste and mood. If you find Tonto's crow carcass too creepy and fear scalp infection you can opt for, say, the crafty practicality of Edward Scissorhands or the hair-raising Victoriana of Sweeney Todd: The Demon Barber Of Fleet Street.
If they or the Dark Shadows vampire chic strike you as too dark you can turn to the wild and whimsical technicolour of his Willy Wonka or his Mad Hatter. Alternatively, if you're not feeling such formal threads there's the buccaneer bravado of Cap'n Jack Sparrow or the seductive water-gypsy style he rocked in Chocolat.
You could go Gonzo with Raoul Duke's wardrobe ("Put on some golf shoes! Otherwise we'll never make it out of this place alive!") or even go full reptile zoo by transforming yourself into a chameleon, Rango-style.
That's probably be the most fitting option considering Depp's chameleon nature but if I can't actually become a highly changeable lizard (those surgical procedures are quite pricey) I might just focus on Ed Wood, the Tim Burton biopic in which our costume hero is the titular cross-dressing director.
Depp – maestro of movie costume – plays a stifled creative man in a black-and-white world and he finds true happiness when he's making schlocky movies and wearing a blonde wig and his wife's angora sweater. Ed Wood, Jr. comes to life when he dresses up and likewise, films come to life when Johnny Depp dresses up.
James Clayton is going to start wearing dead birds on his head because sticking scissors up your sleeves is so '90s and the candy dandy Willy Wonka look just isn't modish anymore. You can visit his website or follow him on Twitter. 
You can read James' last column here.