Features
The James Clayton Column: Corrupted innocence and kids going dark
The release of Spring Breakers leaves James pondering the loss of childhood innocence in the movies...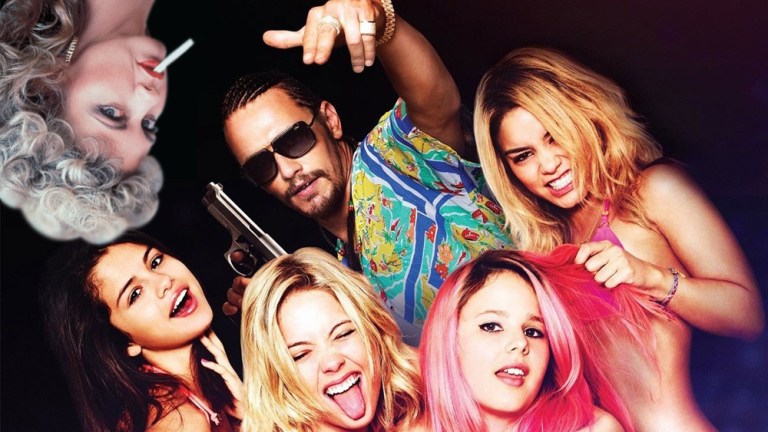 I love the smell of corrupted innocence in the morning. It smells like victory, and that's a victory that's shared by all parties. The corrupted ex-innocents are happy (they're finally free to embrace their dark side), the corrupting influences are happy (they've achieved their objective) and the audience is happy.
You may protest, but I put it to you that your pious position is all pretence and that you're in a denial. In spite of enthusiastic public support for 'the good' and for purity, really, everyone is rooting for the dark side to do well.
People are perverse and genuinely prefer it when the nasty, the sinister or the unpalatable powers through and pollutes proceedings. Look deep inside yourself and you'll realise that you do want to trek into darkness, which is why you're off to the dimly-lit fantasy space of the cinema auditorium. In these underlying urges, you find the reasons for the appeal of, say, Tim Burton and David Lynch to name two notable directors, who eagerly twist the sweet and saccharine. It also explains the everlasting lure of horror movies.
Dark desire transcends a few particular genres and auteurs, however, and is a driving force that keeps people engaged and actively enjoying movies. It's all part of the beautiful yin-yang balance, for how can you define a hero if you don't have villainy, and how can there be triumph is there's no traumatic struggle?
Coming back from being off-tangent and skirting around Oriental philosophy to focus on corrupted innocence, it's undoubtedly true that the 'goodie gone bad' trope makes for great cinema experiences. Off the top of my head, I'm thinking about classic horror films like The Exorcist and Christine, where sweet-natured youth is possessed by diabolical evil. No one wants films about nice nuns and, thus, we get wicked thrills when Black Narcissus and The Devils bombard the sisters with sinful temptation.
If Black Swan was a happy puff piece about a pretty, brittle ballerina and didn't take Natalie Portman's Nina through a brutal psychological breakdown and exhilarating dark metamorphosis, it'd be dead dull. Likewise, note how so many high school flicks are centred around the luminal transition from naivety to newfound sexuality and very edgy adult empowerment (Mean Girls, Grease, Carrie, etc).
Viewers want to see that 'mainstream clean' rubbed right off, and like it when pretty, delicate flowers are spoiled or soiled. It's a key hook on which comedies like Bad Teacher, The 40-Year Old Virgin and American Pie movies hang. Back to Grease, Sandy only becomes an icon when she's got a perm, a smouldering cigarette, a black bodysuit and a pair of piercing high heels. I reckon the subplot commanding most people's attention in the rock 'n' roll musical is the gradual transformation of Sandra Dee ("lousy with virginity") to Pink Lady with the power to erotically electrify both John Travolta and his car so they can all fly off to have celestial sex in the clouds over Rydell High.
The moment Minnie Driver's character boasts about how she'd "ruin Bieber" in recent Brit 'anti-romcom' I Give It A Year kind of nails the whole issue and makes the macabre, dirty wishes manifest on screen for a split-second. Society likes its squeaky clean celebrities, but it secretly likes it even more when they are scandalised. Similarly, the rich and famous enjoy smashing expectations and reputations themselves, and seek out opportunities to visit R-rated regions full of sex, drugs, alcohol, profanity, crime and – most disturbing of all – arthouse cinema affectations.
So it goes with most former child stars, and it's something that's in the ether as Spring Breakers arrives on the big screen. Harmony Korine's new movie has teen idols Selena Gomez (Justin Bieber's former girlfriend) and Vanessa Hudgens (former High School Musical heroine) neck-deep in material that's way more mature than the stuff they're commonly associated with.
Their core preteen fanbase isn't likely to be flocking to theatres to watch a wild thriller about college girls going on a crime spree, hooking up for hedonistic misadventures with an amoral rapper named Alien (James Franco with gangsta cornrows). In fact, they won't actually even be allowed in to see the film because Spring Breakers has an 18 certificate for "hard drug use, strong sex, sexualised nudity, violence and language".
Nevertheless, legally-entitled cinemagoers (like me, and I've got the ID to prove it) get to take great pleasure in the subversion of a set of sanitised Disney princesses. That image is blasted with electro beats and shot through with bullets as the bikini-clad teen queen bandits run amok in Florida. Fresh from conning the entire population of the Emerald City in Oz The Great And Powerful, James Franco is clearly a bad influence who pushes innocent young women into criminal behaviour or heartless witchcraft.
It may be wise to lock up your daughters and ensure they only watch the Disney Channel in order to shield them from shamefully falling into filth. Alternatively, you may wish to see more child stars mucking up their mainstream popular persona, enjoying post-adolescent pursuits and putting their clean-cut past in a shoebox to be laughed at nostalgically in later years.
There are loads of examples out there, and 'going hardcore' is the hip thing to do once you reach a certain career point/phase in the personal development process. As is the case with multiple juvenile pop musicians – Michael Jackson declaring that he's "Bad" and Christina Aguilera wanting to get "Dirty"- so it is in acting.
My favourite contemporary case study might be Robert Pattinson – a highly-adept actor hamstrung due to his infamy as the Twilight franchise's leading heartthrob. How do you go about alienating the manic Twihards and challenging the preconceptions of a wider world that pictures you as a one-dimensional teen fantasy hero? Teaming up with David Cronenberg to play an ennui-stricken entrepreneur in Cosmopolis is an excellent solution.
Think you know R-Patz? Think again as you watch him cruise the rioting streets of New York City in a limo, freely offering bleak existential philosophy, oral sex and a few shocking moments of brutal violence.
That's just one particularly jolting and resonant move towards maturity from recent memory. The juxtaposition of Spring Breakers and the previous works of Vanessa Hudgens and Selena Gomez is on a similar shock-value scale simply because of the teen mania that surrounds them. All these performers are really doing, however, is something that most child actors do – move from family-friendly films to adult material as they become adults themselves. Maybe there is a conscious drive to 'put away childish things', as it were, but for the most part it's probably an organic process.
These are roles to relish for other reasons beyond the viewer's perverse wish to engage in schadenfreude and watch subversive iconoclasm in action. It's funny facing Cosmopolis or Spring Breakers and then thinking about the popular image and preteen idol status of their stars, just as it's intriguingly jarring to recall young Jennifer Connelly in Labyrinth when you're sitting through the depravity of Requiem For A Dream.
I'd argue that corrupted innocence is appealing, though, because it's an essential part of life and isn't just a voyeuristic thrill for the dirty-minded viewers. Contrary to the likely belief of conservative parents, it'd be more insidious and abnormal for stars like Selena Gomez to trap themselves in permanent childhood. It'd be creatively stifling and contrary to human nature.
Unless they're suffering some Peter Pan problem and permanent arrested development, human beings grow up and change. Most actors are human beings and so, naturally, they take on different roles and inhabit different personas than the ones they identified with in earlier years.
When Pattinson, Hudgens and Gomez take a walk on the wild side they're following a road taken by many others before them. You don't necessarily look to Anne Hathaway, Leonardo Di Caprio, Drew Barrymore and Anna Paquin and cry, "Oh, I remember they used to be such sweet screen children, and now look at all this adult extremity!"
Time goes on, people develop and there's a lot of potential for brilliant things happening. Spring Breakers and Cosmopolis as showpiece movies that capture maturity in process are, as a result, interesting to observe.
Thought of in those terms, 'corrupted innocence' – the arrival at adulthood – turns out to be the best thing that can happen for both actors, audiences and indeed the characters if the end result is a strong film. The narrative's vitality as a fairytale trope regurgitated repeatedly right across pop culture is, thus, understandable.
You're not just getting satisfaction from seeing Chloë Moretz's Hit-Girl swear and shoot people, or from the idea of a High School Musical hero falling into orgiastic hedonism – you're getting satisfaction from righteous arrival at adulthood which is an essential, empowering phase in the cycle of life – a cycle in which it's crucial to balance both light and darkness.
Just be wary about taking your children. They might not quite be ready for it yet.
James Clayton wants someone to come and corrupt his innocence and help him alienate his preteen fanbase. You can visit his website or follow him on Twitter.
You can read James' previous column here.
Follow our Twitter feed for faster news and bad jokes right here. And be our Facebook chum here.