Features
The James Clayton Column: Arnie, Stallone and Willis – the power rankings
With Schwarzenegger, Stallone and Willis all in cinemas this year, James takes a look at their current and forthcoming action movies...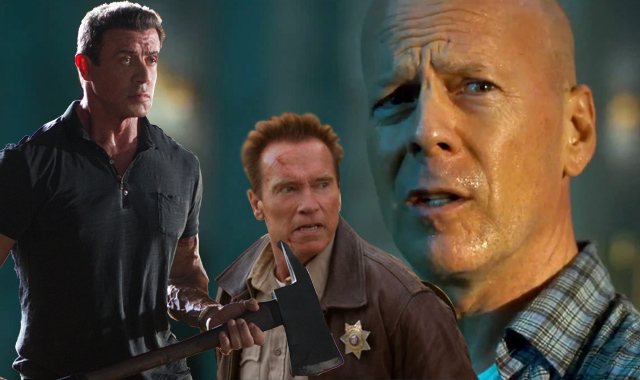 Bruce Willis remains. Sly is sticking at it. Arnie is still around. The dudes abide and I'm glad they abide. For their abidance, I salute them with an enthusiastic air-punch and a shout of "yippee-ki-yay!"
The world moves on, shifts in the film industry happen, but constant presences like Willis, Stallone and Schwarzenegger really tie the action movie landscape together. To strain this rug metaphor and reference to The Big Lebowski even further, cinema arguably doesn't need these old things anymore, but they make for quite agreeable decoration and repeatedly prove themselves as pleasing, useful pieces of furniture that complement the architecture and harmonise nicely with the environment. Ladies, gentlemen, cyborgs and monkeys: this is filmic feng shui.
They are solid footing on which to stand and lay living foundations. Occasionally people tread on them disrespectfully, stomp rudely and pick holes in their designs. Most awfully of all, occasionally bad dogs decide to take a dump on their domain, but nevertheless they remain unmoved.
They can take the crap and aren't going to leave, probably ever. You're going to have to burn the house down to eradicate these eternal installations. (I think 'the house' here is Hollywood, but this rug imagery has now completely unravelled and confused me. I'm rolling up the carpet thing right here, hanging it on a hook and hitting it hard which is a more ethical punching practice alternative to Rocky's beating on cow corpses.)
Obstinate or just unable to die, Schwarzenegger, Stallone and Willis live on as action legends and life is pretty good. They haven't succumbed to demon apathy and demon decadence because they're too hard and rugged to be swallowed up by such horrors. They haven't atrophied in old age and wrinkles and creaky knees haven't crippled them and stopped them from cranking out movies. Sly (aged 66) Arnie (65) and Bruce (57 coming up on 58 in March) are all active and remain popular with wide audiences beyond their core fanbase.
This is all happening 20-plus years after what might be identified as their 'heyday', but I'd argue that each of them, in the present reality and highly unstable milieu of 21st century pop culture, are experiencing 'a new prime'. I believe that the recent past and imminent future will be go down in history as something of a propitious, interesting period for the tough-guy trio – a purple patch on their personal chronological carpets that cover the pathway to their respective celestial destinies. (I apologise for pulling up the rug again. I promise I'll stop now. The carpet is currently uttering "I'll be back" and laughing at its own witty Arnie quotations but I assure you, it won't be back and I haven't given it clothes, boots or a motorcycle. The rug thing: terminated.)
There's something strangely reassuring about seeing their faces on fresh film posters and in new trailers. Even if that thrill is only felt strongly by children of the 80s and action movie aficionados, I'd say that the multiplex is a more auspicious place when these men are exerting a presence, their machismo-infused auras wafting through theatre auditoriums. It makes for nice variety and adds a touch of familiarity to a movie scene that occasionally feels slightly alienating and unnerving (it's probably the 3D).
If they wish, right now cinemagoers can go to see Schwarzenegger in The Last Stand and Stallone in Bullet To The Head. Come Valentine's Day they'll also be able to catch Willis in A Good Day To Die Hard, and the rest of the year promises many more releases featuring the über-tough trifecta.
This hot streak of blistering busy-ness was undoubtedly sparked by The Expendables 2. It's Stallone's baby, but the second instalment of the action ensemble series was significant in that it extended Arnie and Bruce's cameo roles (as Trench and Mr Church, respectively), ultimately allocating both of them more screentime than Jet Li's Yin Yang.
In the end they all joined up and stormed Jean-Claude Van Damme's airport and wasted a mass of rival mercenaries while trading barbed zingers. All involved were clearly enjoying themselves, but what about the aftermath of the great action grandaddy social gathering? What happens when they're back on their own and in competition with each other and the rest of the world?
Because we love it when titans clash and veteran screen idols arm-wrestle, I'm going to process them through a power rankings analysis procedure and pit the Holy Trinity of American Action Cinema against each other. ("The Austrian Oak" may be European and another 1/3rd of the Trinity may have made it by playing "The Italian Stallion" but I figure that they're still Hollywood's pre-eminent triumvirate standing as the leading representatives of the rugged, masculine American Dream on screen.)
This exercise functions as both a brief summary of the trio's recent solo activity and as a look-ahead to the tantalising future to come. It will also simultaneously award one of them bragging rights for the occasion when they all regroup to start production on The Expendables 3.
Which of the three action icons is the hottest right now and tops the present power ranking table? Laying 'em down on the slate (actually a ferret fur bathmat, but we're ignoring this) let's size them up…
Arnold Schwarzenegger
Done with the Governor of California gig, Arnie now appears to be making up for lost time and is blazing something of a comeback campaign trail to back up that "I'll be back" promise. With the world left relatively nonplussed by the Conan The Barbarian and Total Recall remakes that failed to rinse away indelible memories of Arnold, the former Mr Universe re-enforced his legend with a bestselling autobiography to build anticipation for return to acting.
Though it underwhelmed at the box office, highly enjoyable western The Last Stand was an ideal film in which to ease back into the swing of things as a leading actor. The decision to filter Arnie's star persona through the idiosyncratic action photography of Korean director Kim Ji-woon and his cinematography Kim Ji-yong was also an inspired one.
I sense a certain open-mindedness and energy to experiment a little in The Last Stand and it's plain to see on a packed schedule that includes David Ayer's drug bust drama film Ten and prison break thriller The Tomb with Stallone (see below).
Triplets, a sequel to Twins, has also been announced and Schwarzenegger's also reclaiming the franchises built on his bulky frame back in the 80s with a fifth Terminator film and The Legend of Conan in the works. In this kind of proactive mood I wouldn't bet against him pushing for new Predator or Commando flicks, though I'd personally rather see a sequel to Hercules In New York. Regardless, one thing is clear, by Crom: Arnie is back.
Sylvester Stallone
Sly deserves respect simply for being The Expendables' bandleader and, for bringing the old-school action and providing exposure for forgotten cult heroes, the series should be lauded as one of the most worthy enterprises in recent cinema history. Assessing the relatively sparse output of recent years Stallone has been very much about heritage, sticking to the Rocky and Rambo franchises aside from his Expendables brace.
Some fresh change is in the air, however, and 2013 offers up a couple of original films in which Stallone, freed from directorial duties, is playing the action hero lead. In Mikael Håfström's The Tomb he's teaming up with Arnie in order to escape from a maximum-security facility that he designed. It's a promising premise and gives us something to look forward to this autumn but first we get to see Sly marshalled by Walter Hill for New Orleans police vengeance flick Bullet To The Head.
I hope these divergent buddy-cop and buddy-inmate blasts do well and are embraced by audiences but if not, Stallone needn't be downcast. He can simply pour all his energies into finding ways to innovate and make sure that The Expendables 3 is the most orgasmic action orgy ever committed to film. Otherwise he's currently filming boxing comedy Grudge Match in which he'll be fighting Robert De Niro (geriatric Rocky versus geriatric Jake LaMotta!) and there's always the possibility of additional Rocky and Rambo sequels.
Bruce Willis
2013 has B-Will (as no one ever calls him) revisiting past roles in RED 2 and Sin City: A Dame To Kill For as well as some fresh franchise action in the form of G.I. Joe: Retaliation. The pressing big deal picture on the agenda though is A Good Day To Die Hard, in which signature character John McClane will be tripping to Russia for some explosive father-son bonding.
There's definitely promise in the mix of the projects and weighing those up alongside recent work what really hits home is just how incredibly prolific Bruiser Bruce is. He's a constant workhorse showing up in a diverse range of films and somehow always manages to put in a solid performance, serving the material in an appealingly old-school, no-nonsense fashion.
Willis isn't disgraced by having his name attached to overlooked duds like The Cold Light of Day, Lay The Favourite and Fire With Fire (which went direct-to-DVD in the States) because the actor always does a decent job. What's more, his roles in indie masterworks like Looper and Moonrise Kingdom more than make up for the filler and allow him to show just how strong a performer he is. With easy charisma and an absence of hammy grandstanding, Willis operates as the sympathetic heart of those two films and they highlight his constant excellence. I perceive him as the deadly American action dad I never had and with subtle magnetism and a very human edge, he's more relatable and much more of a believable figure than others in the field.
Result: Of the three, Bruce Willis is the dude who abides the most, and he bests his brethren by virtue of his eclecticism, productivity and humility. As things stand, he's the one who gets to enjoy a triumphant sprint down the red carpet (yes, "I lied") beneath shining spotlights to stand proud at the top of the podium. Yippee ki-yay, indeed.
That's my personal opinion, of course, and I'm open to changing it should Arnie and Sly wish to stop by to thrash out the debate in person. Regardless of who tops the power rankings, it's just good to see that all three are still on screen to bring heavy beatings to bad guys with bonus one liners and a refreshing old-school attitude.
These dudes abide, and they really tie the action movie marketplace together.
James Clayton is not going to be appearing in The Expendables III because he's already committed to the pre-production training regime for Die Hard on a Persian Rug (the 6th film in the series) in which he'll be playing The Rug. You can see all his links here or follow him on Twitter.