Features
The James Clayton Column: Anthony Mackie, hero of smaller parts
To coincide with the release of Pain & Gain, James salutes the work of actor Anthony Mackie, and explains why he deserves bigger roles...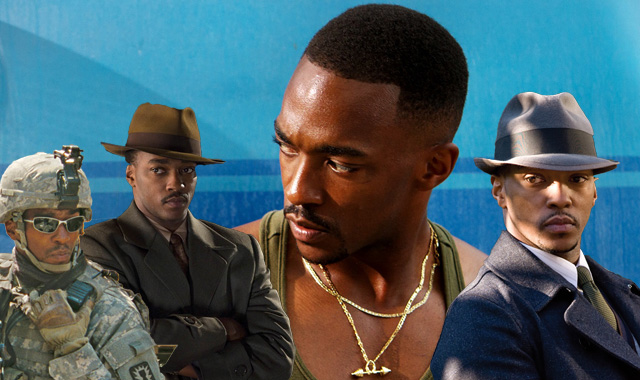 In Michael Bay's Pain & Gain, Anthony Mackie plays a man named Adrian "Noel" Doorbal. That's a bit of a silly name, but it's not so bad considering that the film also features characters called Pastor Randy and Robin Peck.
Still, Mackie (or Doorbal) has reason to be aggrieved and feel like he's the guy getting the biggest bites of shame sandwich. Why? Because Adrian is defined by his nads and, unlike co-star Mark Wahlberg in Boogie Nights, his nads are not something you'd want to defined by.
The character is compelled to go to a sexual health clinic and tearfully admit his secret shame. Viewers can't help but sympathise with the poor forlorn guy as he sits in front of a poster emblazoned with the words "Penis let you down?" while sadly murmuring that his balls are "more like Raisinets".
Rebel Wilson's Robin Peck promises "penis magic" and offers some comforting innuendo ("at least yours are chocolate-covered Raisinets") but for a manly man who cares about his manhood, these reassuring words aren't enough. Sensitive areas are in a sorry state and sexual propositions from Rebel Wilson are only going to go so far in salvaging your masculinity crisis.
Bodybuilder Adrian's genitals are now undersized and he's been rendered impotent as a result of steroid use. Mackie's character is one of those unwise athletes who turns to performance-enhancing supplements in order to achieve the dream of being an optimum physical specimen.
The drugs, of course, do not work and will not actually turn you into a perfect specimen as hoped. "First it giveth then it taketh away" and what roids giveth and then taketh away is physical masculinity. The substances may boost muscle mass, but in turn they shrink your genitalia and cripple your sexual ability. There are other potential side effects such as liver damage, hair loss and wild raging mood swings, but the Pain & Gain subplot is primarily concerned with the impaired virility aspect.
This is understandable, because impotency and genital body horror are far more cinematic and way more appealing to spectators. In truth, half the audience is probably in the theatre auditorium because they want to distract themselves from their own sexual dysfunction and laugh at someone else's for a change. Don't worry too much about it, though. It's not so bad if you think "I'm just like a Woody Allen character or Warren Beatty in Bonnie & Clyde!" If you do have serious concerns I'd encourage you to visit your nearest sexual health clinic where a caring professional will perform "penis magic".
Returning to the highly personal pain of Pain & Gain, what may be hilarious schadenfreude for others is deeply humiliating for the afflicted individual so, once again, I sympathise with the emasculated Adrian. I like Doorbal and am rooting for him and the rest of the Sun Gym Gang as they go about their criminal enterprise because I want to see him get the money to fund his phallus-restoring medical treatments. It's true that it's his own fault but everyone deserves a second chance, right?
It's great that Michael Bay's cartoonish Miami crime caper is on screens acting as an informative sexual health PSA with a lucid moral lesson ('Drugs are bad and have bad side-effects', if you've failed to grasp it). However, I am slightly troubled by the idea that Anthony Mackie is being undermined in a testosterone-heavy flick in which he's sharing screen time with Mark Wahlberg and Dwayne "The Rock" Johnson.
It's hard enough to hold your own alongside these über action icons but it's even more of a near-impossible struggle when you're tagged as the character with chickpea-sized cojones.
Mackie more than manages it though. He puts in a storming performance as Adrian and is never overwhelmed by his bigger co-stars (I mean that both in terms of fame and physical size). In addition to the physical stuff (he allegedly gained 17 pounds of muscle in the three weeks he had to prepare for the role) Mackie gets to demonstrate his emotional and dramatic range and show off his comic chops.
He's an essential part of the trio and a crucial narrative component so it's not like he's an inferior element or mere odd footnote in Bay's ensemble action crime comedy. The characterisations and sheer hyper-masculine power of leads Wahlberg (Daniel Lugo) and Johnson (Paul Doyle) are very impressive, but coming away from Pain & Gain I find myself wanting to specially salute Mackie – the least-renowned of the three.
In my view, he deserves extra respect for pulling off something that's pretty amazing. In spite of his lacking manliness he's there walking proud, shoulder-to-shoulder with the muscular titans and taking the American Dream by force. He's got ma-hoosive metaphorical balls and metaphorical balls are more important than fleshy scrote-balls. (This is one of the other morals I take from Pain & Gain.)
Taking a part like that of Adrian Doorbal is, honestly no pun intended (okay, not really), a ballsy move and I hope it reaps further future rewards because Mackie is a top-notch actor who I've long believed deserves greater prominence.
Reflecting on his role and relative position in Pain & Gain I find myself heading back a few years to The Hurt Locker in which he played Sergeant JT Sanborn. Ultimately, his job in Kathryn Bigelow's Iraq War drama is to function as the main human antagonist though the main 'villains' of the piece are unexploded bombs and the nebulous insurgent threat.
Jeremy Renner's Sergeant James is the key figure around whom the film revolves – it's his story and he's the character that the audience identify with. Sanborn, on the other hand, is a judgemental irritant who gives grief to the 'hero' and Anthony Mackie excels in portraying this unlikable personality.
It's a thankless part and similar things are happening in The Adjustment Bureau in which the actor appears as a supporting protagonist who hassles the good guy that cinemagoers are cheering on.
Romantic renegade Matt Damon wants to defy the titular fate-fixing bureau and hook up with Emily Blunt, because love and freewill should triumph over oppressive bureaucracy. Mackie plays the poor flustered underling agent assigned to make sure that Damon sticks to the plan so once again he's an antagonist force who we wish to see ultimately fail.
Even so, the actor brings compassion and subtle depth to a character who is ostensibly a cog in a heartless machine, thus drawing my sympathy. I pity anyone who has to chase Matt Damon, and memories of the Bourne movies and flicks like Elysium provide clear evidence of just how hard it is to subdue the man and stop him doing whatever he wants.
I'm seeing a pattern here. Mackie always delivers superb performances serving features in which he's down in the pecking order beneath exalted A-listers. He's a supporting player – not a lead poster pin-up like Ryan Gosling and Josh Brolin – in the starry ensemble mix of Gangster Squad. The Adjustment Bureau is centred around Damon and Johnson and Wahlberg are the dominant dudes fronting Pain & Gain. Real Steel is a Hugh Jackman vehicle and 8 Mile is the Eminem show. Every time Mackie is beneath big names, possibly getting overlooked and unappreciated as a result.
This strikes me as a bit of a shame and I'd like to see the actor rise up and get more recognition. He's shown that he's a strong actor with a variety of skills and I can picture him playing the lead in a wide array of eclectic movies. Mackie could carry an action franchise, convince as a handsome and charming lead in a romantic comedy, freak out in a horror flick or bring believable human feeling to a historical biopic. (He's already played Tupac Shakur in Biggie Smalls film Notorious and was Abraham Lincoln: Vampire Hunter's valet, though the factual accuracy of that film is heavily disputed.)
The good news for Mackie is that he's got a full slate of interesting upcoming projects – including Wikileaks drama The Fifth Estate and gambling thriller Runner, Runner – but the big deal that will boost his status is Captain America: The Winter Soldier. Cast as Sam Wilson, a.k.a. Falcon, the actor thus acquires superhero status.
Falcon may not be one of the Marvel Comics major heroes but it's still a step-up to another level on the pop-cultural landscape. As a fan of Mackie and the Winter Soldier comics arc, I'm looking forward to seeing how his Falcon fits into the Marvel Cinematic Universe. It's also going to be good to see the actor in costume and taking flight in a massive comic book blockbuster alongside Captain America.
Being Cap's best mate may be even better than being gym buddies with The Rock and Mark Wahlberg. Regardless, I hope that the solid work does result in bigger parts for Mackie and as I anticipate his further rise I urge readers to take a moment to acknowledge his overlooked excellence. I also urge you all, once again, to say no to steroids.
James Clayton is a fan of Anthony Mackie, even when he has shrunken parts. You can visit his website or follow him on Twitter. 
You can read James' last column here.
Follow our Twitter feed for faster news and bad jokes right here. And be our Facebook chum here.