Features
The James Clayton Column: Actors in surprise musical action
With Tom Cruise wailing over the Rock Of Ages soundtrack, James dreams up a few other musical vehicles for Hollywood's finest...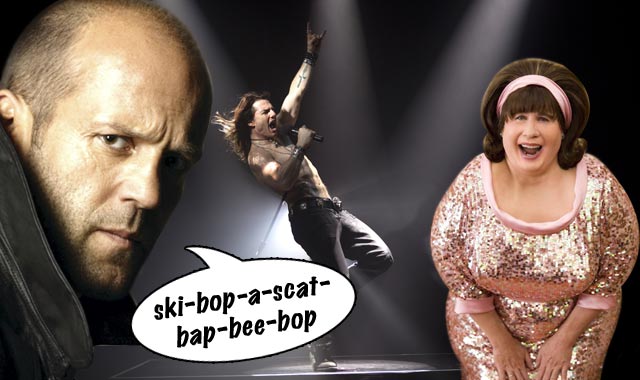 Here comes Alec Baldwin in eyeliner and leopard print playing an 80s nightclub owner who's best mates with Russell Brand. That's already enough to rock our worlds, but Rock Of Ages is going even further as a gobsmacking movie prospect. It's a musical starring Tom Cruise and it has him on stage belting out vocals as fictional hair metal hero, Stacee Jaxx.
Aside from his rendition of You've Lost That Loving Feeling in Top Gun, the Cruiser hasn't taken time to get tuneful in his career, so Adam Shankman's Rock Of Ages really is the first full-on 'Cruisical'. I expect if he impresses there may be more movies in the pipeline that rely on his rhythmic skills, like Mission: Impossible – The Musical or Hip Hop Top Gun. Remember when Les Grossman rapped in Tropic Thunder? It'll be something like that except this time Cruise is droppin' beats from a fighter plane.
Once you get your head around the idea of the actor camping it up as a glam rock god, you come to realise that Cruise's musical turn isn't all that surprising. He's always been a mercurial figure who's embraced challenging roles that haven't conformed to type and that have jarred with audience expectations.
See, for instance, the aforementioned Les Grossman of Tropic Thunder, which required Cruise to put on prosthetics and play a sleazy playa record executive. Recall Eyes Wide Shut (New York City sex cult searcher), Valkyrie (eyepatched Nazi officer) and Collateral (stone cold silver fox assassin without a soul) and the Rock Of Ages part makes more sense. Mr. Mission: Impossible clearly likes throwing swerveballs to keep things interesting.
Cruise isn't alone as an actor who's grabbed the unexpected opportunity to star in a musical and come good in spite of spectators' raised eyebrows. Shankman's Hairspray had Michelle Pfeiffer and John Travolta (in drag) singing, Johnny Depp was sublime in Tim Burton's Sweeney Todd: The Demon Barber Of Fleet Street and Gerard Butler played against type in the title role of The Phantom Of The Opera. The cringeworthy ABBA karaoke exercise Mamma Mia! proved to be a universal mega hit for unlikely musical performers such as Meryl Streep, Stellan Skarsgård, Colin Firth and Pierce Brosnan.
You could also look at Moulin Rouge! and marvel at the musical performances of actors like Ewan McGregor, Nicole Kidman and Jim Broadbent who'd never instantly impress themselves as the kind of people who did 'that sort of thing'. Yet they did do it and they did it amazingly, making for enjoyable works of entertainment that didn't drop bum notes.
The upcoming take on Les Misérables starring Hugh Jackman, Russell Crowe and Anne Hathaway is also likely to be a hit that will astound people who initially can't get their head around the idea of Wolverine or Maximus dancing and singing.
I'm all on-board for Les Misérables, Rock Of Ages and the following yet-to-be-greenlit features that take A-list actors and provide a new stage on which to amaze – namely the musical movie. For your consideration, here are the future films that will rock the screen and blow your mind as long as the moneymen of Tinseltown back them and the stars in question don't lose their legs or get a fatal case of irreparable tonsillitis…
Jason Statham stars in 'The Beat on The Beat'
The criminals of 1930s New York City don't stand a chance against the razzle dazzle of the jazz cop. Scat Stath drops the beats, daddio, and overcomes the hoodlums thanks to his hep cat cool and jumpin' freestyle crimefighting techniques. Dancing through the mean streets as music in his soul and jazz justice on his mind, Statham has never looked so cool and delivered violence so tunefully.
Hit numbers: "Scat, Bat, Splat, Sca-boom" and "Jazz Hands Make a Fist".
Samuel L Jackson stars in 'Choirboyz in the Hood'
Basically a remake of Boyz In The Hood centred around church life rather than gangsta life, this flick gives Sammy L Jackson opportunity to stretch his acting range and play against type as a shy guy with the voice of an angel. Now that he's discovered the surprise spiritual music gift from God, will little Sammy manage to escape the violence, poverty and racial segregation of the ghetto now that he's become the star choirboy in his hood?
Hit numbers: "Requiem for a Thug" and "Baby Got Bach".
Cate Blanchett stars in 'Concert of Clones'
This sci-fi spectacle sees Blanchett the genetic physicist cloning herself and entering her replicant orchestra into the Lunar Proms. Thus begins a race against time as Blanchett tries to instil poetry into her creations and encourage the duplicates to find their own voice so that their entry into competition is a polyphonic spree that melodiously proves clones can simultaneously be the same and different.
Hit numbers: "I Am Just Like You Who's Just Like Me Who's Just Like Her Who's Just Like You Who's Just Like Me" and "Altogether, Altogether".
Jean Dujardin stars in 'Le Mousquetaire de la Musique Joyeux'
Set in 17th century France, the star of The Artist gets chance to flex his vocal chords as the merry musical musketeer of the title. His song-and-dance skills are such that he never even has to engage in actual swordfights as he mesmerises opponents with his talents. Leaving a trail of battered challengers and swooning ladies, he proceeds to crack the Siege of La Rochelle with a heartfelt ballad and a riverdance-style jig..
Hit Numbers: "Sacré Bloeur! Zut alors! Mon Dieu!" and "Charmer in Armour".
Ron Perlman Stars in Barbershop Beats
Set in 50s Little Italy, Perlman is a lovable troll monster misunderstood by mainstream society. Don't despair for him though for our hero has the power of doo-wop and wins the battle of hearts and minds thanks to his sweet vocal delivery, catchy tunes and olive oil charm. With rhythm he gets the girl in spite of his horrendous troll stink and untameable body hair.
Hit numbers: "My Baby Just Scares For Me" and "Doo-Wop That Thing".
Nick Frost stars in the Caveman and the Duchess
A little like The King And I, this feature has the Brit slacker king in the role of a Neanderthal who inexplicably finds himself amongst the upper echelons of 17th century society where he falls in love with a Duchess, exactly as the title suggests. Using cutlery is a challenge and poor primitive Frost is exposed to hideous amounts of prejudice and confusion but his wild dancing skills and amazing gift for throat singing soon wins over high society.
Hit numbers: "Be my Troglodyte Tonight" and "Bonehead Versus Bone China".
You can read James' previous column here.
James Clayton can play air guitar, do jazz hands and type nonsense all at the same time. You can see all his links here or follow him on Twitter.