News
The James Clayton column: acting from experience
Why Mickey Rourke in The Wrestler is all the more real for his past experiences, and why other stars should follow suit...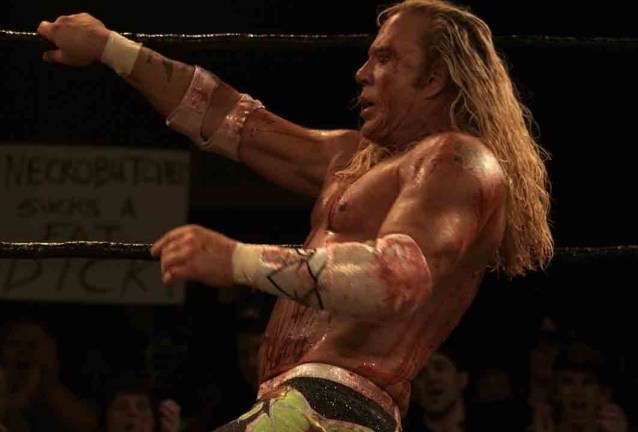 With the release of The Wrestler, eager cinemagoers finally get the opportunity to see Mickey Rourke romping about the ring as a washed-up old pro going by the stage-name of "The Ram". Thwarting all instant thoughts about macho-men acting out pre-planned fights in ridiculously tight trousers, Darren Aronofsky's latest film has been met with much critical acclaim and is hotly-tipped for award season success. Judging by the response so far, it's Rourke's performance as the main protagonist, Randy Robinson, that has most impressed and generated the greatest buzz around the latest addition to the list of triumph-against-adversity sports dramas.
Rourke's role in The Wrestler has been proclaimed as something of an on-screen revival for the infamously unstable actor and the plot presents a striking mirror to Rourke's real life. The movie follows Randy "The Ram" and his attempt to return to the heights despite the present obstacles of personal demons and health troubles.
Rourke undoubtedly recognises those battles, but it's his experience in the boxing ring – training in his youth and a short stint as a pro in the 1990s – that possibly brings the portrayal a greater, gritty resonance. He's not a newbie when it comes to trying to knock someone to the canvas and so understands both the physical and psychological dimensions of the sport; all of which adds to the film's depth.
As a viewer, there's something comforting in feeling that actors have gone all out to get into characters and do a fully authentic and convincing job. It's good to know that the stars of cinema have specially prepared and put in maximum effort to make the movie as resolute and rich as possible; plus it makes their jet-set lifestyles and huge pay packets more justifiable.
Nevertheless, not all actors can excel in 'The Method' and master the arts of full character assimilation in the style of Robert De Niro and Daniel Day-Lewis, to name a couple of renowned full-on thesps. In contrast to the commitment shown by the likes of De Niro (whose oeuvre of iconic roles has seen him learn to box, learn the saxophone, live in Sicily, stalk cab drivers, gain and lose weight and wear Al Capone's underpants, amongst other things) some of Hollywood's high-flyers may be a bit apprehensive as they try to get to the nucleus of their next role. Looking to Viggo Mortensen's research break to read up on Russian mob tattoos and travel through the backwoods of Siberia for Eastern Promises, it's also true that not every film project can devote time and funds to such diligent endeavours.
This is why, even though he did do a great deal of training, Mickey Rourke's prior experience as a fighter was most likely a fundamental boon to the production of The Wrestler. Instead of starting from scratch like De Niro with Raging Bull, Hilary Swank with Million Dollar Baby or Jack Black with Nacho Libre, no one needed to show Rourke the ropes when it came to approaching the role as a fighter. As it is, then, Rourke's past career as a pro-boxer not only accentuates the acting performance and adds to the movie, but can also be considered as something that conveniently saved a lot of cash and resources for the production people (and in the current economic climate, any saving is beneficial).
If then, as exemplified by Mickey Rourke's return to the ring, superb cinema is the result of revisiting old occupations, then I keenly anticipate more leading actors looking back at their career beginnings as they go about picking future projects. If you cast your gaze over film history, many creative personalities have used the menial occupations and odd-jobs of their youth as a catapult to stellar success.
For instance, see the way in which Quentin Tarantino channelled his experience of working in fleapit movie theatres and video stores into the script of True Romance and look to Will Ferrell's progression from a cable TV sports reporter internship to his most successful and memorably hilarious film thus far: Anchorman: the Legend of Ron Burgundy.
Indeed, before they gained global adoration and silver-screen stardom, many of our Hollywood heroes plied a humbler path in order to get by and pay the rent as they built the foundations of the film dreams. It's unsurprising that many future stars found themselves scraping around at the bottom of the film industry bucket as they set out (literally in the case of Nicolas Cage, who once sold popcorn at a movie theatre) on their climb to the surface spotlights. Once upon a time, Sylvester Stallone was also sticking around at the bottom of the cinematic bucket and made his first movie industry steps in soft-porn flick, Party at Kitty and Stud's. Who needs another Rocky or Rambo sequel when you can draw on Stallone's experience and create instant Oscar material and the kind of emotive tour-de-force that film viewers never tire of? Just imagine the overwhelming empowerment experienced by audiences as an ageing, failed actor (played with authenticity by Stallone) ascends from basement blue movies to the big screen dream…
Following this train of thought, I'd urge all concerned to forget the Indiana Jones revival. What we really want to see is Harrison Ford taking up hammer and tool belt ready to hurl himself into his history as a carpenter to create a new older-age action hero who has wondrous abilities with woodwork. Amongst the big names, it's probably Brad Pitt who stands to gain the most from any scheme of this kind. Having worked as a fridge deliveryman, cigarette salesman and a chauffeur in order to pay for acting lessons, Pitt has a wealth of job roles that he can dip into as an actor.
Though I'm sure there's dramatic potential and promising plots in those odd-jobs, it's his spell under the employ of the El Pollo Loco fast food chain that offers the most tantalising prospect. Before finding vast fame and fortune, Pitt worked the pavement and handed out restaurant leaflets whilst dressed up in a giant chicken suit. Because you can never have too many superhero flicks, and because you just know that Pitt as a serious actor is yearning to return to his roots, I see the opportunity for a new action franchise that will allow the star of Fight Club and Babel to get back into his old uniform and show that he understands the animal magnetism and psychology of a costumed hero. Anyone up for The Incredible Cluck?
James' previous column can be found here.
16 January 2009