News
The Ingrid Pitt Column: Lazenby's Bond revisited
A fresh viewing of On Her Majesty's Secret Service finds Ingrid warming to George Lazenby's 007...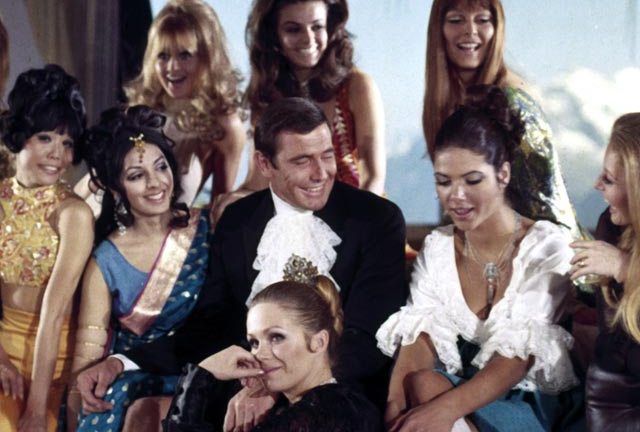 I hope you don't think I'm trying to prove a point or get juice out of a desiccated coconut but I would like to have another go at James Bond. It seems we were not all in accord about Daniel Craig being hewn from the wrong block and my claim that Sean Connery and, with a little humour, Roger Moore, were my kind of guys. I still believe that. I think! I'm not quite so certain as I was earlier. Unfortunately I had a troubling experience last week and I have to think it over once again.
But first let's make it absolutely clear, I am not talking about Ian Fleming's books. My thoughts on the men who have performed as the super-spy are based on the films.
I was trawling through the channels before going to bed when I hit the screen as the Bond theme started. The first name to come up was George Lazenby. I was curious. It was a long time since I had seen On Her Majesty's Secret Service and I wanted to see how it held up. I had no intention of sitting there until one o'clock. But that is what I did. George Lazenby was a bloody good Bond.
I guess, like most Bond watchers, I let myself be brainwashed by the stories I heard about him. I never bothered to find out whether they were true or false. Could it be true that he was so insufferable that Cubby Broccoli preferred to let him go than have the problems he caused? Like sending away the Rolls Royce sent to take him to the location – because it was the wrong colour? Was it true that his co-star, Diana Rigg, detested him so much that, before love scenes, she nibbled at a garlic bulb? And did it matter?
Another off-putter was that I met George in Canada a few years ago. I had read in a full page advertisement on the back of Variety that I was about to make a film with Lazenby as the leading man. And there he was sitting at a table signing autographs. So I sidled up to him and introduced myself. He held out his hand for whatever he thought I wanted signing. When I explained that that I had just read that I was doing a film with him and asked him if he knew anything about it he said "NO!" and went back to signing autographs. I'm afraid my ego was dented by his manner and I wandered off muttering. Since then he has become a bit of a hate figure – until the other night.
Now I have to hastily revise my estimation of the bloke filling out the tailored suits of 007. I still rather lean towards Sean but with reservations. One of the things I always found slightly irritating about his one liners was he delivered them as important when they should have been throw-aways.
Another was his attitude to women. He met them, doled out his one-liner and screwed them. Not a hint that there was any chemistry. That's what it said in the script so get it over with and move on. Then there were the gadgets. Sean's Bond instantly knew what the latest gizmo was and how to use it. He arrogantly refused to listen to Q (Desmond Llewellyn) when he tried to explain and yet he could use whatever gimmick was thrown at him whenever it was needed. Most of these faults were transmitted with the role when it was past on.
Except when Lazenby took it on!
What of Lazenby himself? He appeared in London from Australia in the sixties and his looks soon got him work as a male model. He moved into commercials and became famous as the Big Fry Man advertising Fry's Chocolate Cream Bars. He never got in with the luvvies but became a man about town earning around £500 a week. Real money in the sixties. His agent mentioned to him that Sean Connery had quit the 007 tag and Saltzman and Broccoli were looking for a new Bond. Lazenby brought into play the thespian's dual standbys of luck and lying.
Lazenby turned up at Pinewood and confidently asked to see Saltzman. He got Saltzman's assistant. When he was asked about his experience Lazenby said he was a playboy who raced cars and had acting experience in Australia and Germany. Impressed, the assistant took Lazenby along to Salzmann's office. Saltzman was on the telephone. He watched Lazenby prowl around the room while he finished his conversation and was impressed with his bearing. Impressed enough to put him in with four other hopefuls up for the job.
In the auditions Lazenby deported himself well and was finally offered the job. And that is where the problems started. The press jumped on his lack of experience and made jokes about his Big Fry connection. He was immediately getting the sort of media attention that established stars crave.
It no doubt put a few noses out of joint. Telly Savalas, who played the villain, Blofeld, was heard to mutter, "Why am I the best kept secret on this film?" Lazenby freely admits that he was suffering from ego overload. The director, Peter Hunt, tried his best to keep Lazenby's tooled leather moccasins on the ground but as the movie developed so did Lazenby's opinion of himself. It was a shame really. Lazenby had the potential to be a great Bond.
Having seen On Her Majesty's Secret Service so soon after doing the piece on Bond, I looked at it with renewed interest. Why did I like it so much? I mentioned earlier that Sean's attitude towards women in the films (and in real life) wasn't exactly reverential. Also his need to have the right gadget accessory to get him out of scrapes was always a little iffy. What was refreshing about Bond Mk2 was that he really looked at the ladies who fluttered by with a modicum of respect. Even when he found himself the centre of lust in a hot house of lovelorn women he still interacted with them on a social level.
What could a breathing man do when a pretty girl lifts up his kilt and writes her room number on his thigh? Maybe the "9 o'clock, 10 o'clock, 11 o'clock" dating system was a bit yucky but, again, what could he do? It was in the script. And in spite of this he does fall in love with gorgeous Diana Rigg and promises to wed her and change his ways. I don't think Sean could have got through that piece of business intact
Lazenby did it all without gadgets. No invisible cars, no miniature breathing equipment, watch zipper unzippers, no Little Nellies, no Parker pen grenades and definitely no robot pooches. Just latent talent that, unfortunately, he strangled at birth.
So I'd like to revise my opinion of the actors playing Bond with a minor league table with Connery slipped in at 10 as the par:
| | | |
| --- | --- | --- |
| Connery | 10 | The Man |
| Lazenby | 9 | Missing Link |
| Moore | 8 | Fun |
| Dalton | 3 | Wet |
| Brosnan | 6 | Self-absorbed |
| Craig | 4 | Not Bond |
I'm introducing The House That Dripped Blood as the opener for the Horror Week at the Barbican in London next Saturday, 20th February. Love to see you.
Read Ingrid's column every Tuesday at Den Of Geek. Last week's is here.