News
The Hummingbird Project Trailer: Jesse Eisenbeg and Alexander Skarsgard Film
Fiber-optic cable line is the method by which Jesse Eisenberg and Alexander Skarsgard cheat the stock market in The Hummingbird Project.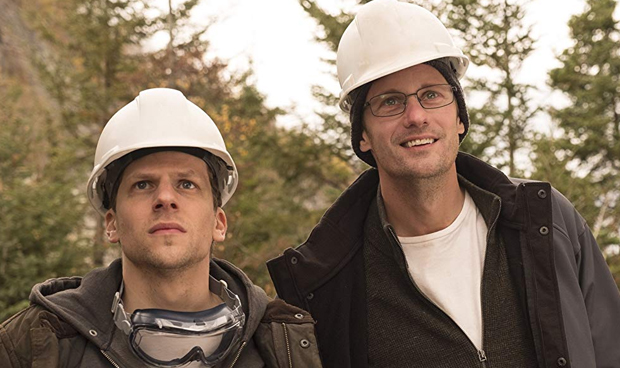 The Hummingbird Project presents itself as a quasi-comedic modern-age heist drama of sorts. The film follows the quixotic quest of two ne'er-do-wells played by Jesse Eisenberg (Zombieland, Justice League) and Alexander Skarsgård (Big Little Lies, True Blood) in their attempt to gain an (obviously-illegal) advantage in the stock market by secretly laying high-speed fiber-optic cable halfway across the country, which would yield a valuable millisecond chronological edge in the day-trading arena.
The film, the written and directorial creation of indie auteur Kim Nguyen (Eye on Juliet, Two Lovers and a Bear, War Witch), premiered at the 2018 Toronto Film Festival, and is gearing up for its wide release debut, distributed by The Orchard.
The Hummingbird Project Trailer
The trailer for The Hummingbird Project showcases a levity-laced tale that spotlights a rarely-acknowledged dirt-covered aspect of the Internet, namely the seedy, Wild-West-like activities involved in the building of its physical infrastructure.
Indeed, the film's tongue-in-cheek humor – from New Yorkers Vincent (Eisenberg) and Anton (a bald Skarsgård) – belies its very-real stakes as the country, nay, the world continues venturing into a new technological frontier filled with dangers and scams like the one in the film. In that sense, it also serves as an exposé of how your proverbial high-speed Internet sausage may have been made; something that's especially poignant as film and television content continues to shift focus to streaming platforms.
The cast also consists of Salma Hayek (The Hitman's Bodyguard, Beatriz at Dinner), Michael Mando (Better Call Saul, Spider-Man: Homecoming) and Johan Heldenbergh (The Zookeeper's Wife, The Tunnel).
Here's the official synopsis:
In this modern epic, Kim Nguyen exposes the ruthless edge of our increasingly digital world. Cousins from New York, Vincent (Jesse Eisenberg) and Anton (Alexander Skarsgård) are players in the high-stakes game of High-Frequency Trading, where winning is measured in milliseconds. Their dream? To build a straight fiber-optic cable line between Kansas and New Jersey, making them millions. But nothing is straightforward for this flawed pair. Anton is the brains, Vincent is the hustler, and together they push each other and everyone around them to the breaking point with their quixotic adventure. Constantly breathing down their necks is their old boss Eva Torres (Salma Hayek), a powerful, intoxicating and manipulative trader who will stop at nothing to come between them and beat them at their own game.
The Hummingbird Project Release Date
The Hummingbird Project arrives at theaters on March 15.
Joseph Baxter is a contributor for Den of Geek and Syfy Wire. You can find his work here. Follow him on Twitter @josbaxter.