News
The House with a Clock in Its Walls Trailer: Jack Black and Cate Blanchett Horror Fantasy
Director Eli Roth makes a tonal turn to lighthearted fantasy-horror with The House with a Clock in Its Walls.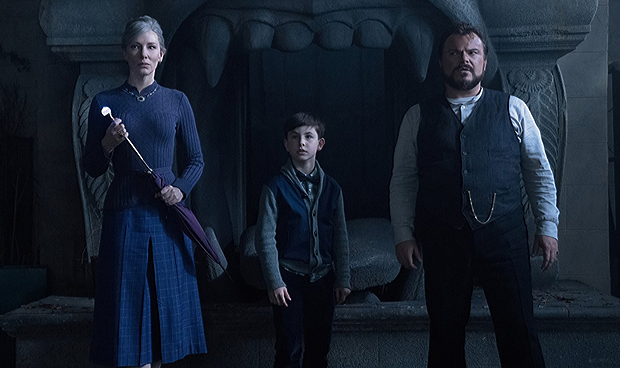 The House with a Clock in Its Walls might, upon first glance, trick you into thinking that you're watching footage of the upcoming Goosebumps movie sequel, especially after seeing Jack Black co-starring, opposite an A-lister in Cate Blanchett, in a fantastical – children-appropriate – Gothic horror film. However, that would be a mistake, since this film, surprisingly enough, is directed by torture-teeming horror movie auteur, Eli Roth, adapting the popular 1973 novel of the same name by John Bellairs.
The House with a Clock in Its Walls Trailer
The new The House with a Clock in Its Walls trailer has arrived. Like the previous trailer, this one immediately hits you with sharp visuals, blending a Gothic atmosphere with Steampunk props, creating an intriguing – though somewhat familiar – tonal synthesis akin to the Harry Potter films or A Series of Unfortunate Events.
We see young Lewis Barnavelt (Owen Vaccaro) arrive at the titular house to live with his uncle, Jonathan Barnavelt (Jack Black), a warlock who's having trouble with belligerent spirits in the house that are attributed to the magical apocalyptic designs of its late previous owners. Thankfully, they'll have the help of a neighbor in Florence Zimmerman (Cate Blanchett), who happens to be a skillful witch. Together, they must find the eponymous clock within the house walls, which is the source of the malignant magical curse that was put there by the evil warlock, Isaac Izard (Kyle MacLachlan), and his wife, Selenna Izard (Renée Elise Goldsberry).
Here's the previous trailer, which arrived back in March…
Eli Roth is the director's chair for this one, working off a script by Erik Kripke (Supernatural, Timeless). Roth came into the project off his recent Bruce Willis-starring remake of Death Wish and, just before that, the 2015 Keanu Reeves-starring horror thriller Knock Knock. Roth is best known for the dementedly brutal 2000s horror films, Cabin Fever, as well as Hostel and its sequel.
The House with a Clock in Its Walls Release Date
The House with a Clock in Its Walls is set to hit the theatrical real estate market on September 21, creeping into the Halloween season.
Check out the poster below: