News
The House with a Clock in its Walls: Exclusive Behind-the-Scenes Clip
See how a magic chair became one of the major characters in Eli Roth's supernatural family film.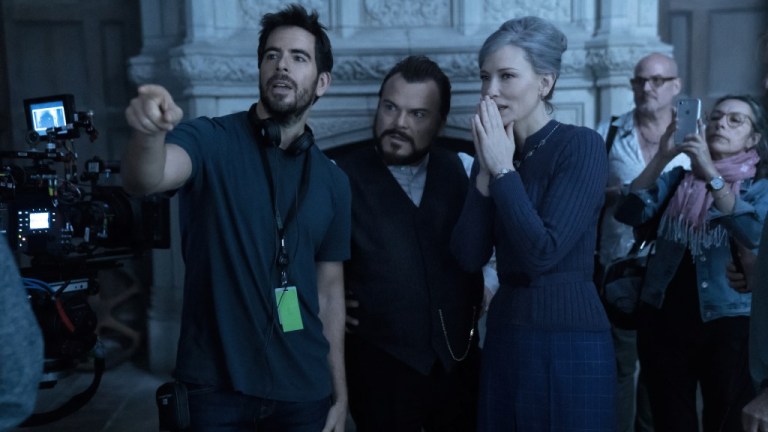 One of the more unusual films to come out this fall was The House with a Clock in its Walls, based on the beloved 1973 children's novel by John Bellairs. What made the movie more interesting than usual was the fact that it was directed by Eli Roth, the horror auteur best known for hard-R gorefests such as Hostel and The Green Inferno.
Making his first PG-13 movie, Roth wanted to specifically channel the spirit of classic Amblin films from the 1980s (especially since the movie came out under the Amblin banner). His take on the story — about an orphaned boy who goes to live with his warlock uncle in a house hiding a terrible secret — was aided tremendously by stellar performances from Jack Black as the uncle and Cate Blanchett as the imperious next door neighbor who just happens to be a powerful witch.
Further Reading: The House with a Clock in its Walls – Making Eli Roth's First PG-13 Movie
With The House with a Clock in its Walls out on digital today (Nov. 27), as well as 4K Ultra HD, Blu-Ray and DVD on Dec. 18, we're sharing an exclusive behind-the-scenes clip on the movie's magic chair — a seemingly innocuous piece of rather aged furniture that is imbued with a spirit all its own and acts as a mascot, companion and even protector to the inhabitants of the house.
In the clip, Roth confesses that the chair is becoming more important as the shoot goes on, saying, "Every time we use it, I can't get enough of it." (Hopefully the chair renegotiated its contract if there's a sequel.) We get a glimpse of how the chair is brought to life on set — a combination of practical effects, puupetry, green screen and digital enhancement — and also see flashes of Roth, his cast, and his crew interacting on what looked like a fun shoot for all.
We don't know yet if we will in fact see the chair again in a sequel (there are a lot more books in the series), but in the meantime, enjoy this look at how one of the movie's more unique characters was brought to life, and don't forget to order The House with a Clock in its Walls on digital starting today.
Don Kaye is a Los Angeles-based entertainment journalist and associate editor of Den of Geek. Other current and past outlets include Syfy, United Stations Radio Networks, Fandango, MSN, RollingStone.com and many more. Read more of his work here. Follow him on Twitter @donkaye