News
The House Trailer: Will Ferrell and Amy Poehler Become Suburban Casino Gangsters
Comedy The House has straight-laced Will Ferrell and Amy Poehler turning to the world of underground gambling. – Because why not?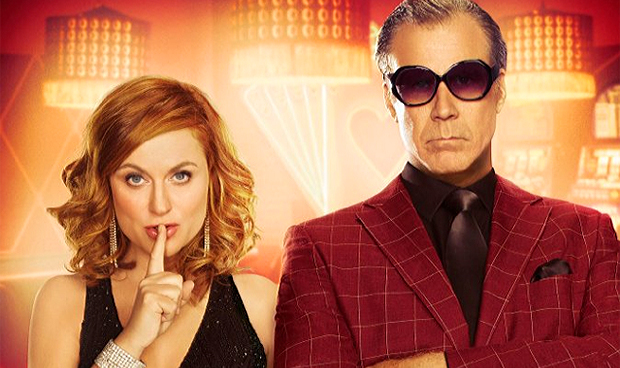 Comedy superstars and distinguished former SNL contemporaries Will Ferrell and Amy Poehler have pretty much done it all in the name of movie mirth. Thus, their upcoming co-starring big screen venture The House is making a comedic approach that takes a turn at the absurd and finds its way into a hidden cul-de-sac of the wantonly inconceivable. Yet, the trailer shows an apparent result that's a cinematic showcase seemingly acknowledging those things.
The House trailer centers on middle-class suburban couple Scott (Ferrell) and Kate (Poehler), who are ecstatic that their daughter Alex (Ryan Simpkins) received acceptance to her college of choice. However, much to the shock of the well-meaning, but irredeemably-clueless couple, they can't afford the tuition. Consequently, Scott's best buddy in gambling addict Frank (Jason Mantzoukas), pitches a scheme to turn the couple's house into a flashy, loud, lascivious (and extremely illegal) underground casino to make 4 year's tuition in one month. Barring the impossibility of this occurring with impunity, Scott and Kate embrace the new venture, transforming themselves into stereotypical seedy movie gangsters, brimming with hubris and extremely old-school when punishing those who steal from them.    
In the director's chair for The House is Andrew Jay Cohen, who works off a screenplay he wrote. This will be the feature directorial debut of Cohen, wrote films like last year's Mike and Dave Need Wedding Dates and both of the Neighbors films. He was also a producer on the aforementioned films, along with Will Ferrell's 2006 classic Talladega Nights: The Ballad of Ricky Bobby and 2005's The 40-Year-Old Virgin. The supporting cast also consist of personnel such as Allison Tolman (Fargo), Sam Richardson (Veep), Michaela Watkins (Casual) and Rob Huebel (The Descendants).
The House will revel in off-the-wall insanity as Will Ferrell and Amy Poehler turn their house into the house when it arrives at theaters on June 30.