News
The horror anthology ready reckoner
In honour of it being nearly Halloween, we've got a ready reckoner that's a bit different from our usual ones. Martin runs down horror anthologies from the last 60 years...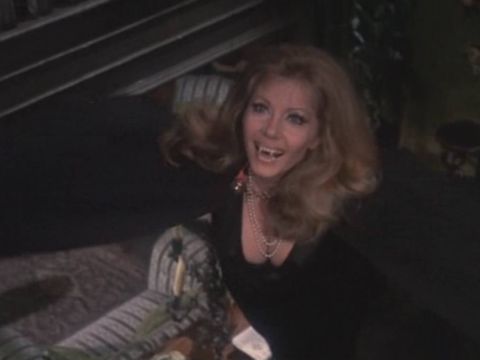 Some of the very best horror fiction comes in grisly little morsels unsuited to full-length screen adaptation. Roger Corman's acclaimed 1960s 'Poe cycle' set legendary genre writers such as Richard Matheson and Charles Beaumont to adapting and extending the Boston poet's work, but most horror short stories reached the screen as episodes within horror 'anthologies'.
In this 'portmanteau' or episodic horror, the diverse episodes are linked (usually with creaking artifice)around an assembly of doomed sinners, a tradition begun with the genre-defining British Dead Of Night (which also seems to have introduced the ventriloquist's dummy as an object of madness and horror, in the still-chilling Michael Redgrave episode).
Fallen into disuse as a narrative technique in film horror, some of the chapters in these tales of damnation are still worth a shiver…
Dead Of Night (1945)
The Link Story:
An architect summoned to a very English country shindig can't shake the feeling that he has been to the house before. Soon all and sundry are coming forth with horrific or comic supernatural tales…
What's in it: A shaggy-dog story about golf rivals, played for laughs; a pretty spooky ghost story set around a 'children's' Christmas party (couldn't see one child under 26 myself); a chilling tale of prophesy featuring a bus-accident with special effects apparently done by Dinky-toys; and…
Best bit: Michael Redgrave's unhinged ventriloquist remains the template for chillers such as Devil Doll (1964) and Magic (1978), and the fact that you're not expecting a film this old to finally scare you will only increase the effect! Dr. Terror's House Of Horrors (1965)
The Link Story:
A disparate band of travellers each get a tarot-reading off mysterious Eastern European Dr. Terror (Peter Cushing). Needless to say, the news ain't good…
What's in it: An estate agent called back to survey the land his family used to own finds it infested by werewolves; a suburban house is overtaken by intelligent, murderous vines; Roy Castle brings some Voodoo tunes back from Haiti and is sadly not killed by spirits quick enough to stop him rendering several jazz trumpet solos; a newly-wed couple find their adopted neighbourhood is full of vampires; and…
Best bit: Heartless art critic Christopher Lee drives an artist to cut off his hand – which then pursues the hapless scribe all over London.
Torture Garden (1967)
The Link Story:
Transparently phoney sideshow carny Dr.Diablo (the great Burgess Meredith) invites five customers round the back of his exhibit for some real prognostication on their respective futures…
What's in it: A wicked nephew kills his uncle by withholding his medicine, then falls under the bizarre influence of his Uncle's cat, who adjures him to repeated murders; an aspiring actress comes all too close to the horrific truth as to why one of her idols hasn't aged in 40 years; a man is murdered by a grand piano (a definite fast forward); and… Best bit: An uncharacteristically nervous Jack Palance beards fellow Poe-collector Peter Cushing in his secret treasure-trove of Poe memorabilia, and gets him drunk enough to reveal the prize of the collection…
The House That Dripped Blood (1970)
The Link Story:
A police inspector looking for a missing horror-movie star investigates the house where he lived, and finds it has been unlucky for several recent occupants…
What's in it:
A retired city-worker spots an exhibit in his local waxworks that's a little bit too life-like; a young girl revenges herself on her neglectful father with voodoo; a horror-film star (a transparent Christopher Lee cipher played by Jon Pertwee) obtains a prop cloak to play a vampire and find that it adds rather too much verisimilitude to his performance – our Ingrid is in this one! And…
Best bit: In the opening story, a horror writer creates a vicious strangler for his next novel – and then finds a strange face at the window… Tales From The Crypt (1972)
The Link Story:
Five strangers take a wrong turn in a guided tour of a cave and meet a strange monk played by Ralph Richardson; need we add that he already knows who each of them is…?
What's in it:
Besieged by an escaped lunatic on Christmas eve, Joan Collins cannot call the police because she has just murdered her dope of a husband; family man Ian Hendry crashes his mistress's car and wakes up to find that he has been missing for quite some time; a businessman uses a 'monkey's paw' device to rescue his ailing fortunes, and starts a horrific sequence of unlucky events; the selfish new head of a home for the blind finds his wards more resourceful than he anticipated;
Best bit: Gentle Widower Peter Cushing returns from the grave for revenge on the persecutors who blackened his name. Hard to choose, though: all the Tales are effective and sometimes truly shocking.
Asylum (1972)
The Link Story:
Psychiatrist Robert Powell makes his first rounds in a new job, and hears some tall tales from the inmates…
What's in it:
Down-at-heel tailor Barry Morse fulfils a custom order for a suit with a dark purpose; looney Charlotte Rampling is discharged from the asylum but, oh dear, the sparrows are flying again; Herbert Lom thinks he can impart life to his model figures; and…
Best bit: Richard Todd's murdered wife returns from the freezer (in pieces)for revenge upon him.
Vault Of Horror (1973)
The Link Story:
A malfunctioning lift ends up in the basement of the building, stranding its occupants there. And lately, they all seem to have had strange dreams…
What's in it:
After murdering his sister for her money, Daniel Massey ends up the main course in a vampire restaurant; fastidious stick-in-the-mud husband Terry Thomas drives the sweet Glynis Johns to a desperate act; magician Curt Jurgens kills a girl for the secret of the Indian Rope Trick; things go horrifyingly wrong when a man attempts to fake his own death and burial; and…
Best bit: Haitian-based painter Tom Baker uses a very artistic form of voodoo to take revenge on those who defrauded him of the fair price for his paintings.
From Beyond The Grave (1973)
The Link Story:
An antique-store owner (Peter Cushing) sells cursed items to customers who have all sought to defraud him…
What's in it: Ian Bannen's nagging wife becomes the focus of black magic when his new girlfriend suggests that voodoo might be the answer; Ian Carmichael has an invisible demon on his shoulder that is determined to make him murder his wife; Ian Ogilvy (what a lot of Ians in this film!)buys a time-travelling door; and…
Best bit: A possessed mirror urges new owner David Warner to kill so that its previous owner may become corporeal again. Creepy!
The Uncanny (1977)
The Link Story:
Cat hater Peter Cushing tries to persuade cat-loving publisher Ray Milland that felines are taking over the world – and has stories to illustrate.
What's in it:A cat, wife-murdering Donald Pleasance and an iron maiden – no way this is gonna turn out well; an orphaned girl's cruelly treated puss returns from the dead; and…;
Best bit: Inheritance-stealing maid Susan Penhaligon is savagely revenged-upon by her victim's moggies; what the police find when they finally get wind (literally)of the crime scene is a bit of a shocker.
Creepshow (1982)
The Link Story:
A discarded horror-comic reveals its grisly tales as the wind opens it to new pages; screenwriter Stephen King directly references the EC Comics influence behind most of these horror anthologies with comic-art fade outs.
What's in it: Murdered whiner 'Uncle Nathan' (John Amplas) comes back to haunt his family and demand cake; Stephen King ventures into acting as a dumb farmer infected with alien spores; Leslie Nielson torments his wife and her lover Ted Danson by burying them up to their neck in sand as the tide comes in; E.G. Marshall is a rich shut-in plagued by the cockroaches he most fears; and… Best bit: A college professor comes into possession of a strange, vicious creature in a crate, and casts an arch eye on his shrewish wife, Adrienne Barbeau.
Stephen King's Cat's Eye (1985)
The Link Story:
A cat travels cross-country apparently following the ghost of a girl and coming across some odd scenarios on the way…
What's in it:
Airplane vet Robert Hays is forced to walk the narrow parapet of a high building by the millionaire he has cuckolded; Drew Barrymore is a sick little girl with a demon stealing her breath every night; and…
Best bit:
Heavy smoker James Woods decides to quit the habit using the mafia-run
Quitters Inc.
And for these guys, failure is not an option.
Tales From The Darkside: The Movie (1990)
The Link Story:
A young boy tries to stop cannibal witch Deborah Harry eating him by reading her tales in this feature-length version of the Night Gallery-style TV show.
What's in it: A nerd takes revenge on a bully by reviving a Mummy; pharmaceutical tycoon David Johansen takes out a contract on a cat seeking revenge for vivisection experiments; and…
Best bit: James Remar witnesses a demon performing a grisly murder and is granted earthly prosperity – so long as he promises to never reveal what he saw.
Grim Prairie Tales (1990)
The Link Story:
Career-nutter Brad Dourif gets to play the innocent party for once as he rides through the Old West; bounty hunter James Earl Jones joins him at the campfire to spin some tall tales…
What's in it: Miserable old moaner decides to take a shortcut into sacred Indian burial land; Superman veteran Marc McClure gets a ride he wasn't expecting from an ostracised, pregnant girl; Lisa Eichhorn is shocked to find her Civil War veteran father involved in a race-related lynching; a talented gunslinger is haunted by his most recent victim; and…
Best bit: Just for once, it's the linking tale; the stories are mostly pants.