News
The Hitman's Bodyguard 2 Announced
The Hitman's Wife's Bodyguard is coming with Ryan Reynolds and Samuel L. Jackson.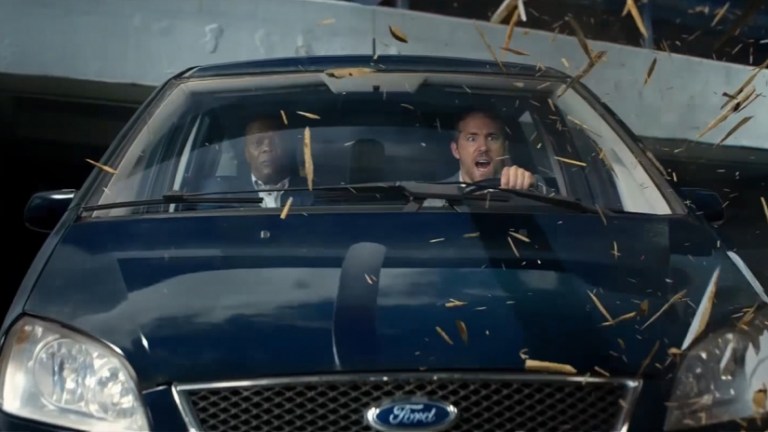 The Hitman's Bodyguard 2 is in the works, with the appropriately irreverent title of The Hitman's Wife's Bodyguard. The first movie was a fun (and quite funny) and flawed action movie, one that felt like a blend of late night '80s/'90s action movies but with the added benefit of Ryan Reynolds and Samuel L. Jackson engaging in rapid fire smartassery throughout. So with a title like The Hitman's Wife's Bodyguard you should know that the wife in question is Salma Hayek's hilarious Sonia Kincaid, a character who certainly amped up every scene. Seriously, she was great.
Patrick Hughes returns as director. Reynolds, Jackson, and Hayek will be joined by Antonia Banderas, Morgan Freeman, Frank Grillo, and Richard E. Grant.
Here's the official synopsis:
"Set on the Amalfi coast, the mismatched, high-octane trio are unwillingly pulled onto the side of the good guys as they battle to save Europe from a vengeful and powerful zealot with a dangerously over-developed sense of national pride. Director Patrick Hughes returns to wrangle the onscreen comic mayhem, with Terry Stacey taking on cinematography and Russell De Rozario as production designer.  Filming takes place in London, Croatia and Italy.  Lionsgate will release the film in the United States, UK, as well as Latin America."
There's no release date yet, just "coming soon," so we can assume summer 2020. That doesn't feel soon enough.