News
The Highwaymen Trailer Offers New Take on Bonnie & Clyde
Check out The Highwaymen trailer, a new crime drama with Kevin Costner and Woody Harrelson as the men who got Bonnie and Clyde.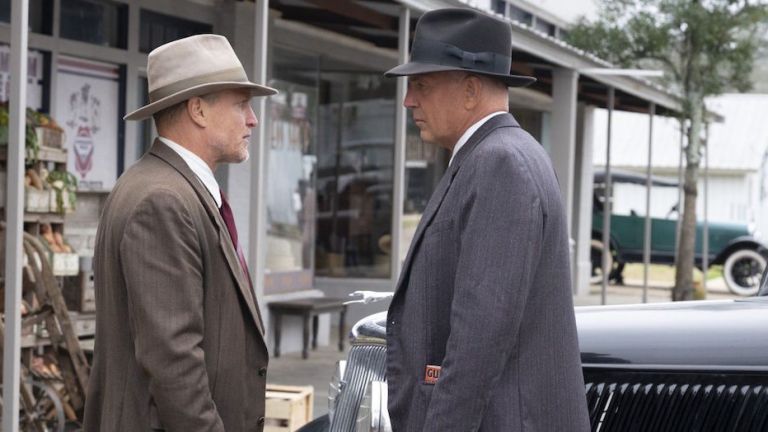 When Bonnie & Clyde got big—the 1967 movie, not the 1930s outlaws—there was a taste for rebellion and defiance in pop culture. A forerunner of the decade's other counterculture hits like The Graduate and Easy Rider, that film took the romanticized bandits of the Depression and further romanticized them for the decade of Vietnam and civil rights strife. Yet with all that romance, the fact they were actually murderers often gets lost in the narrative. John Lee Hancock's The Highwaymen looks to fire back at that cinema mythology.
An apparent hard-hitting crime drama told from the perspective of the Texas Rangers who took Bonnie and Clyde out in a blaze of glory, The Highwaymen is one of the most intriguing high-profile efforts at this year's SXSW Film Festival, and one of 2019's early Netflix Original Film highlights. And now it has a trailer.
In the below video, Kevin Costner and Woody Harrelson play a pair of retired cops brought back into the line of fire as Rangers by the state's governor with one purpose: track down and bring to justice Clyde Barrow and Bonnie Parker, two notorious and bank robbers who are making a mockery of the central states they roamed (while leaving occasional dead bodies in their wake). Perhaps worse still, the press was beginning to look at them like modern day Robin Hoods.
And as judging by the trailer, Costner's lawman Frank Hamer will be depicted as of more morally ambiguous stuff than his depiction of a saintly Elliot Ness from The Untouchables over 30 years ago. Yet that might be the point. The Untouchables was decidedly retro when it came out in an era between The Godfather (or Bonnie & Clyde) and Goodfellas, and it depicted gangsters as demons and the uncorrupted law as heroic. Nonetheless, the inclination to glamorize anti-authority figures has grown as has an increased disillusionment with those in authority. It'll be interesting to see if The Highwaymen challenges one impulse while not necessarily denying another.
Given Hancock has made career recontextualizing iconic figures in his Boomer generation's pop culture—Walt Disney in Saving Mr. Banks, Roy Kroc and the emergence of McDonald's in The Founder, and Davy Crockett in the highly underrated The Alamo—turning to reconfiguring the Bonnie & Clyde narrative onscreen from the perspective of the lawmen who pulled the trigger is an intriguing possibility. The movie also stars Kathy Bates, Kim Dickens, and John Carroll Lynch. It premieres at SXSW on March 10 and on Netflix on March 29.