News
The Hateful Eight Trailer is Glorious and Here
Quentin Tarantino's The Hateful Eight finally has a trailer that's as glorious as the 700mm film it was shot on!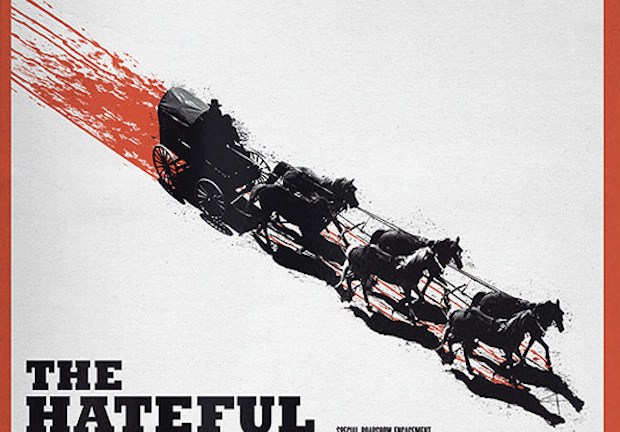 It's often been said that the Western is a dead film genre. But we think it's safe to say that Quentin Tarantino will (again) blast some new life into it and the film medium itself with this year's The Hateful Eight.
Theaters with 70mm capability will receive The Hateful Eight on Dec. 25, 2015, and the film will expand to a wide digital release on Jan. 8, 2016.
Having already tried his hand at the anachronistic Spaghetti Western by way of Nazi Occupied France circa 1944, and then again with some southern fried pasta in 2012's Antebellum Django Unchained, the auteur has made plain that his next film will stop with subversion and embrace the true form in a post-Civil War epic that longs to stand tall in glorious 70mm with the monumental hombres of his favorite genre. Already scheduled for a nebulous (but likely December) 2015 release date from The Weinstein Company, Tarantino's The Hateful Eight is a period piece that aims to have the last word on its era.
But before we take this undoubtedly loquacious trip to a blizzard somewhere in Wyoming (be it eight, 10 or 12 years after the Civil War), let's first go over everything it's actually about.
The Hateful Eight Trailer
The Weinstein Company has released the first trailer for The Hateful Eight, and yes, it is glorious. At several minutes in length, it is a shorter version of the seven-minute trailer/sizzle reel that Tarantino brought to San Diego Comic-Con last month, but it still includes some of the best lines and does a wonderful job of introducing its conflict. Think John Ford's Stagecoach meets Agatha Christie's Ten Little Indians, except with, you know, a whole lot more Tarantino dialogue and violence. But see for yourself what kind of Spaghetti that QT has rustled up below.
Latest The Hateful Eight News
It's time to check out the new Hateful Eight poster released by The Weinstein Company and via Entertainment Weekly. It features Kurt Russell as John "The Hangman" Ruth and Jennifer Jason Leigh as Daisy Domergue. For anyone who has read the synopsis (and hopefully only the synopsis), it is already known that the Hangman is planning to take Daisy before a judge where she'll, presumably, be hanged. But that is before they wind up in a snowed-in and abandoned resort with six other hateful souls.
Hopefully, this poster is an indication that we'll have an official trailer to put online just around the bend. Indeed, as someone who was able to see seven minutes of the film at San Diego Comic-Con earlier this year, I can confirm that it truly is glorious.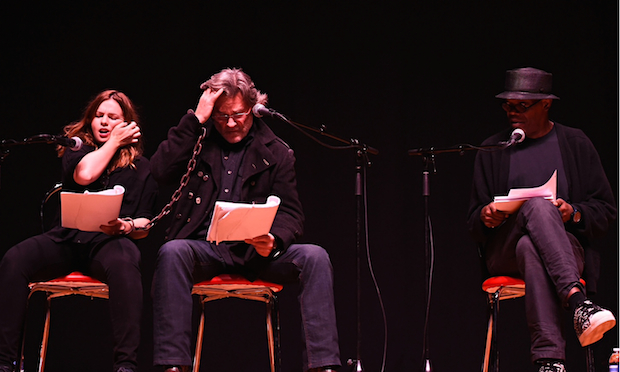 The Production
The heated Hateful Eight production will likely make a riveting film unto itself one day (perhaps the "ninth" QT joint?), considering that it almost was not meant to be.
It has long been known that Tarantino wanted to make his own official Spaghetti Western, in no small part due to his fascination with the subgenre, whose crowning achievement, Sergio Leone's The Good, the Bad and the Ugly, Tarantino has repeatedly called the "best directed film" of all time. However, much to many a fan's surprise, his Southern-based subversion of it with Django Unchained did not scratch that itch, and Tarantino made his first official announcement about doing a straight-ahead western on The Tonight Show with Jay Leno in November 2013.
By January, Deadline was reporting that Tarantino looked to cast Oscar contender Bruce Dern in the film, for which they also broke the title, The Hateful Eight. And it was soon again Deadline where Tarantino turned to announce that he was cancelling the project less than two weeks later. Blaming it on the script leaking around Hollywood, the writer/director said he'd soured on the material. Instead, Tarantino suggested he might revisit it in five years after he's published it as a novel, but that he's moving on. "I've got 10 more where that came from," he promised with notable disdain for the Hollywood system.
That disdain boiled over when Gawker promptly published Tarantino's The Hateful Eight screenplay online immediately after this announcement. For the record, we will not be linking or discussing that screenplay here.
Yet, despite his insistence that he was moving on, by April 2014, Tarantino was directing a live-reading of the script in Los Angeles that featured Samuel L. Jackson, Tim Roth, Kurt Russell, James Parks, Amber Tamblyn, Michael Madsen, Denis Menochet, James Remar, Walton Goggins, and Bruce Dern, confirming the small size of the cast. Yet for such a restrained ensemble, the story's ambition is nothing short of massive with a narrative divided into five epic chapters on stage (the fifth of which Tarantino promised would be changed for the screen if/when it was filmed).
Then it was only a matter of time before Tarantino confirmed that he is indeed making The Hateful Eight, which came at San Diego Comic-Con later in July. Since then, Tarantino has confirmed via a teaser trailer (which we have below) that it will be filmed in "glorious 70mm!" And with production set to begin in early 2015, it has since been confirmed that the entire production will shoot in Colorado.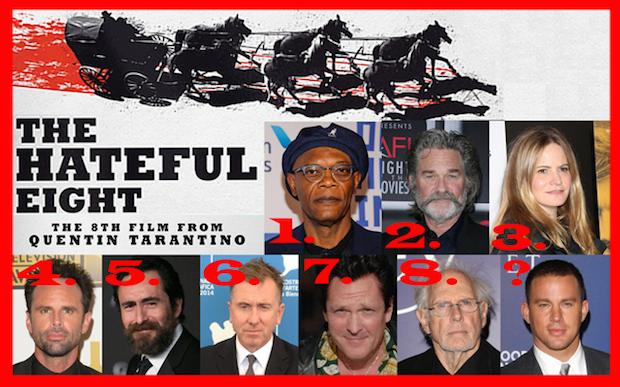 The Cast
While the live-reading in LA last April seemed to provide The Hateful Eight cast, there have been some intriguing changes for the final line-up. For starters Jennifer Jason Leigh has replaced Amber Tamblyn in the role of Daisy Domergue, and Demian Bichir is also taking on a major role in the film. However, the most intriguing new asset is that of Channing Tatum, who is the only cast member not part of the titular "hateful eight." Could he be part of the new "Chapter Five" Tarantino promised earlier this year?
Here's your first look at the cast in costume: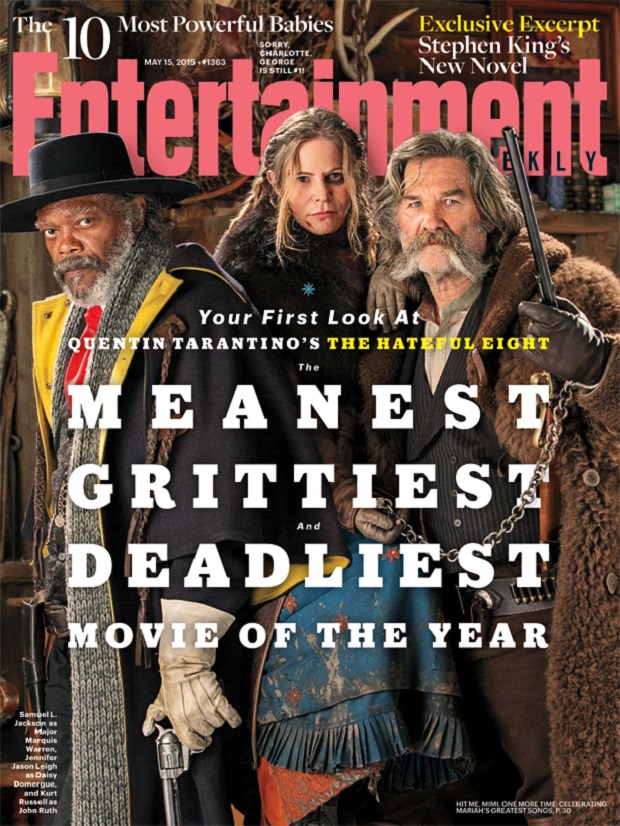 The full cast includes Samuel L. Jackson (Django Unchained) as Major Marquis Warren, Kurt Russell as John "The Hangman" Ruth, Jennifer Jason Leigh as Daisy Domergue, Walton Goggins as Chris Mannix, Demian Bichir as Bob, Tim Roth as Oswaldo Mobray, Michael Madsen as Joe Gage, and Bruce Dern as General Sanford Smithers. And of course, Channing Tatum.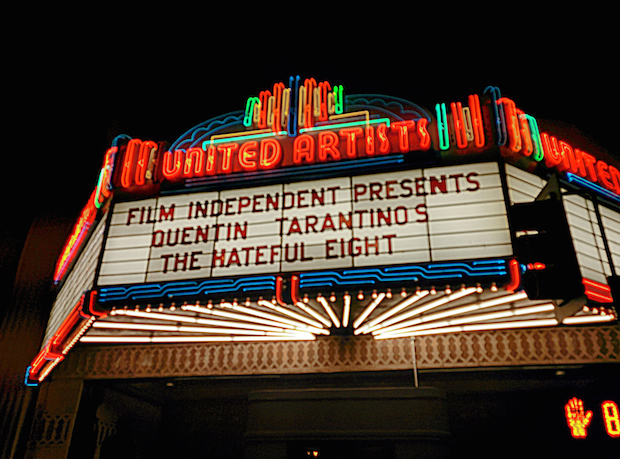 The Plot
Much of the plot is (unfortunately) available online. For probably that very reason Tarantino and The Weinstein Company provided a very, very thorough synopsis for the upcoming event film. So why try to paraphrase? You can read it for yourself below:
Set six or eight, or 12 years after the Civil War, a stagecoach hurtles through the wintry Wyoming landscape. The passengers, bounty hunter John Ruth (Russell) and his fugitive Daisy Domergue (Leigh) race towards the town of Red Rock where Ruth, known in these parts as "The Hangman," will bring Domergue to justice. Along the road they encounter two strangers Major Marquis Warren (Jackson) a black former Union soldier turned infamous bounty hunter and Chris Mannix (Goggins) a southern renegade who claims to be the town's new sheriff. Losing their lead on the blizzard, Ruth, Domergue, Warren and Mannix seek refuge at Minnie's Haberdashery, a stagecoach stopover on a mountain pass. When they arrive at Minnie's they are greeted not by the proprietor but by four unfamiliar faces. Bob (Bichir) who's taking care of Minnie's while she's visiting her mother, is holed up with Oswaldo Mobray (Roth) the hangman of Red Rock, cow-puncher Joe Gage (Madsen), and Confederate General Sanford Smithers (Dern). As the storm overtakes the mountainside stopover, our eight travelers come to learn they might not make it to Red Rock after all…
In a chat with Entertainment Weekly, Mr. Tarantino talked about the vibe of the film. "For me it has more of a Western Iceman Cometh kind of vibe about it" He also compares it to Reservoir Dogs. "A bunch of guys in a room who can't trust each other."That wasn't a marching order when I sat down to write the script, but pretty quickly I realized this is kind of a nice coming-full-circle."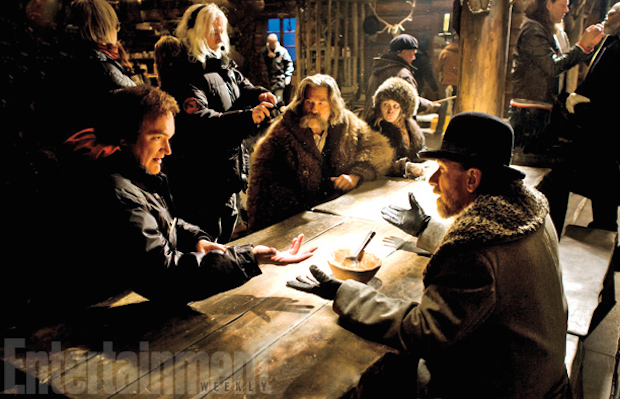 The Hateful Eight Trailer and Pictures
Amusingly, after such a long touch-and-go pre-production crisis, our first The Hateful Eight trailer came long before cameras rolled on the project. Hell, they didn't even have a cast yet! But the irony is that it is still not on the Internet. For long.
Indeed, we have posted it in this article three times over the last six months, and it keeps getting taken down. Presumably, it or a teaesr with actual footage will arrive out of the hallowed, cavernous Hall H after Saturday at San Diego Comic-Con, but we'll have to wait and see. In the meantime, however, The Weinstein Company has been nice enough to release a slew of The Hateful Eight pictures and portraits via EW. We have collected a series of them below!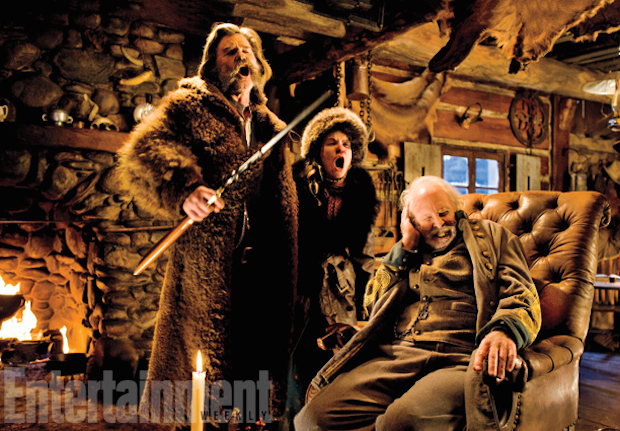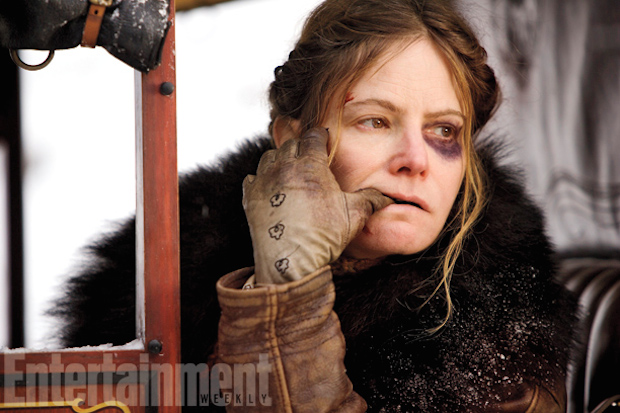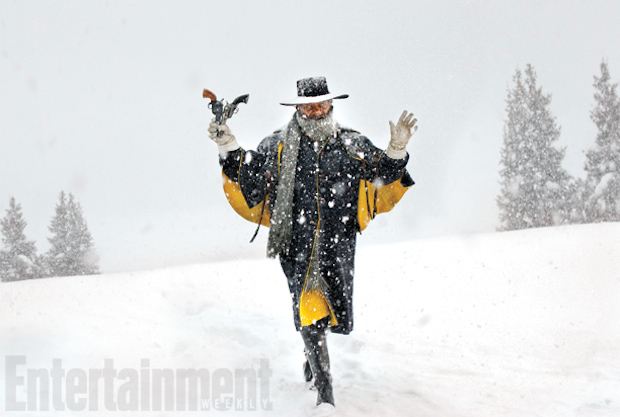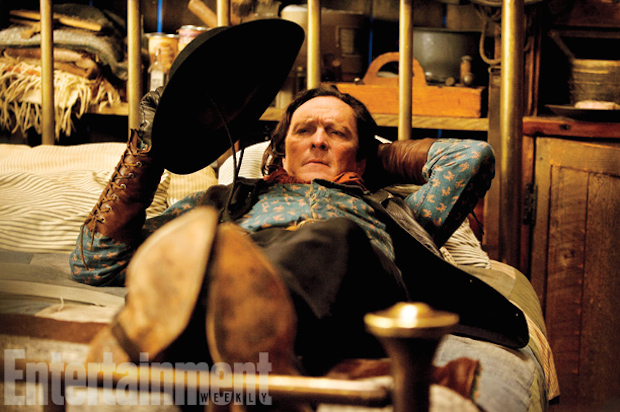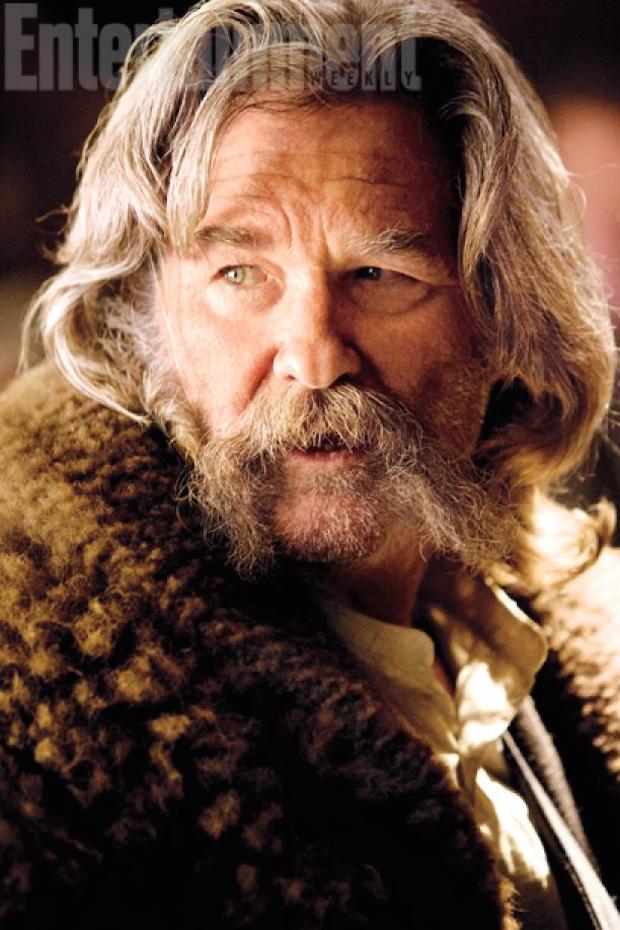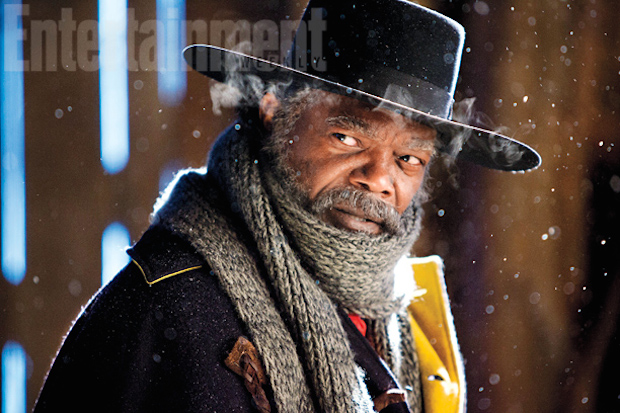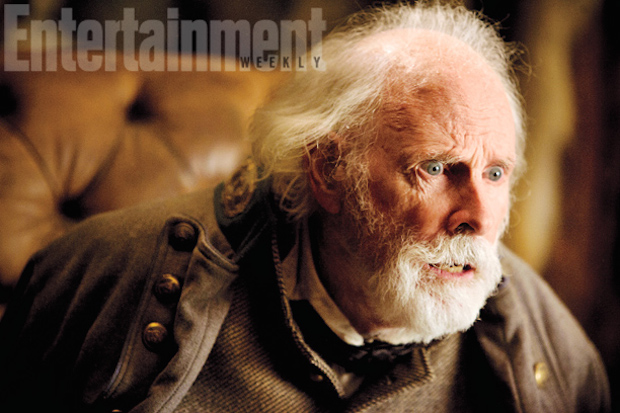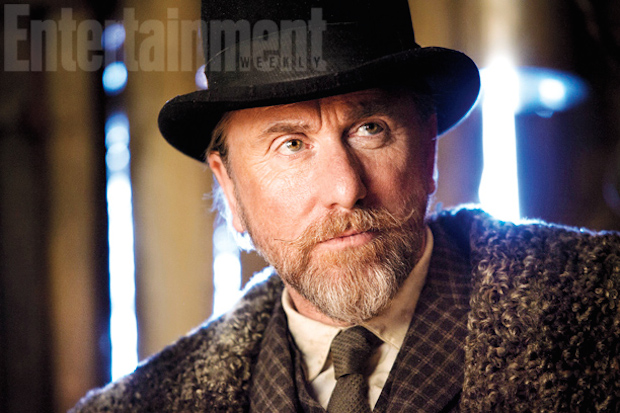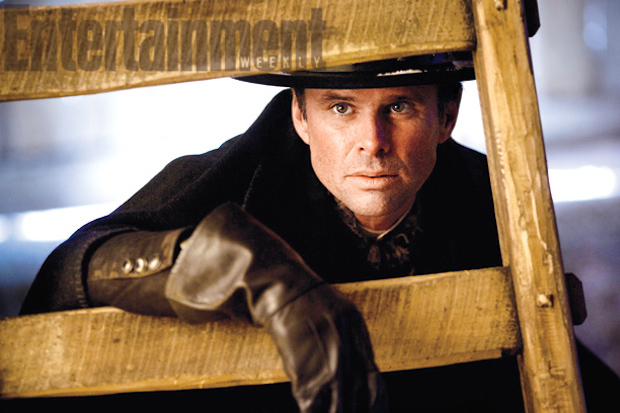 The Rest
Also, it is amusingly worth noting that The Hateful Eight marks Tarantino's eighth film (by his count), and thus will bring us one step closer to his planned retirement. Indeed, during an American Film Market event last month, Tarantino made an entrance (flanked by Harvey Weinstein and Samuel L. Jackson) to drop a supposedly shocking announcement: he is now definitely retiring after his 10th film.
 "I've got two more after this," Tarantino said. "I like that I will leave a 10-film filmography…It's not etched in stone, but that is the plan."
Tarantino again asserted that he'd move on to being a novelist and/or a playwright after his retirement from filmmaking. He also wonderfully, and ambitiously, suggested that The Hateful Eight's 70mm is intended to thwart the move to digital filmmaking.
"I'm hoping it's going to stop the momentum of the digital stuff, and that people will hopefully go, 'Man, that is going to the movies, and that is worth saving, and we need to see more of that."
At least in the meantime we have a heaping side of celluloid with our campfire cooked spaghetti waiting for us in December.