News
The Hateful Eight Cast and Plot Synopsis Revealed
Get ready for Quentin Tarantino's eighth picture, aptly titled The Hateful Eight, by seeing the full cast and reading its new synopsis.
Get ready to saddle up with Quentin Tarantino for at least one more wild western ride—this time actually in the west! Also, don't forget the spaghetti and marinara, because things are going to run red in next year's The Hateful Eight, which just had its full cast announced by The Weinsteins (also with a nifty graphic below!).
The eighth film from Quentin Tarantino will be set in a post-Civil War western frontier, and it stars Samuel L. Jackson (Django Unchained) as Major Marquis Warren, Kurt Russell (Death Proof) as John "The Hangman" Ruth, Jennifer Jason Leigh (Mrs. Parker and the Vicious Circle) as Daisy Domergue, Walton Goggins (Justified) as Chris Mannix, Demian Bichir (A Better Life) as Bob, Tim Roth (Reservoir Dogs) as Oswaldo Mobray, Michael Madsen (Reservoir Dogs) as Joe Gage, and Bruce Dern (Nebraska) General Sanford Smithers. Channing Tatum (Foxcatcher) has also signed on to a mystery role for the film.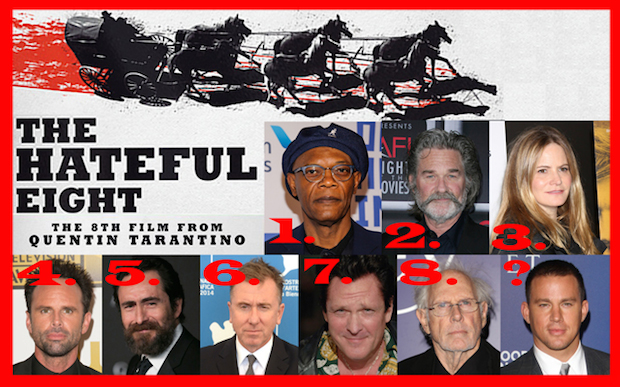 The Hateful Eight is set six or eight, or 12 years after the Civil War when a stagecoach hurtles through the wintry Wyoming landscape. In a backdrop that would do John Ford proud, there's bounty hunter John Ruth (Russell) and his fugitive Daisy Domergue (Leigh) on the manifest, racing for the town of Red Rock where Ruth, aka "The Hangman," will bring Domergue to justice. But on the way, they encounter two strangers: Major Marquis Warren (Jackson), a former Union officer turned bounty hunter, and Chris Mannix (Goggins), a Southern outlaw that appears to be the new town sheriff. When a blizzard sets in, all four parties seek refuge at Minnie Haberdashy, a stagecoach stopover on a mountain pass. When they arrive at Minnie's, they meet the current occupant and four other guests: Bob (Bichir), who's taking care of Minnie's while she is out of town, the Red Rock hangman Oswaldo Morbray (Roth), bad man Joe Gage (Madsen), and a Confederate General Smithers (Dern). As the storm rages on, so too does the tension between eight travelers who may not all make it down the mountain to Red Rock before this is over…
Written and directed by Quentin Tarantino, The Hateful Eight will be in theaters in 2015. It will also be shot in glorious 70mm to the joy of all cinephile hombres.