Reviews
The Hard Way DVD review
A late 70s hitman thriller starring Patrick McGoohan and Lee Van Cleef. Not the one with Michael J Fox and James Woods...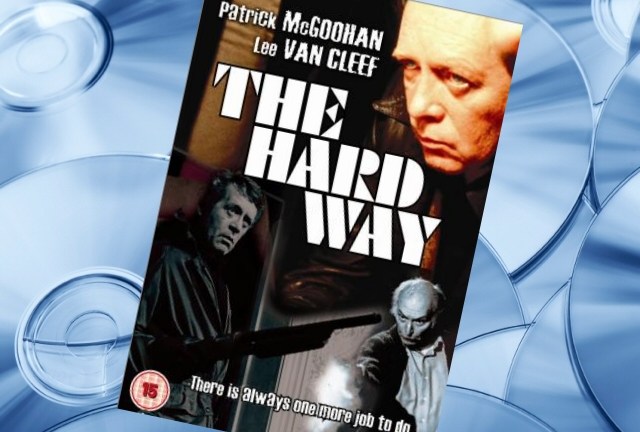 The story of The Hard Way is one we have seen time and time again in this modern era of hitmen movies. An ageing hitman (the late Patrick McGoohan) does one last job and then promptly retires, only for his mobster boss (Lee Van Cleef) to insist on him doing another "one more job" as they say. Of course, the job is abruptly turned down, leading the villains to forcefully insist that our hero does the job. And that is where the plot thickens. Well, about as thick as a plot like that can get anyway.
Obviously, things go a bit pear shaped for all involved after this. We are treated to the odd shootout to keep the pace tight. But there is also enough time for reflection, mainly on McGoohan's John Connor (popular name in cinema!).
What is interesting about this film is to see how it was done back in the late 70s with a small budget. Set mainly in the Republic of Ireland with a couple of respected thespians in the leads, the film is not glossy or pretty to look at. The locales look cold and windy; there isn't much in the way of fast editing; inserts are minor; closes-ups non-existant. It was obviously shot quickly with not much film to spare.
Whilst the story isn't much, there are compensations in the two leads. McGoohan plays subtlety very well, whereas Van Cleef is, well, Van Cleef. The lead female role is a bizarre one, as she spends a lot of time talking to an unseen interviewer in most of her scenes. The rest of the time we just see her coming to and from her house being watched by others. At no point does she ever interact with any other actor onscreen. This makes for a very arty approach, but also acts as prelude to the outcome.
The cat and mouse ending is well played in a house where lights are turned on and off in an otherwise small and unambitious film. It is worth watching if you are a real hitman fanatic and want to see how it was done back then.
There is a trailer and a stills gallery in the extras, but nothing to get excited about.