News
The Greatest Showman: Trailer for Hugh Jackman Musical
Check out Hugh Jackman, Michelle Williams, and Zendaya in The Greatest Showman, a new movie musical.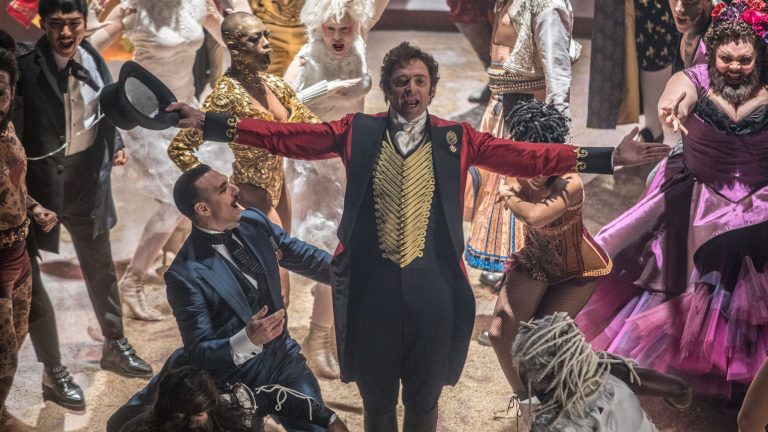 Up until 2016, the idea of pushing a completely original live-action movie musical with new songs on the public seemed like a brazen bet. It hadn't been done in earnest in decades! But then a little movie called La La Land made it instant box office and award gold.
This became serendipitous for Hugh Jackman who, fresh off his Logan swan song, also just wrapped The Greatest Showman—a completely original movie musical with new songs, no less. Embodying the historical spinner of circus spectacles himself, P.T. Barnum, Jackman in seen here as a visionary underdog with a monumental destiny, going on to take advantage of the idea that, as he famously put it, "There's a sucker born every minute." Undoubtedly, the producers and their star are humming a pretty happy tune right now.
The Greatest Showman Trailer
This certainly has a heightened and more grandiose look than last year's toe-tapper, even as the songs are all written by Benji Pasek and Justin Paul, who provided the lyrics to La La Land's numbers (the music for those was written by Justin Hurwitz). Additionally, Jackman and first-time features director Michael Gracey chatted with EW, indicating their wish for it to be bursting with modernity. While they didn't speak it, one might infer a certain Baz Luhrmann influence on the picture as his Moulin Rouge! was also set in the 1800s but basked in modern pop songs, albeit previously successful ones.
"We were clear from the beginning that this wouldn't feel like a period movie or a historical piece," Jackman told Entertainment Weekly. "What would Barnum do now? I have an almost-12-year-old daughter. I wanted [the movie] to be as exciting for her as listening to Katy Perry's new song."
Here is the first trailer, which arrived back in late June.
The Greatest Showman Story
Here's the official synopsis:
Inspired by the imagination of P.T. Barnum, The Greatest Showman is an original musical that celebrates the birth of show business & tells of a visionary who rose from nothing to create a spectacle that became a worldwide sensation.
The 19th century spectacle stars Jackman as Barnum, Michelle Williams as Barnum's wife Charity, Zac Efron as his business partner, and Zendaya as a beguiling trapeze artist.
The Greatest Showman Release Date
The musical will open on December 25, 2017.