News
The Great Wall Trailer and Release Date
Did you know that China built The Great Wall to keep monsters out? Also, Matt Damon was there.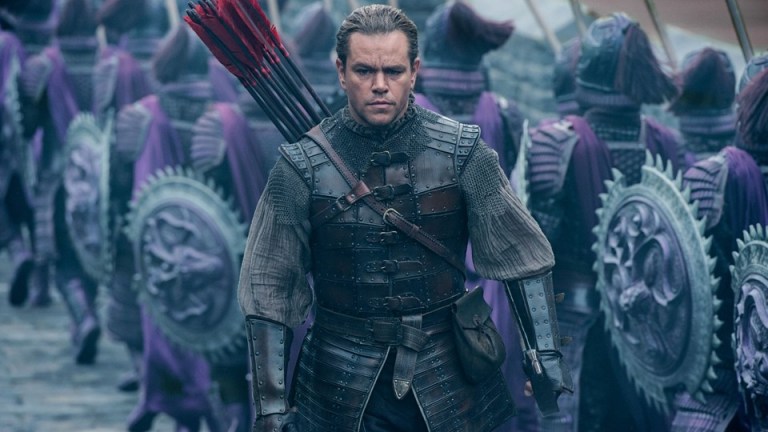 Damn you, Zhang Yimou. If the brilliant director of House of Flying Daggers(not to mention the 2008 Beijing Olympic Games' opening and closing ceremonies) weren't behind this Legendary-Universal blockbuster revisionist retelling of the building of The Great Wall, I might not be interested. But, as you can tell from this first trailer (and from Yimou's previous work), this could be something special.
The Great Wallwill be Yimou's first English-language film, and is said to be the biggest Chinese-American film collaboration ever. The self-described 3D science fantasy adventure-monster period action film obviously has a lot going for it. Past its visionary director and cross-cultural pedigree, it also boasts an all-star cast including: Damon, Willem Dafoe, Pablo Pascal, Andy Lau, Lu Han, Eddie Peng, and Jing Tian.
Presumably, we will be seeing more of these Chinese-American blockbusters now that China is predicted to pass the U.S. as the largest box office in the world. In other words: blockbuster films don't have to be a hit in the U.S. to succeed. (Just ask Warcraft.)
But that's enough blather about this film's interesting cross-cultural context. Let's talk this trailer because it is filled with interesting, gorgeous visuals. As one might predict from the subject matter, the visual scope of this film is huge. We get lots of sweeping helicopter shots of the Chinese countryside, as well as shots traveling along the Great Wall from above as soldiers prepare themselves for a great battle.
The trailer suggests that the Great Wall was built to keep out a very specific kind of invader: some sort of massive creature, one of which scales the ramparts and drags a single soldier back into the fog. It's the final moments of the trailer that really grab you, however, with their bright colors and their imaginative visuals. We get an emperor descending stairs in a color-saturated palace. Flying crafts float towards the setting sun. Yeah, we'll bite.
The Great Wall Trailer
Check out the new trailer for yourself…
And here's the earlier one…
Here's the full, official synopsis:
Starring global superstar Matt Damon and directed by one of the most breathtaking visual stylists of our time, Zhang Yimou (Hero, House of Flying Daggers), Legendary's The Great Wall tells the story of an elite force making a valiant stand for humanity on the world's most iconic structure. The first English-language production for Yimou is the largest film ever shot entirely in China. The Great Wall also stars Jing Tian, Pedro Pascal, Willem Dafoe and Andy Lau.
The Great Wall Release Date
The film will be released in the U.S. on February 17, 2017, with the Chinese release coming much sooner in December 2016.