News
The Godfather Part II Airs in Theaters for Three Days Only
A don can't refuse a favor on his daughter's wedding day. Who can say no to seeing The Godfather Part II on its 45th Anniversary?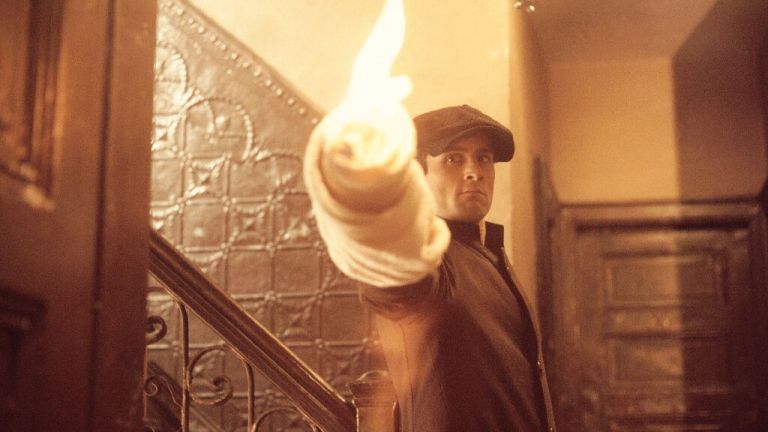 "If anything in this life is certain, if history has taught us anything, it's that you can kill anyone," Michael Corleone, played by Al Pacino, tells his consigliere Tom Hayden (Robert Duvall), in The Godfather Part II. The film went on to do the job on movie history. It was, and remains, the only sequel to a Best Picture-winning film to nab the top Oscar itself. The Godfather Part II came out 45 years ago. To celebrate the occasion, TCM Big Screen Classics series will bring it back to theaters for four screenings over three days in November. TCM Primetime Host Ben Mankiewicz will do what he does on the classic movie channel: tell interesting anecdotes about the movie before it starts and after closing credits.
Mankiewics is the son of the guy who wrote Citizen Kane, consistently in the running with The Godfather for greatest film of all time. It has been argued The Godfather Part II is even better than its predecessor.
"A quintessentially American tale of power, ambition and family, The Godfather Part II electrified audiences and critics when it opened in 1974," reads the press statement. The film was directed by Francis Ford Coppola, who co-wrote the screenplay with Mario Puzo, the author of the novel The Godfather. "This brilliant sequel continues the story of The Godfather, while also becoming a classic of modern filmmaking in its own right."
The 3 hour, 22 minute saga is a milestone of American cinema. The Godfather Part II "tells two interconnected stories," according to the official Fathom Events synopsis. "The rise of a young Vito Corleone, played by Robert De Niro, who is sent to America to fend for himself, and the haunting, troubled ascension of Michael Corleone as the new Don."
Besides De Niro, Pacino and Duvall, The Godfather Part II stars Talia Shire, Diane Keaton, John Cazale and Lee Strasberg. The version which will hit theaters was meticulously restored. The film will be digitally projected with its original mid-film intermission.
Further reading: How The Godfather Killed The Mafia
The Godfather Part II will screen in over 600 movie theaters through Fathom's Digital Broadcast Network. You can find a complete list of theater locations at Fathom Events.  The film will run Sunday, Nov. 10, at 2:00 p.m. and 7:00 p.m., Tuesday, Nov. 12 at 7:00 p.m., and Wednesday, Nov. 13 at 7:00 p.m., all times are local.
You can buy tickets for The Godfather Part II at participating box offices or at Fathom Events.
Culture Editor Tony Sokol cut his teeth on the wire services and also wrote and produced New York City's Vampyr Theatre and the rock opera AssassiNation: We Killed JFK. Read more of his work here or find him on Twitter @tsokol.