Reviews
The Girl With The Dragon Tattoo DVD review
Smash hit Swedish murder mystery The Girl With The Dragon Tattoo appears on DVD, but is it worthy of the acclaim it's received so far?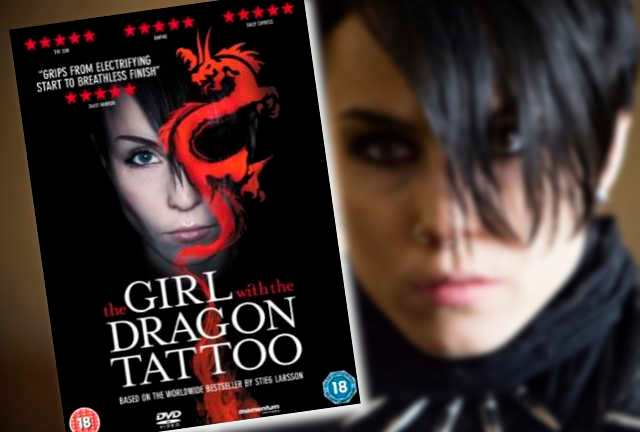 Is it possible to make a film that condemns violence against women while simultaneously revelling in the spectacle of it? That was the question in my mind as the end credits rolled on The Girl With The Dragon Tattoo, the critically lauded Swedish film adapted from the first of late author Stieg Larsson's Millennium Trilogy of novels.
Diminutive, elfin-faced Noomi Rapace plays Lisbeth, the tattooed girl of the title, a traumatised goth who specialises in big boots, piercings and computer hacking. When not being sexually terrorised by her parole officer, Lisbeth earns a living as a hi-tech spy-for-hire.
Her latest subject is Mikael Blomkvist (played by Michael Nyqvist, with a face like a sad biscuit), a disgraced journalist who is busy with an investigation of his own: the mysterious disappearance of a millionaire's niece some forty years before.
At first oblivious to Lisbeth's intrusions, Mikael soon realises that this mysterious tattooed girl may, in fact, be his best hope of solving his mystery, and the pair of them eventually team up to get to the bottom of a years-old conspiracy whose breadth is far greater than either had initially realised.
In Dragon Tattoo (or Men Who Hate Women, as it's called in Sweden), director Niels Arden Oplev has created a film that is stunningly shot and edited from the first frame, with beautifully lit interiors and measured, lingering shots of the beautiful, snow covered locations which serve as the backdrop to Mikael's investigation.
There is, however, an unpleasantly sadistic streak running through the film. Lisbeth is subjected to two needlessly lengthy and graphic sexual assaults, and her (justified) revenge is also filmed with a voyeurism that borders on the exploitative.
Strip away these scenes, and The Girl With The Dragon Tattoo's cavernous, painfully serious plot actually boils down to a generic whodunnit murder mystery with familiar cliches all present and correct: endless poring over blurred photographs, crime scene investigations, clues based on quotes from the bible, and a bountiful line-up of shifty-looking suspects.
In the film's favour are some committed performances from Nyqvist and Rapace, and some stunning cinematography courtesy of Jens Fischer and Eric Kress.
The Girl With The Dragon Tattoo is by no means a bad film, but I do wonder if, without the air of arthouse chic its Swedish origins provide, it would have been greeted with such rapturous applause by critics in Rolling Stone or the LA Times.
For this reviewer, the usage of graphic violence against women to add a darker edge to an otherwise pot-boiling murder mystery is is both distracting and disappointing, particularly in a movie that is otherwise well shot and acted.
If The Girl With The Dragon Tattoo was meant as an indictment against men who hate women, then perhaps treating its characters with more dignity and restraint would have strengthened, rather than weakened its argument.
Extras
The disc comes with a small selection of extras, including brief interviews with Noomi Rapace and producer Soren Staermose, a photo gallery and, most significantly for fans of this film and the books on which its based, some footage of the next film in the trilogy, The Girl Who Played With Fire, due out in August.
Film:
Disc:
The Girl With The Dragon Tattoo will be released on July 19 and can be pre-ordered from the Den Of Geek Store. The Girl Who Played With Fire is due out in UK cinemas on 27 August.