News
The Gentlemen Trailer: Matthew McConaughey Stars in Guy Ritchie Actioner
Director Guy Ritchie's crime actioner, The Gentlemen, has Matthew McConaughey leading a stacked cast.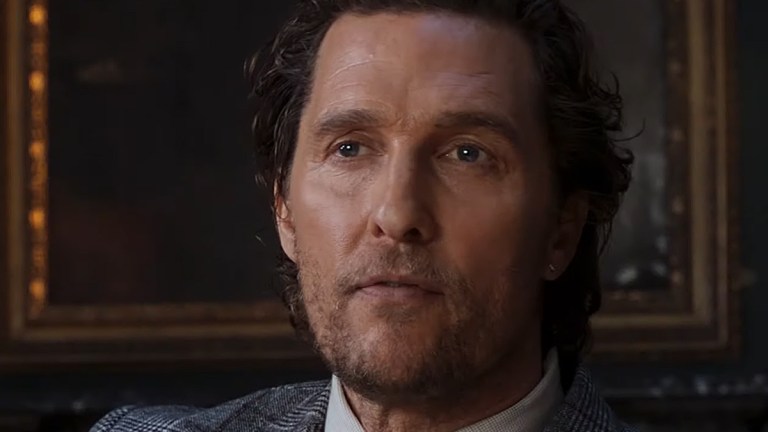 The Gentlemen is an upcoming feature that will see director Guy Ritchie return to his gritty tongue-in-cheek gangster movie wheelhouse after recent genre detours with this past May's Aladdin and 2017's King Arthur: Legend of the Sword. The Hertfordshire-hailing helmer worked here off a script that he wrote, which was conceptually co-conceived by Ivan Atkinson and Marn Davies.
While the Miramax-produced, STX-distributed film, which touts Matthew McConaughey as its headliner, brandishes a classic gangster movie premise focused on an honorable rogue who's looking to get out of his dangerous trade, the ensuing implications of this proverbial pin-pulling creates chaos – well, Guy Ritchie movie-type chaos.
The Gentlemen Trailer
The first trailer for The Gentlemen has arrived!
The Gentlemen Release Date
The Gentlemen is set to arrive at theaters on January 24, 2020.
The Gentlemen Story and Cast
As the official plot synopsis to The Gentlemen reads:
THE GENTLEMEN follows American expat Mickey Pearson (Matthew McConaughey) who built a highly profitable marijuana empire in London. When word gets out that he's looking to cash out of the business forever it triggers plots, schemes, bribery and blackmail in an attempt to steal his domain out from under him.
Matthew McConaughey, the 2014 Best Lead Actor Oscar winner for Dallas Buyers Club, stars here as marijuana money-maker Mickey Pearson, whose announced retirement has sent all kinds of scum and villainy crawling out of the woodwork. The actor is coming off a starring role in this past March's comedy, The Beach Bum.
He is joined in the cast by an impressive ensemble consisting of:
Charlie Hunnam (who starred in Ritchie's King Arthur), Henry Golding (Crazy Rich Asians), Michelle Dockery (Downton Abbey), Jeremy Strong (Succession), Eddie Marsan (Ray Donovan) as well as notable supporting roles from Colin Farrell (Dumbo) and Hugh Grant (A Very English Scandal).
The Gentlemen is currently the last project on director Guy Ritchie's known backlog. His surprising appointment to the director's chair of Disney's live-action movie adaptation of its iconic animated smash, Aladdin, defied box office projections and critics, yielding $1 billion worldwide, with sequel prospects glistening.
Joseph Baxter is a contributor for Den of Geek and Syfy Wire. You can find his work here. Follow him on Twitter @josbaxter.