Reviews
The Frightened Woman DVD review
A risque 1969 Italian film from director Piero Schivazappa gets a DVD release. And Ian's not quite sure what to make of it...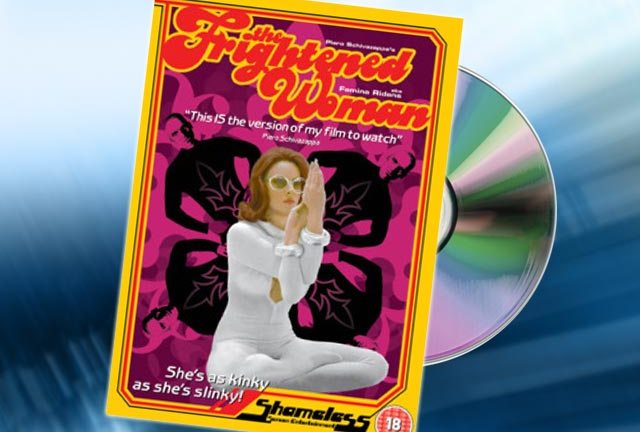 When a film offers the tagline, 'She's as kinky as she's slinky', you could be in for anything from picture-postcard comedy to blatant sexism, so it's with some trepidation I slotted this 1969 outing from Italian director Piero Schivazappa into the DVD player. And not without reason. The male lead, a university professor called Dr Sayer (Philippe Leroy), is so misogynistic he makes Bernard Manning look like Ben Elton. He's a man with a deep-rooted problem, which manifests itself in a paranoid fear of women being control of their own sexuality.
The film follows a strange pacing which doesn't follow the accepted protocols of modern movies, but I guess this is a characteristic of arthouse Italian films. For example, too many of the woodenly-acted early scenes are preoccupied with trivia like conversations about the paintings on the walls, and too little time is spent developing the characters. As a consequence, when Dr Sayer's problem kicks in and he kidnaps a young female journalist (Dagmar Lassander) to use as his sex slave, you struggle to connect with the people involved.
The film then indulges in a series of sado-masochistic vignettes as Sayer flicks through his copy of 'BDSM for Beginners', trying out one thing after another on the hapless hack. There's very little exploration of the dynamic of their relationship, and whether it's consensual or not seems at this point deliberately mudded and confused. The movie's not particularly pornographic, but you get the impression it was a darned sight more risqué in 1969 than it is today.
About halfway through Sayer reveals that he intends to kill his captive for sexual gratification, but as this doesn't change the way she reacts to him, you're not quite sure whether he's serious, or even believed. A media studies student might argue I'm missing the metaphors here. Personally, I'm glad I never took media studies.
Around half an hour before the end, the film takes a sudden turn for the better as the nature of their relationship changes and their personal motivations are at last explored. But it's taken too long to get there, and we've been given too little to chew on along the way. The final twist in the tale ties up loose ends, clarifying many of the points I've complained about and boosting the film's overall score, but although the rewards were there, they were surrendered far too arduously.
If you're looking for a film which explores the nature of domination and submission in a serious way, watch Secretary. If you want a sympathetic portrayal of BDSM which doesn't take itself too seriously, go for Preaching to the Perverted. If you enjoy watching late-night Channel 4 art-house movies whose target audience is stoned students – or have a thing about pop-art interiors – The Frightened Woman might be for you.
The only extras are trailers, for this and other Shameless Films releases.
Film
Disc