News
The First Purge Trailer and Release Date
The First Purge trailer takes us back to the beginning when the New Founding Fathers fought to Make America Great Again with a purge.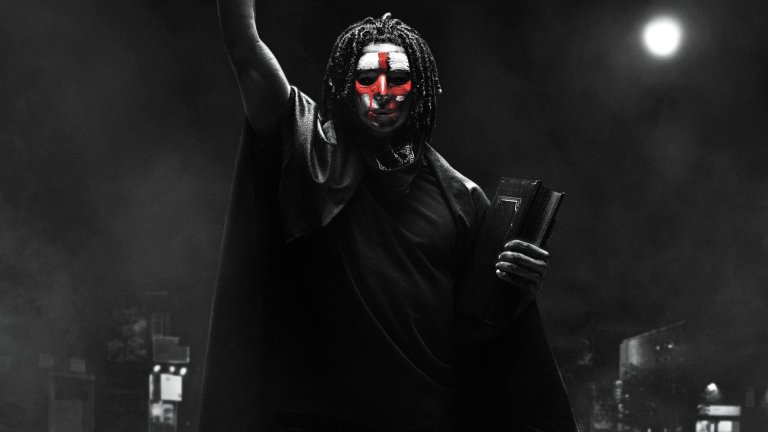 It is good to know that no matter who is president in the real world, the dystopia of The Purge franchise is alive and well at Universal Pictures and Blumhouse Productions. Once a mere home invasion nightmare, James DeMonaco's admittedly brilliant-dumb conceit of a world in which (poor) Americans are encouraged to purge their agression out on other (poor) Americans while the elites watch has spawned a whole semi-shared universe.
The Purge: Anarchy is still the strongest entry in the series, where it took things to the streets, and revolution came with 2016's The Purge: Election Year. However, we are now getting a prequel to see how it all began via The First Purge.
The First Purge is written by franchise mastermind James DeMonaco. However, it will be the first movie in the series not directed by DeMonaco, who has stepped down from the director's chair. Gerard McMurray has taken over helming duties after directing Netflix's Burning Sands last year.
The First Purge Trailer
It's finally here! Beware…
The First Purge Release Date
The First Purge will celebrate its God given right to wear ugly red hats and extoll the virtues of American greatness when it opens on July 4, 2018. You better demand a scene of someone getting purged via fireworks display.
The First Purge Story
As a prequel film, we will see how the New Founding Fathers made purging the most popular thing since building a wall along the Mexican border. However, it turns out it was not originally by national decree. According to its new synopsis, this all began as a "social experiment."
To push the crime rate below one percent for the rest of the year, the New Founding Fathers of America (NFFA) test a sociological theory that vents aggression for one night in one isolated community.  But when the violence of oppressors meets the rage of the marginalized, the contagion will explode from the trial-city borders and spread across the nation.
The First Purge Cast
The First Purge features a supporting performance from Marisa Tomei. Hopefully, this means the franchise's screenplays are going up in the world, but we imagine whatever enticed Tomei, she'll have fun sinking her teeth into this material.
The film also stars Y'Lan Noel, Lex Scott Davis, Joivan Wade, and Luna Lauren Velez. The series continues to be produced by Blumhouse's Jason Blum, as well as Platinum Dunes' Michael Bay, Andrew Form, and Brad Fuller. Sébastien K. Lemercier, who produced previous Purge movies, is also staying onboard for the origin story.