Reviews
The Feathered Serpent -The Complete Series DVD review
Paul looks back on a back-stabbing treasure from 1970s children's TV, and is not disappointed...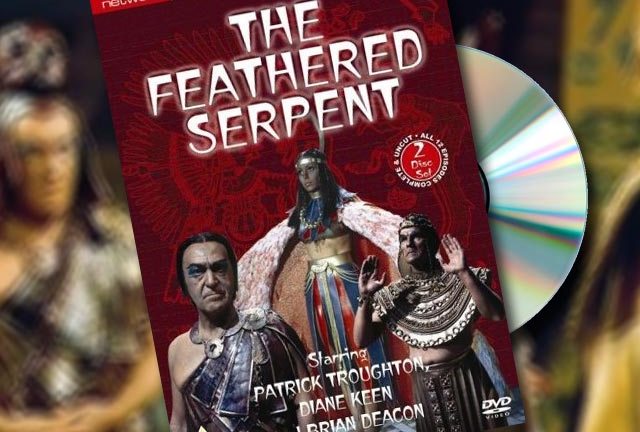 Children's TV in the '70s was full of exciting and ambitiously varied programmes aimed at stimulating the imagination, with adventures that were either fantastic or historical. But watching The Feathered Serpent, I couldn't believe that was kindly Dr Who talking of murder. How could he be so evil?
But Patrick Troughton is just one of the highlights of this darkly sober drama which takes us into the ancient and bloody world of the Aztecs. It's a series that stands strongly alongside the likes of Dick Turpin and Arthur Of The Britons as well as a touch of the supernatural found in The Owl Service and Ace Of Wands. The first series aired in 1976, with the second following two years later, and all twelve episodes are presented on this latest childhood nostalgia trip from Network.
The series is set in ancient Mexico, when the peaceful god Quala is being usurped by the new and vengeful god, Teshkata; a power struggle ensues between the just Emperor Kukhulkhan (Tony Steedman) and the scheming High Priest Nasca (Troughton). With the new temple built and riddled with secret passageways, Nasca plots his ascension through betrayal, cunning and murder. With the arrival of the rival Toltec army, led by handsome Prince Houtek (Brian Deacon), the Emperor sees a chance for peace by arranging a marriage to his daughter, Chimalma (Diane Keen). This creates tension with the rival suitor Mahoutek, General of the Jaguar Guards (Robert Gray), whose jealousy becomes a tool which Nasca exploits to his deadly advantage. It takes the courage of Houtek's messenger boy, Tozo (Richard Willis) and his blind mentor, the prophetic Otolmi (George Cormack), to find a way to defeat the powers of darkness.
The first series focuses on Nasca's play for power, which leads to the Emperor's murder, the shaming of Mahoutek, the slaughter of the Toltecs and the imprisonment of Houtek. But at the time of the eclipse, the tables are turned on Nasca as he meets his fateful end. Or does he?
The second series follows on directly with Chimalma now preparing her reign with a new ally in court, Mataque (Robert Russell). Meanwhile, Houtek undertakes a series of tests of courage, wisdom and ingenuity to prove that he would make a worthy husband. But Nasca's followers are plotting, and Xipec, Governor of the Gold Region (Granville Saxton), uses the magic of witchwoman, Keelag (Shelia Burrell), to bring the High Priest back to life. The forces of evil look set to triumph.
The Feathered Serpent is a dark series based on the novels of Hollywood crime novelist Edgar Wallace. It echoes much of the Boy's Own view of history; heroics and dirty deeds that include murder, poisoning, human sacrifice, and mummified remains. Great attention has been given to period detail, and despite being completely studio-bound, there's a sense of grandeur with elaborate hieroglyphics and a towering temple complete with hidden passages. There's also an authentic richness of costume and an adherence to colourful ceremony.
Remarkably, there's very little frantic action or, indeed, fighting. The sparring is mostly done in the speeches, words of bravery or malice. In addition, it's devoid of any humour; this is serious stuff and human sacrifice is clearly no laughing matter. Not that these are weaknesses. Indeed, because the Machiavelllian actions of Nasca are so well portrayed, they become strengths as you lose yourself in the battle between good and evil. He's like some ancient Iago, poisoning people's minds with words of deceit or flattery, manipulating situations to his own nefarious ends. Mahoutek is more a figure of tragedy, a noble, loyal warrior whose jealousy is exploited and turned against him. Shakespeare would be proud. This is a story that prefers to dwell in the shadows of man's deeds.
Whilst Nasca may be a figure of guile and evil, commanding every scene he's in, the forces of goodness are represented by Houtek's nobility, Kukhulkhan's sense of justice, Chimalma's and, of course, Tozo's relentless bravery. Indeed, the young messenger is probably closest in age to the teenage audience, and the one they most likely identify with. He comes from that tradition of other young literary heroes such as Jim Hawkins in Treasure Island or David Balfour in Kidnapped. Even so, he's robbed, tortured, poisoned and imprisoned, so I'm not sure anyone would want to be that kind of hero.
Then again, this is an adventure which reads us through a labyrinth of experiences. There's loyalty, romance, justice and heroism battling out against jealousy, secrecy, and murder. It's a blend of exotic mysticism and mythology creating quite an intoxicating brew.
The casting of The Feathered Serpentis is crucial, with Troughton the most distinguished name, but the presence of such stalwart character actors as Tony Steedman (best know for Citizen Smith but a TV regular in cult series from Z Cars to The Avengers and The Sweeney), with early roles for Brian Deacon (A Zed And Two Noughts) and Diane Keen (before finding sitcom fame in The Cuckoo Waltz and Rings On Their Fingers).
Additional cult credentials come from the show's connections to our favourite Time Lord (apart from the second Doctor himself); Richard Willis appeared in the Tom Baker story, Full Circle whilst Richard Russell appeared in the earlier Baker tale, Terror Of The Zygons. George Cormack featured in Jon Pertwee's last story, Planet of the Spiders. So did Serpent's writer John Kane, who subsequently moved from acting into scripting for series such as Smuggler and Dick Turpin as well as, more bizarrely, Terry & June and Never The Twain.
One of the most memorable aspects of the series is its theme tune, composed by David Fanshawe (better known for When The Boat Comes In), which sounds as haunting and disturbing as the theme to supernatural chiller, Children of the Stones. Rewatching the series in its entirety, I'm still surprised at how engaging it is, but equally how seriously it takes itself.
Does it even need stating that they don't make them like this any more? Quality has been sacrificed to the god of commercial formula. With all its skullduggery and scheming, it comes across as a kids' version of I, Claudius. Another triumphant feather in the cap of ITV's children's drama., golden treasure from the archives that's worth its weight in Aztec gold.
The Feathered Serpent – The Complete Series is released on the 23rd of February