Reviews
The Fall and Rise of Reginald Perrin: Complete Box Set DVD review
It's not all great and not all super, but there's some genuinely classic British comedy in this new collection...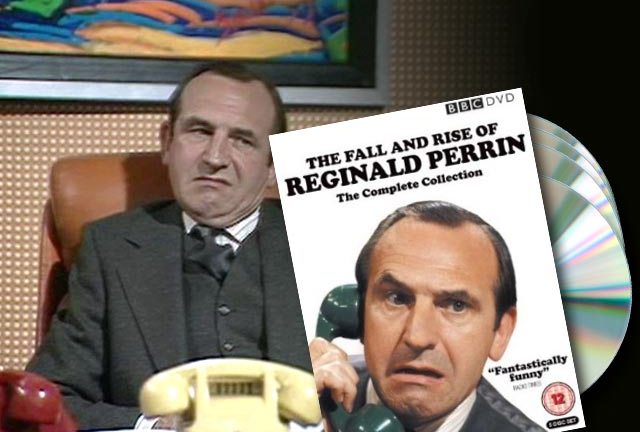 Though it's hard to quantify such things, social historians reckon 1976 to be the year that Britain was happiest. Punk rock hadn't made enough progress to really dislodge the vicar's pipe, the winter of discontent was two years ahead, the swingeing electrical cuts and chronic strikes two years behind. The sun beat down in a Mediterranean-style heat wave that blew away Britain's grey skies, and to boot there was some pretty damned good comedy on TV, amongst which David Nobbs' The Fall And Rise Of Reginald Perrin was not the least.
Nobbs' source novel was a rather darker affair, telling the tale of a food products executive who has a truly apocalyptic mid-life crisis, leading to eccentric and eventually bizarre behaviour, and commitment to a mental hospital. Hardly the stuff of sit-com, but by the time The Death Of Reginald Perrin had been transformed into TV's The Fall And Rise of Reginald Perrin, middle-aged middle England had its own one-man punk movement in the form of Leonard Rossiter, already a deservedly huge comedy hit as tight-fisted landlord Rigsby in ITV's Rising Damp.
2 | Entertain now bring us a definitive 5-disc compendium of all things Perrin, perhaps prompted by news of the remake. The four series and one Christmas special are too different to treat as a unit, so let's look at exactly what's in the package.
Series 1 (1976) Reggie Perrin (Leonard Rossiter) is in the throes of mid-life crisis, deadened by his meaningless work at Sunshine Desserts and by the grey routine of his life. He loves his wife Elizabeth (Pauline Yates) but is becoming impotent and dreams of open-air trysts with his secretary Joan (Sue Nicholls). He beguiles life's duller moments with other increasingly bizarre flights of imagination: every time his wife mentions his mother-in-law, a huge hippopotamus trundles across his interior vision.
Trapped in a dreadful safari trip with his family, he walks out amongst lions. Anything is preferable to the monotony and predictability of his existence; to being routinely summoned to the office of his pompous boss C.J. (John Barron) and made to sit in 'farting chairs'; to listening to the chorus of 'Great!' and 'Super!' from C.J.'s yes-men (Trevor Adams and Bruce Bould); to suffering the endless solicitations for food from his no-hoper brother-in-law (Geoffrey Palmer) and the ghastly river of home-made wine from his son-in-law (Tim Preece).
There's no help to be had from company quack Doc Morrissey (John Horsley), arguably the worst doctor in Britain, and – after failing to override his conscience and have an affair with his secretary – Perrin finally decides to end it all by walking into the sea.
However, it's a bit chilly, so he quickly re-emerges, dons a disguise and ultimately returns to his old haunts to re-court his widow as the rather more interesting Martin Wellbourne…
Series 1 of Perrin is a UK comedy gem, and surprisingly perennial: offices are still grey, trains are still unbearable, life is still awfully repetitive, bosses still insufferable and office-affairs still tempting. It's a huge pleasure to watch the enormous comic talent that was Leonard Rossiter descending into his campaigns of subversion and anti-propaganda. With the ill though-out exception of Perrin's actor son (David Warwick, who is abandoned early in this series and never surfaces again in the Perrin saga), the surrounding cast provide a flawless foil for the long-suffering executive. There are too many to list here, and it's unfair to single anyone out, except to note that John Barron's C.J., with his relentless 'I didn't get where I am today without…' catch-phrase, is one of the most enduring love-t-hate characters from 1970s comedy.
That said, Reginald Perrin's brand of catch-phrase comedy is uniquely excused from accusations that the technique is trite, since repetition and rote are the very enemies against which Perrin begins his Quixotic crusade. And even if you don't buy that, it's just as funny as hell.
Series 2 (1977)
Ironically it's repetition that quickly becomes the enemy of the saga itself when trying to extend the
Perrin
madness beyond the original run. There's much to enjoy in series 2, but having so thoroughly exploded convention in the first series, there's little left to do but play around with the debris. What most viewers who have seen series 2 will remember is the delightful new Perrin industry 'Grot', wherein our hero opens a chain of shops avowedly selling overpriced items of absolutely no value at all. In this section of the story, the show truly meets up with the punk-rock attitude that was 'threatening' British society by now. However 'Grot' turns up pretty late in series 2, and Nobbs doesn't seem to know exactly where to go next with the story.
That said, there are some sublime comic performances, including Rossiter's 'pig-farmer' character, which drives home the nature of Perrin as the 'prodigal son' who couldn't find the dream that lay beyond his dull executive life. The closing scene of series 2 is incredibly touching, and the obvious point at which to wave a fond farewell to our gallant crusader and his unbelievably patient wife.
Series 3 (1979)
Reggie plunges the sales from Grot into a vaguely-conceived commune for the middle-classed and middle-aged, and improbably rehires everyone from Sunshine Desserts and Grot to staff it. With the exception of the first and last episode, this really does represent the nadir of the show, which descends into those typical racist and homophobic shenanigans that characterise 1970s British comedy, and which the previous two series had been well-written enough to eschew. This is a pretty ghastly combination of
The Good Life
and
Robin's Nest
, lacking the charm of either. Tim Preece is substituted by Leslie Schofield in the role of Tom, and did well to avoid this one. It's only the presence of Rossiter that raises series 3 above one star. Even the mighty C.J. is reduced to a half-crazed, nappy-changing lunatic here, and it has the air of a school play gone very wrong. It's also very dated compared to the previous two series.
The Legacy of Reginald Perrin (1996)
In David Nobbs' mid-nineties codicil to the Perrin saga, all the usual suspects (with the exception of Trevor Adams' Tony 'Great!' Webster character) must prove to the late Reginald Perrin's lawyer that they have done something truly absurd; if they can, they get a million pounds each; if not, it all goes to the Battersea dogs home.
The BBC had done well reviving Till Death Us Do Part with In Sickness And In Health in the 1980s, but as UK comedy revivals go Legacy is strictly in the Grace And Favour category.  A Perrin series without Leonard Rossiter was a non-starter, though the central idea would have been an enjoyable tribute as a one-off TV special. Legacy is considerably enlivened by the delightful Patricia Hodge as the lawyer subjected to no less than three romantic crusades from the Perrin wrinklies, Geoffrey Palmer is as reliable as ever and there's a certain 'then and now' fascination regarding the various actors. But Elvis had truly left the building, and this is strictly a curiosity.
Extras
The spartan fifth disc contains the
Comedy Connections
episode dealing with Reginald Perrin.
Comedy Connections
is a resource to which 2 | Entertain frequently turn when the budget is low on these special editions. Luckily, it's about as good as any independently-made doc could expect to be, if inevitably a little superficial. Most of the surviving actors appear, with the exception of Pauline Yates, and it's a worthy tribute to the series.
The Funny Side Of Christmas is a 5-minute Perrin special from 1982, wherein our hero and his beloved wife are besieged by the usual gang of misfits, who eat them out of house and home on Christmas eve. It's a bit of fun, and a hell of a lot better than series 3.
Sadly there are no commentaries or other extras in this set. The collection is currently priced at just under £18. Series 1 and 2 alone are worth that, but given the lack of dedicated extras, you might want to wait for the price to fall a tad.
The Fall and Rise of Reginald Perrin: Complete Box Set is released on the 27th of April