News
The Emoji Movie Casts Sir Patrick Stewart, Plus Trailer, Release Date and More
Sony Pictures Animation is made a few big announcements for the upcoming The Emoji Movie.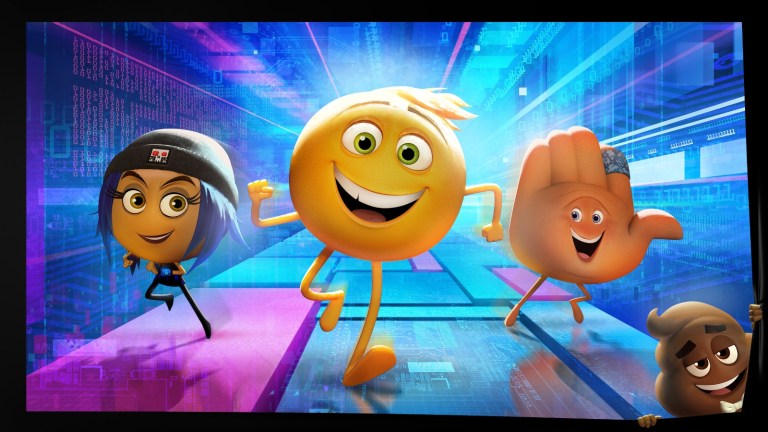 It was just a matter of time. After the Angry Birds movie flew to the top of the box office and the Fruit Ninjas hacked out a screenplay, game apps proved that the wired culture is motion picture friendly. And what's more wired than emojis? People have whole conversations with emojis. Sony Pictures Animation is rounding out the cast of the animated comedy The Emoji Movie.
The Emoji Movie Cast
The big annoucement during Sony Pictures Animation Day was who was going to play the role of the poop emoji. Granted, we could have had some fun fan casting that role. To our surprise, it was Sir Patrick Stewart who landed the coveted role! 
Among the other casting announcements: Jennifer Coolidge (Gene's mother, Mary Meh), Maya Rudolph (Smiler), and Jake T. Austin (Alex).
Emmy and Tony award winner James Corden (Into the Woods) and Emmy nominee Ilana Glazer (Broad City) are also in the cast and will join previously announced T.J. Miller (Deadpool).
The Emoji Movie Trailer
The Emoji Movie Release Date
The Emoji Movie will be released in theaters by Columbia Pictures on August 4, 2017.
Emoji Movie Plot
The Emoji Movie will take place through some of the most popular and universally recognized smartphone app.
"Over six billion emojis are texted every day, and emojis have become a universal language that transcends age and culture," said Kristine Belson, President of Sony Pictures Animation, in a statement.
"The power of emojis is that they allow you to express yourself in a fast and very fun way, and that is what our movie is about: self-expression. We are very lucky to have some of the smartest and funniest actors today bringing their unique voices to this movie."
The Emoji Movie unlocks the never-before-seen secret world inside your smartphone," reads the official synopsis. 
"Hidden within the messaging app is Textopolis, a bustling city where all your favorite emojis live, hoping to be selected by the phone's user. In this world, each emoji has only one facial expression – except for Gene (T.J. Miller), an exuberant emoji who was born without a filter and is bursting with multiple expressions. Determined to become "normal" like the other emojis, Gene enlists the help of his handy best friend Hi-5 (James Corden) and the notorious code breaker emoji Jailbreak (Ilana Glazer). Together, they embark on an epic "app-venture" through the apps on the phone, each its own wild and fun world, to find the Code that will fix Gene. But when a greater danger threatens the phone, the fate of all emojis depends on these three unlikely friends who must save their world before it's deleted forever.

"Hacker emoji Jailbreak (Ilana Glazer), exuberant Gene (T.J. Miller) and his handy best friend Hi-5 (James Corden) embark on the app-venture of a lifetime."
"Hi-5 is a high-five emoji who is a highly motivated, and highly dramatic, hand on a mission (sorry), and the brilliantly versatile, ebullient and always lovable James Corden fits this part like a glove (sorry again)," director Anthony Leondis said in a statement.
"For the rebel 'break all the codes' computer programmer emoji Jailbreak, Ilana Glazer is the kind of singularly free-spirited, fearless and funny actress to make girls really feel the empowered 'nobody's gonna keep me in a cage' attitude this character exudes. And, of course, T.J. Miller has proven himself to be one of the most genuinely inventive comedic actors around, uniquely capable of connecting and who can convey just about any expression—and often does!"
The film is produced by Michelle Raimo Kouyate (Puss in Boots, Silver Linings Playbook).